Everyone's Leaving Detroit
According to the US Census, the city of Detroit lost a quarter of its population over the last decade. Of the 237,000 residents who moved away, mostly to nearby suburbs, 185,000 were black and 41,000 were white.
While the city's losses can be partly blamed on years of manufacturing decline, particularly the auto industry, the region itself has only lost 1.1% of its population. Most of the city's population exodus has been to neighboring counties.
Minor growth from hispanic populations and young educated artists and entrepreneurs are Detroit's few demographic positives, as standard nuclear families with children have moved away seeking lower crime and better school districts. Because of slow regional growth, Detroit's suburbs remain quite affordable, giving upwardly mobile urban blacks the opportunity to relocate.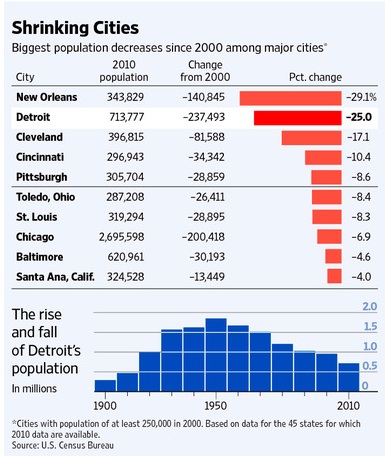 (From The Wall Street Journal)
Its important to understand that although the shrinking US auto industry has contributed to Detroit's decline, the city's own mismanagement, corruption, and history of racial tension have done more to cause residents to flee.
Coleman Young served as Detroit's mayor from 1974 to 1993. Young had a feisty personality, swearing frequently and accusing suburbanites of being racist. During his five-term reign, Detroit topped the FBI's list of the most dangerous cities in America multiple times and its public schools and libraries tanked, driving affluent whites out of the city and into the suburbs.
Detroit's population declined by more than a third, from 1.5 million in 1970 to 1 million in 1990. While most rust belt cities underwent similar periods of turmoil and change, none suffered the way Detroit did, at the hands of a corrupt mayor who was more interested in fanning the flames of racial tension than preserving peace and prosperity.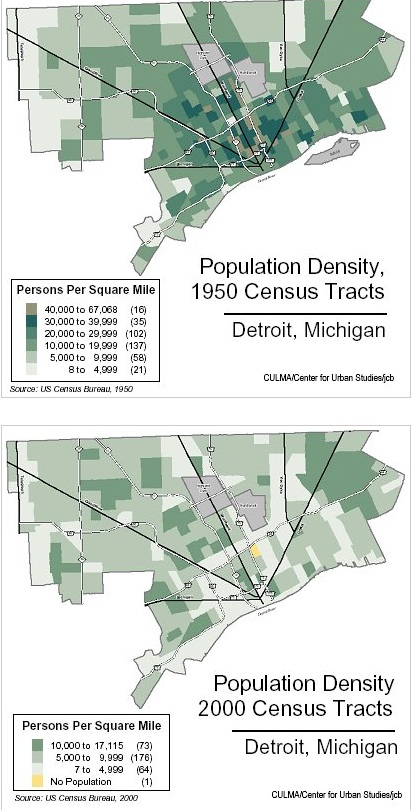 This local account of what happened in Detroit during the Young years paints an image of a mayor who "turned victimhood into an industry," using race to divide the population and win reelection. As whites fled, Young retained electoral support from black voters.
Detroit's legacy of corruption continued.
Mayor Kwame Kilpatrick was indicted in 2010 by a grand jury on ten counts of mail fraud, three counts of wire fraud, five counts of filing false tax returns, and one count of tax evasion. He and his father were indicted on 38 counts of racketeering, accused of making deals to extort millions from the city.
The Detroit News has an extensive timeline following Kilpatrick's train wreck of scandals and corruption. Not surprisingly, Kilpatrick blamed his legal predicament on racism. He eventually resigned as part of a plea bargaining agreement for a perjury charge.
Ken Cockrel, council president, served as interim mayor but lost in the election to Dave Bing, a former Detroit Pistons player. Cockrel earned a reputation as a reasonable, moderate voice in a city of tension and conflict.
Councilwoman Monica Conyers, wife of congressman John Conyers, earned a reputation for her outrageous conduct at meetings, calling Ken Cockrel "Shrek" and getting into a petty argument with an eighth grader:
[http://www.youtube.com/watch?v=XpzRuB-YMpg]
Conyers pleaded guilty in 2009 to accepting a bribe. She was sentenced to 37 months in federal prison.
Is there hope for Detroit? Maybe.
Rust belt metro areas like Indianapolis, St Louis, and Chicago bottomed out in population and peaked in crime and poverty more than a decade ago, while Detroit is just now entering the (hopefully) final stages of its decline. Several American cities have renewed their urban centers despite heavy losses in manufacturing by transitioning to healthcare, education, and finance and initiating major development projects intended to attract affluence and stability.
Even infamously dangerous towns like East St Louis have initiated turnaround projects, funded by casino revenues, that made it possible to raze abandoned buildings and offer a semblance of basic services. Like East St Louis, several neighborhoods in Detroit have been flattened into grasslands and prairies, returning the land to nature and saving the city millions on maintenance costs.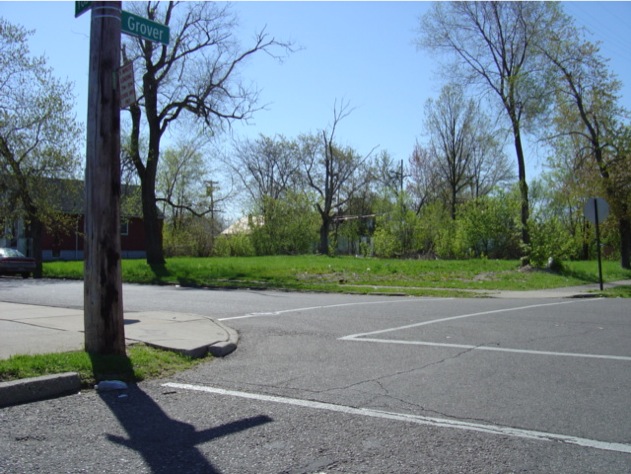 Detroit, it seems, has nowhere left to go but up.
Worthwhile reading:
http://www.freerepublic.com/focus/news/662155/posts
http://detroit.blogs.time.com/2009/12/02/coleman-young-revisited/
http://online.wsj.com/article/SB10001424052748704461304576216850733151470.html?mod=WSJ_hp_MIDDLENexttoWhatsNewsSecond