Crossing the state with an $80 bicycle.
From August 2010: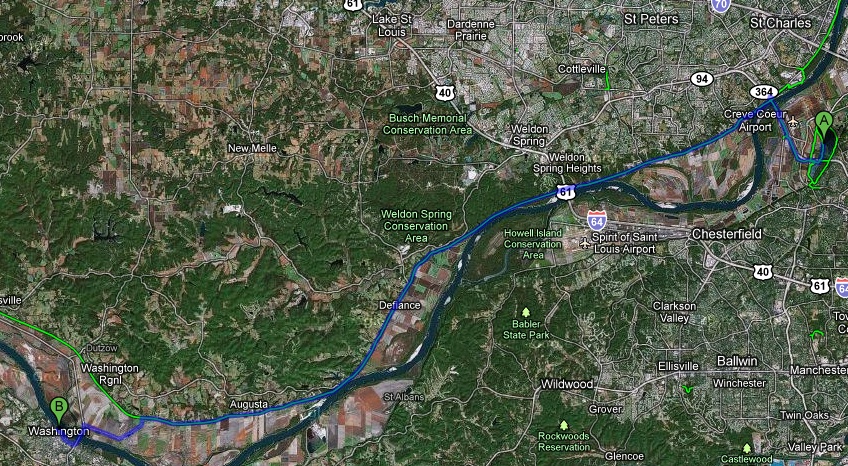 Okay, I lied. At 40 miles across, I wasn't exactly "crossing the state" since Missouri is 240 miles wide. Still, for me, with a cheap Wal-Mart bike in the middle of a humid midwest summer, it felt like crossing an entire continent.
My plan was to leave early in the morning and make it to Washington where I would ride Amtrak back to Kirkwood. The optimist that I am, I figured I'd arrive hours ahead of schedule with enough time to eat lunch.
I wasn't entirely a stranger to cycling. In high school I made a habit of cycling for 10-15 miles each evening, but after discovering the joy and freedom of motoring, my affection for biking faded away… until recently.
After failing to find a deal on Craigslist, I wandered into Wal-Mart late one night and picked up a "Next" mountain bike for $89. I piled on accessories including a headlight, bottle cage, parcel carrier, lock, tire pumps, cargo pouch, upgraded seat, upgraded handles, and water bottle. The steel bike was already quite heavy before loading it down with junk.
To begin planning my trip, I put together a list of supplies:

Netbook
Blackberry
USB tethering/charge cable for Blackberry (so I can Priceline hotels or dick around online by the river)
Parcel carrier
Flashing LED headlight
Helmet
80 oz of water (3-4 hour trip, 20 oz per hour)
Small first aid pack
Extra socks, underwear, shorts, t-shirt
Deodorant
Toothpaste
Sonicare
1000mg ibuprofen
Printed map
Tire pump
Additional seat cushion
Allen wrenches
AM/FM radio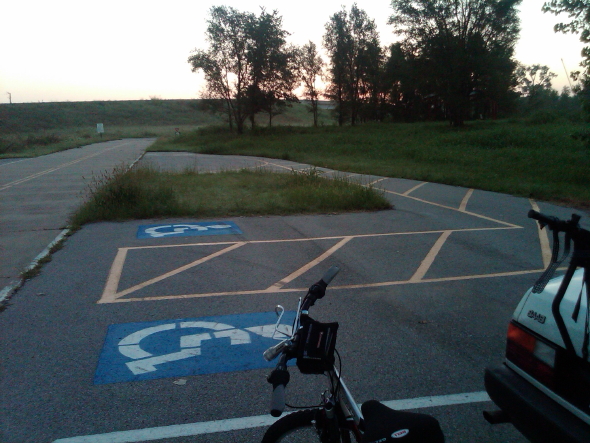 I arrived at the trail head at Creve Coeur Lake at 6am while it was cool and pleasant outside.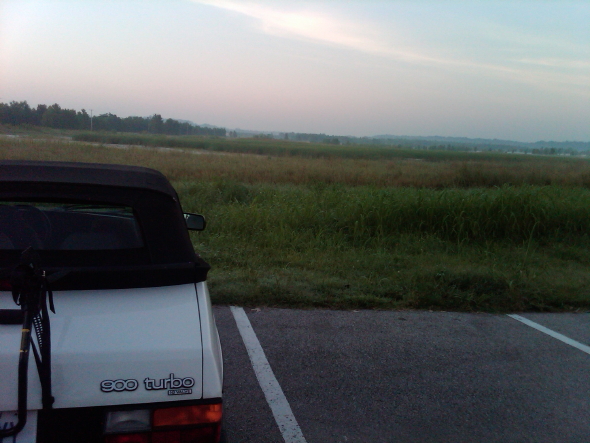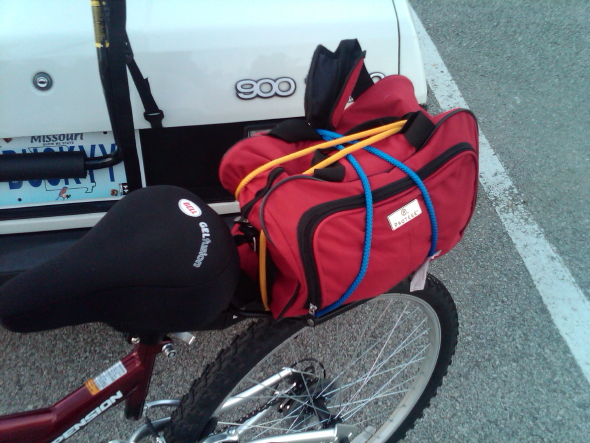 All of my gear was strapped and tied, ready to go.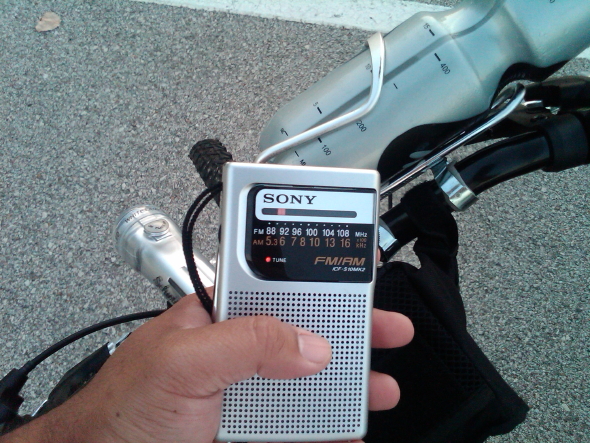 $13 Sony radio from Sears, tuned to NPR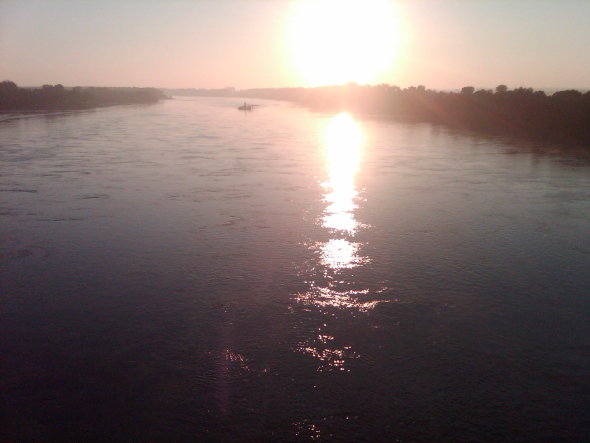 Crossing the Missouri River alongside highway 364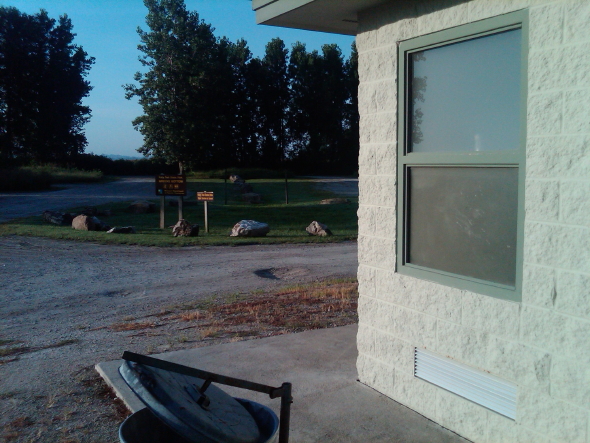 I arrived at my first trail marker/rest area.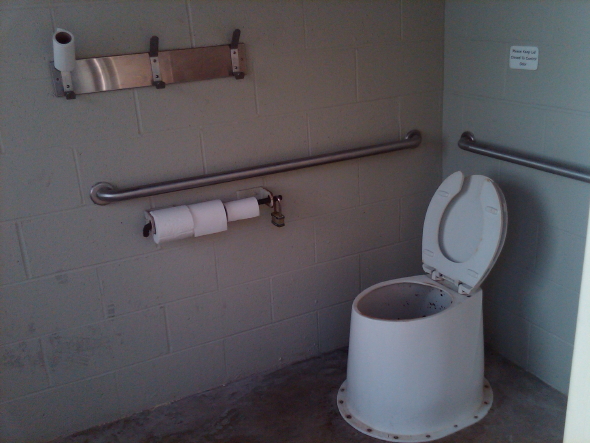 Well, I didn't bother taking a dump.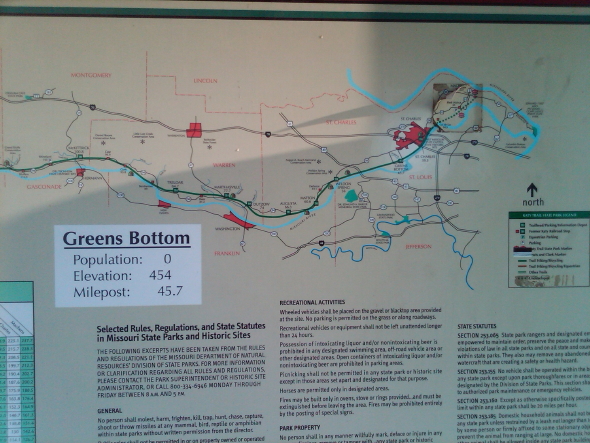 Goal: Go from just east of Greens Bottom to Washington. Crossing through St Louis, St Charles, Warren, and Franklin counties.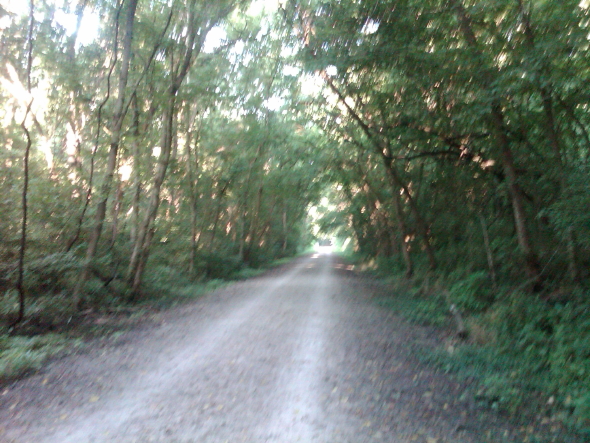 Most of the trail was beautiful and shaded.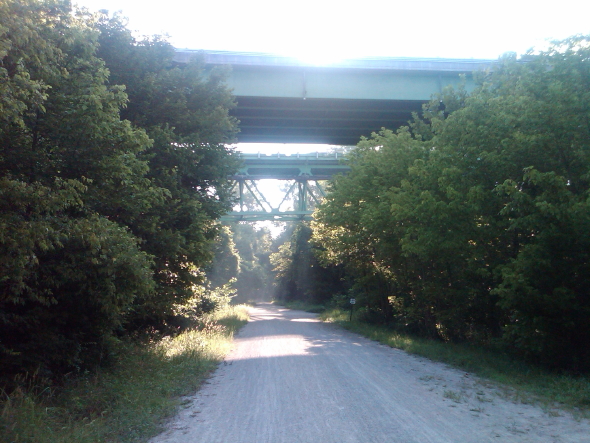 Crossing under highway 40/I-64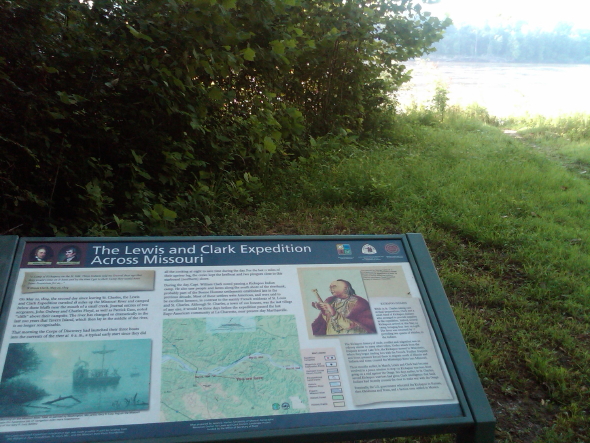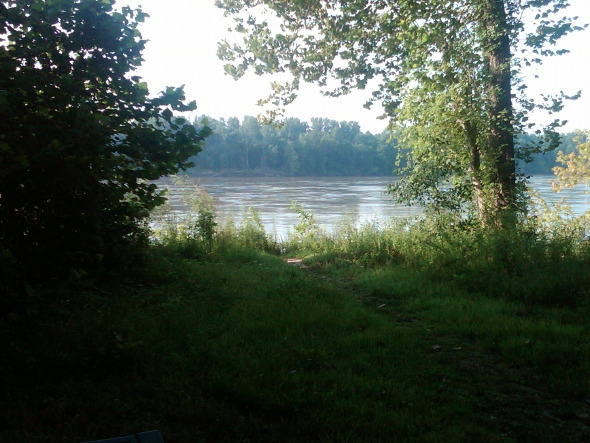 The Missouri River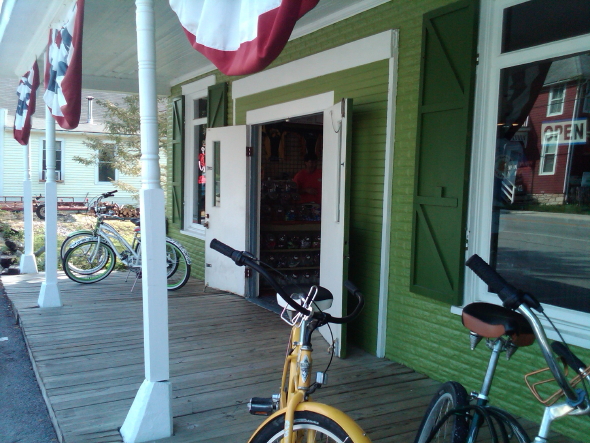 Stopped at this bike shop in Defiance MO (town named after its rivalry with nearby Matson MO).
I chatted with an old couple about my trip. I told them about how exhausting it was, traveling just under 40 miles in one direction. They then asked me if I had done the entire trail yet — apparently they had! They routinely did 20-30 miles a day.
That's right, the elderly are in better shape than I am.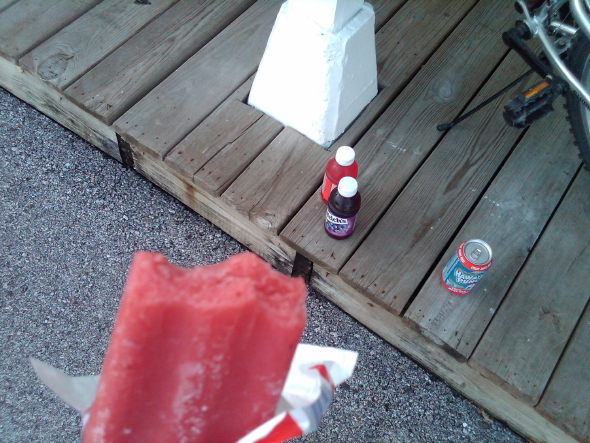 Bought some juice and a fruit bar.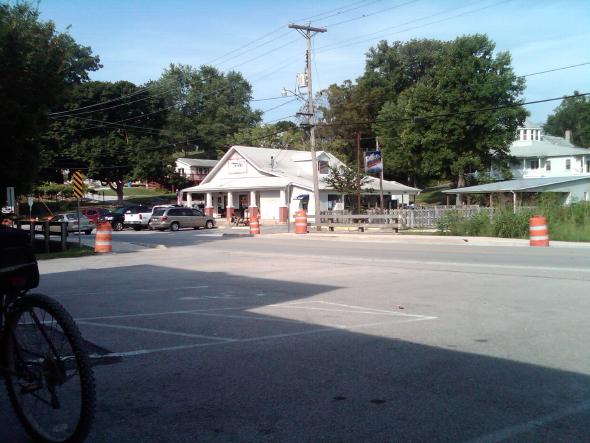 Defiance is a tiny town with two bars and a winery.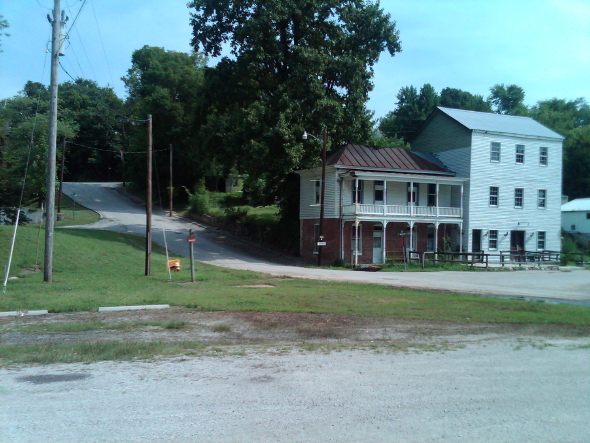 Augusta MO, a larger town with a large fire department, several blocks, a brewery, a library, and a 24-hour old gas station.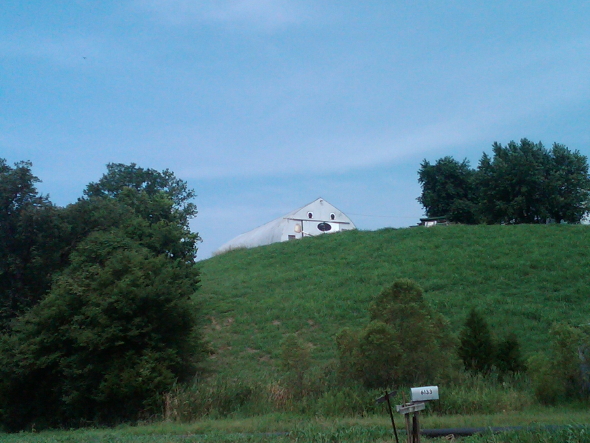 lol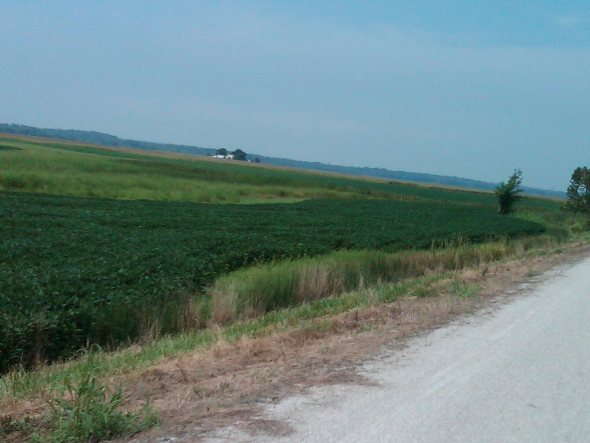 My ass was hurting like hell and my legs felt like jelly.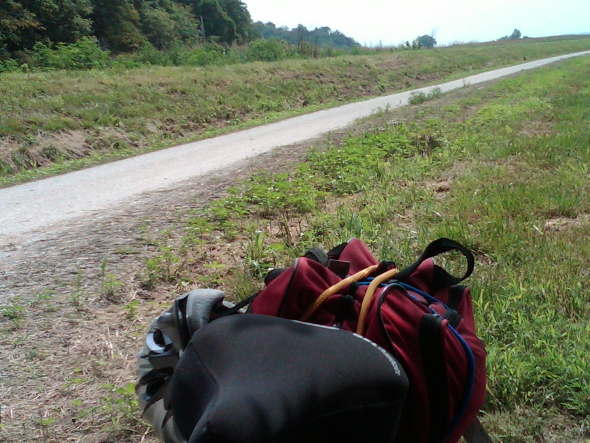 It was getting pretty obnoxiously hot, approaching 100 degrees.
I took more breaks than I intended and was traveling quite slowly. My intention was to maintain 10-13mph. I'm pretty sure I did half that.
Off in the distance, I heard a train horn — the train I was supposed to take home. I missed it.
I was supposed to arrive in Washington around 9-10am. Instead, it was almost noon. The train was scheduled to leave at 11:26a.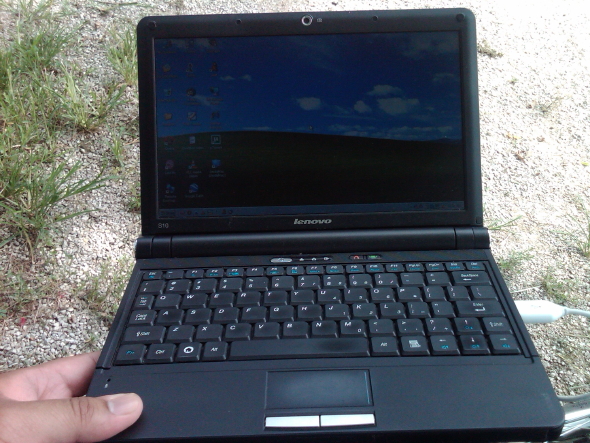 I fired up my computer and started searching for hotel deals.
I ended up booking a room at the Super 8 in Washington for $57 including tax through Travelocity.
I had another 3.5 miles to go and a narrow bridge to cross. The next 3.5 miles would take me nearly an hour, part of it on foot. I called for a shuttle but they wanted $25 and said it would take 45 minutes to get a van to pick me up, so I said screw it and kept pedaling.

Must… keep… pedaling. At this point my head was pounding. I had plenty of water but it was hot and humid outside. I got off the trail and ended up on a very rough dirt road that seemed to take forever to ride. Meanwhile, cars and tractors were passing me, kicking up rocks and dust in my face.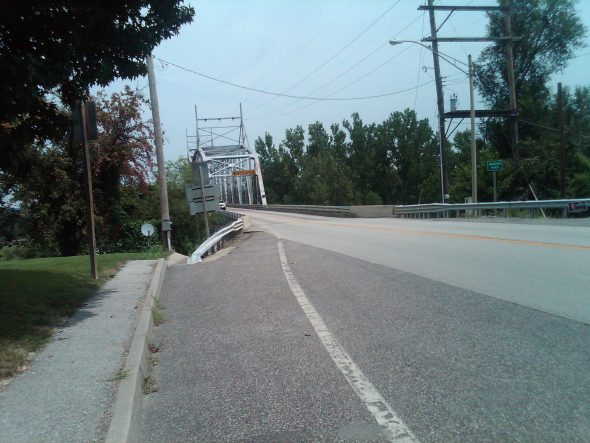 This is the hellacious bridge I crossed to get from Dutzow to Washington. It was a mile long and went over the Missouri river. As you can see, there are only two narrow lanes and NO shoulders. There's nothing more unnerving than being passed by semis. The guard rails were low too. One little bump from a vehicle and I'd be tossed into the river.
This bridge is due to be rebuilt within the decade and the future version will include four lanes plus a separate bike lane.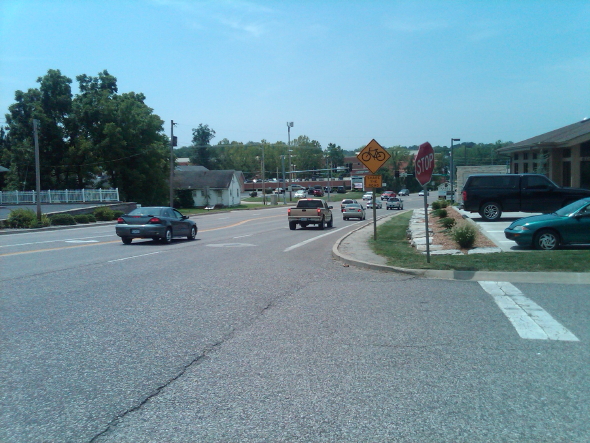 Washington MO has a population of only 13,000 but serves as the hub for the area. There's a Sears, JC Penney, Schnucks, Wal-Mart, Lowes, St Johns Mercy Hospital, and just about every service you could imagine. I think people in New Haven, Augusta, and Union come here to do their shopping.
FACT: The first Wal-Mart Supercenter opened in Washington.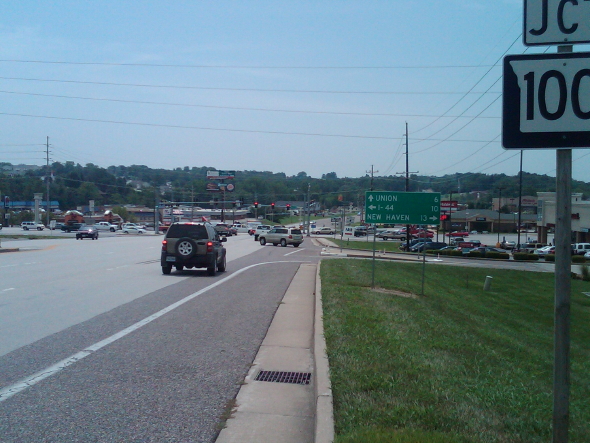 Far off in the distance I see the Super 8. I've never ever been so happy to see a cheap hotel. At this point, I'm on foot. Even when I was using the designated and marked bike lane, a-holes in pickups were honking at me.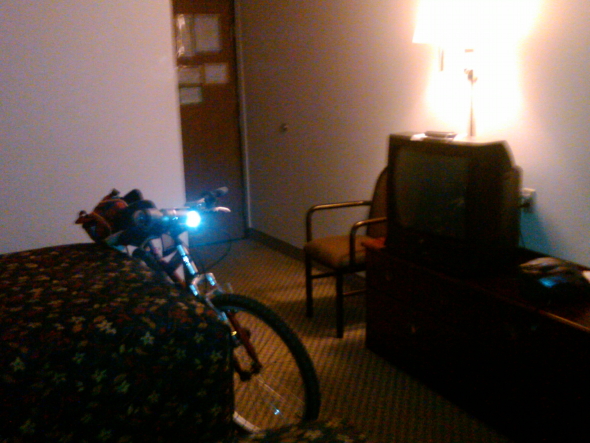 OH THANK GOD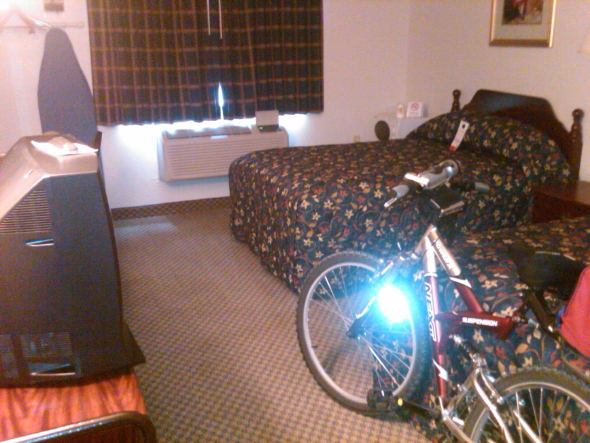 Cold AC, high pressure shower head, and comfortable beds. Its was PARADISE!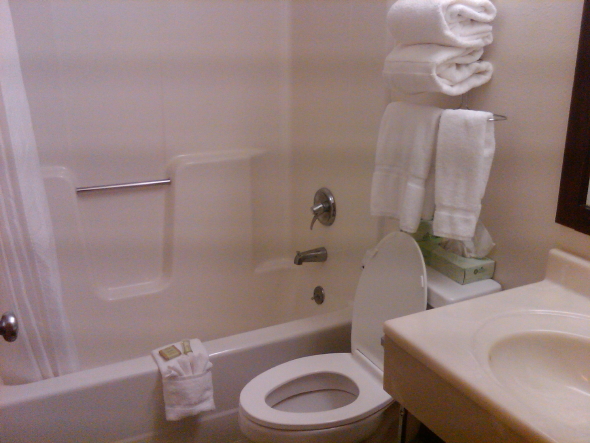 And a clean toilet.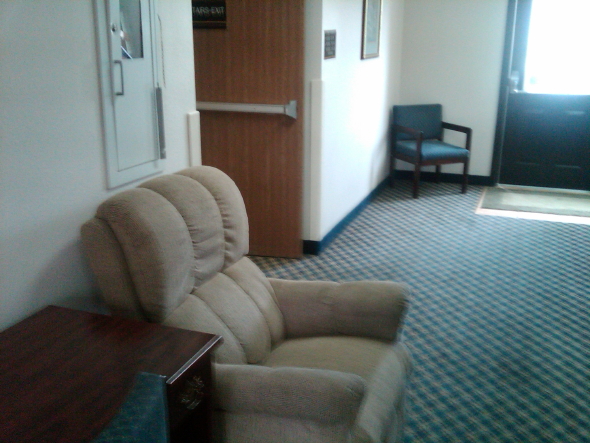 Its actually a very nice Super 8.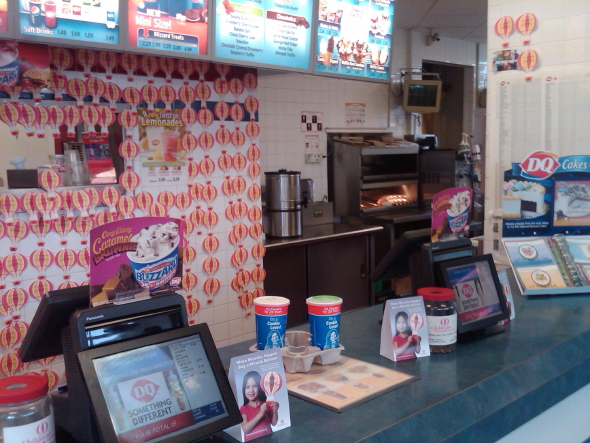 The closest thing for food was the Dairy Queen next door. I ordered a banana split, lemonade, and turkey sandwich. People looked at me funny, probably because I looked like I was close to death and covered from head to toe in dirt and pieces of gravel.
I think I said something to the cashier about the weather but it all came out as a delirious slur of nonsense.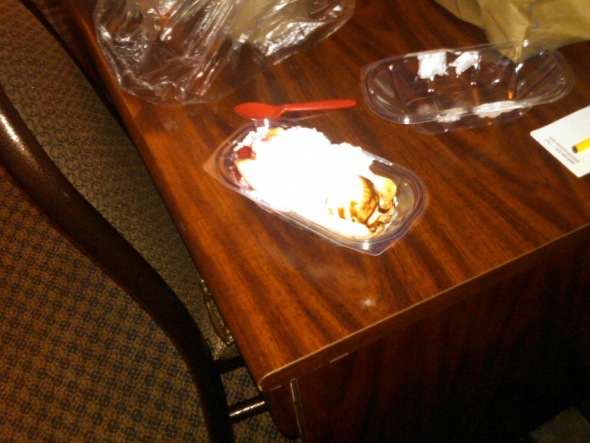 I was dying for potassium. Never in my life has a banana split tasted so good.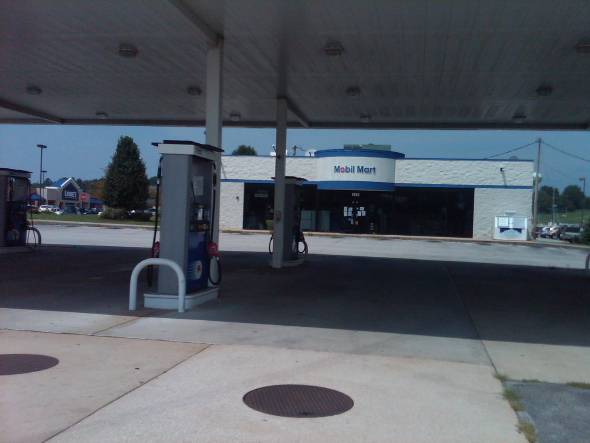 After eating and showering, my head was still pounding. They were out of ibuprofen at the front desk so I walked over to the gas station… which was closed. ARGH.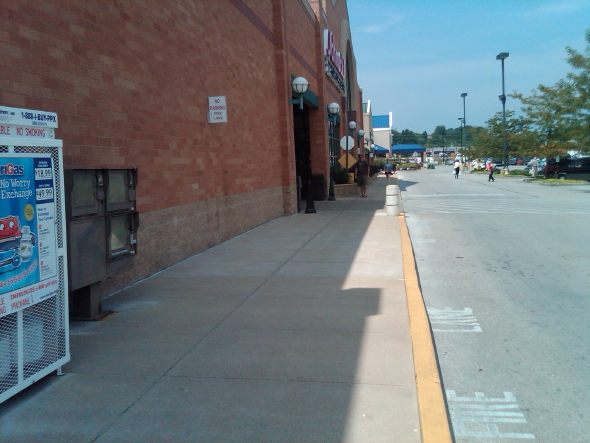 Thankfully I found a Schnucks grocery store. With my head and body aching, that short walk across the street in 100-degree heat felt like an eternity.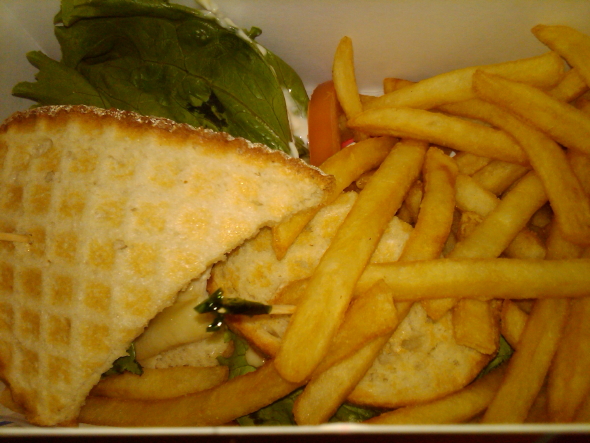 This turkey sandwich actually worked better than ibuprofen.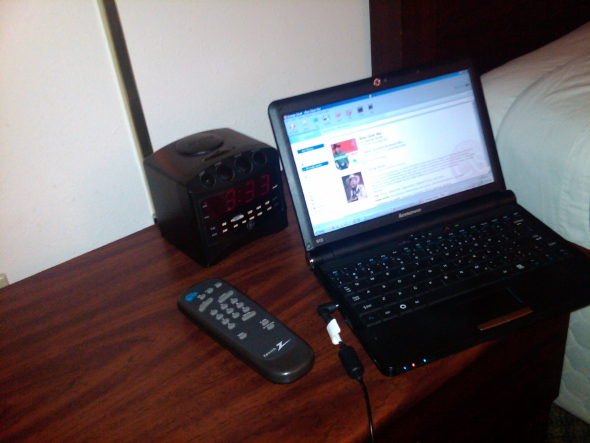 I dozed off around 5pm, woke up, and called my brother at 3am to come get me. I could have taken the train back to St Louis County, but today it was going to be 101F with high humidity. I didnt want to ride 3 miles across town in that.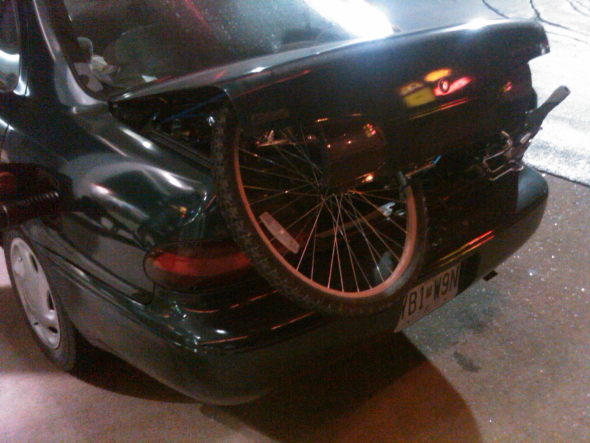 My brother arrived. Bungee cords make everything fit.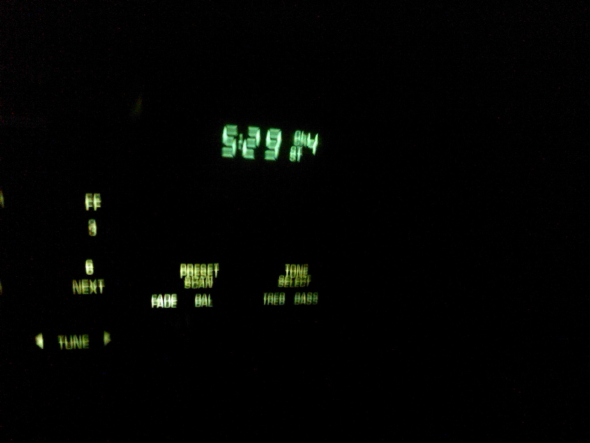 It was an unusually LONG drive from the Super 8 in Washington to where I parked the Saab in Creve Coeur. I finally made it to the trail head at 5:40am. Even though the distance is reasonable, the road is dark and winds back and forth, up and down.

Back where I started.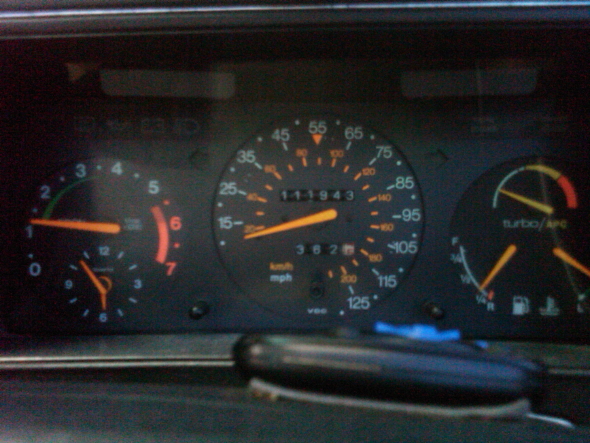 The sun is rising, and I walk in the door at 6am, 24 hours after I began.
That was quite an adventure.
————————————————————————
That bike was sold last fall for $50.While it clunked, creaked, and felt like it was ready to fall apart, I was impressed by how well it performed for so little money. I had to replace an inner tube because the rubber was so poorly made it had pores in it, probably from air getting into the machinery. The front brakes were constantly rubbing and slowly me down, so I disabled them completely.
Thankfully, my mom got me a Trek for my birthday in November. Best $1000 I ever spent (at someone else's expense).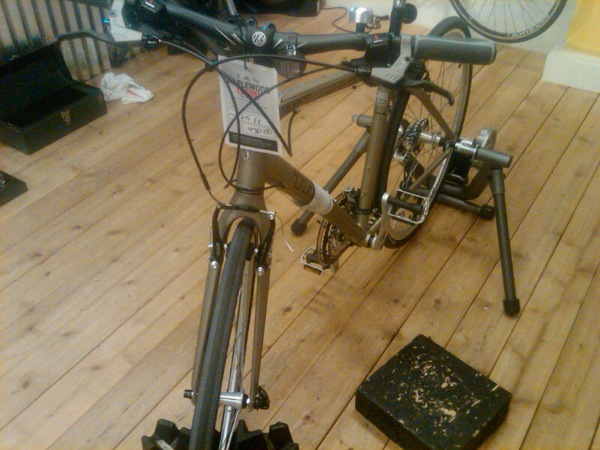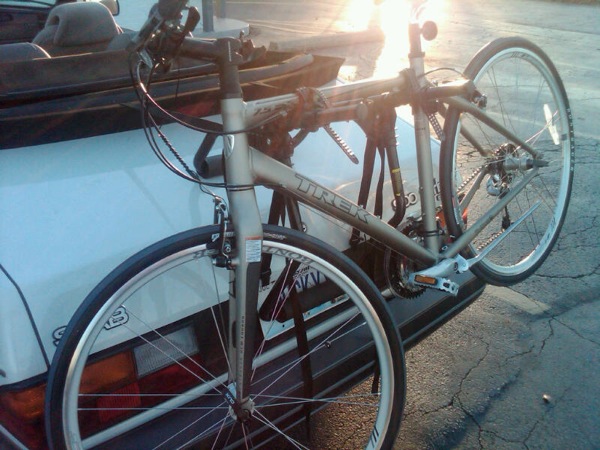 With winter approaching, days were getting short so I picked up a Magicshine 808 from Nova Bike Lights on eBay.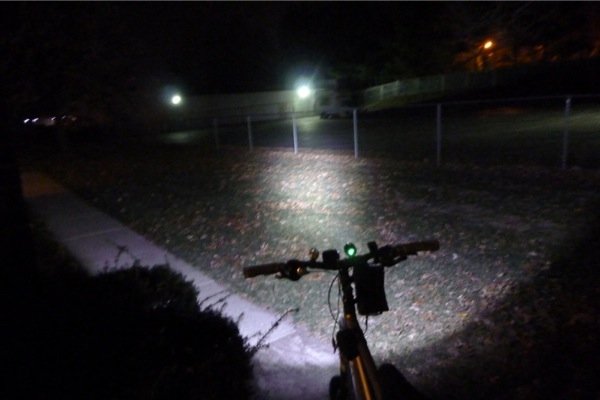 At 900 lumens its insanely bright. I expected about 2.5 hours from the battery which is .5 hours longer than most of my evening rides. It doesn't have a flashing mode so the two other lights will stay mounted for flashers and as backup lights.
I leave you with Queen:

Fast Tube by Casper