50 MPG, Spokane to Portland, 1992 Honda Civic Hatchback
This is a re-review of a car I took on a road trip back in 2005.

A decade ago, my dad bought a white 1992 Honda Civic Vx. The miserly man that he was, he sought out the Vx hatchback for its VTEC-E, a version of Honda's variable lift and timing, intended to enhance fuel economy rather than performance. This was an unusual time for Honda to sell a 55mpg economy car since gas prices were 95 cents a gallon in the early 90s and falling (relative to inflation).
He paid $4000 for it in 2000 and sold it for $4000 in 2007. If you recall, oil prices rose dramatically through the end of 2008, sending the prices of economy cars into space. Busted Geo Metros suddenly shot up from $900 to $3000. Owners of small hatcbacks were getting offers in excess of what they were asking as people frantically (and foolishly) abandoned their Ford Explorers for a pittance.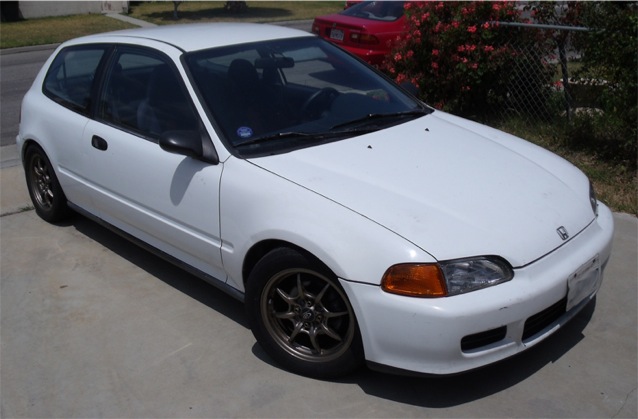 I neglected to take pictures of the actual car six years ago so all I have is this photo I found of a similar one in someone's driveway. His was a white hatchback with standard wheels, little cooper tires with white lettering, and clear corner lights.
His Civic was originally from California so it had no air conditioning, but the paint and dark blue interior were immaculate. The windows were manual rollups and the only additional feature was an aftermarket remote entry system that was only installed on the driver's door.
I came up to Washington to look after his dogs while he was in Thailand, and I had the keys to his Honda (unfortunately, I didn't have the keys to his black Mercedes). At 50mpg with fuel at $2.10 a gallon, my visit to Portland would only cost me $32. That's right, round trip was only thirty two bucks, cheaper than flying, cheaper than the train, and once you add the cost of water and food that's even cheaper than walking.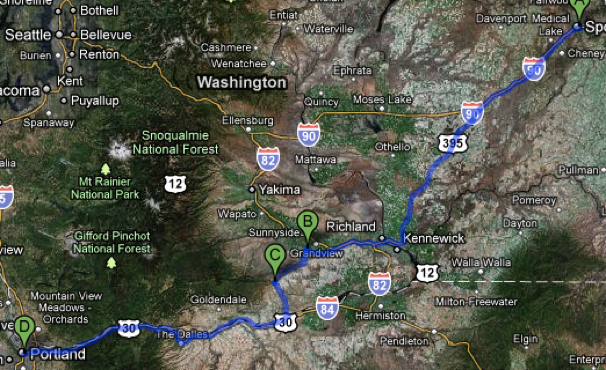 I was supposed to go south somewhere after Kennewick to get on I-84. Because of Washington's distractingly beautiful scenery, I failed to pay attention to road signs and found myself wandering toward Yakima. Without GPS and with too much pride to pull over and ask for directions, I randomly took an exit in the town of Mabton WA and headed south through barley fields toward Bickleton just to see what would happen. Getting lost is (usually) half the joy of an adventure.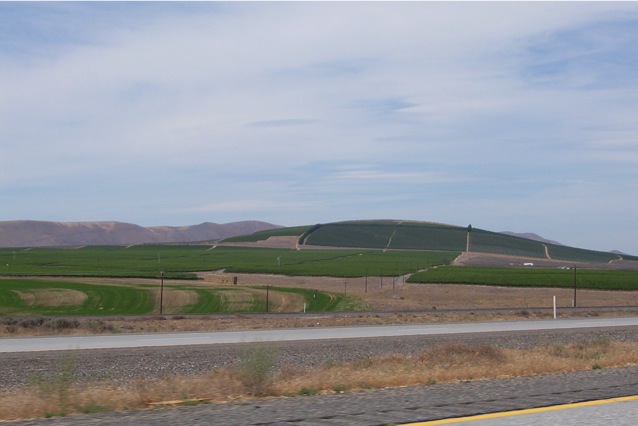 Central Washington is an unusual piece of landscape. Rolling hills and midwest-style agricultural areas are within spitting distance of desert and mountains. Some sections were flat while others twisted and turned through cliff edges. Imagine California without the redwoods.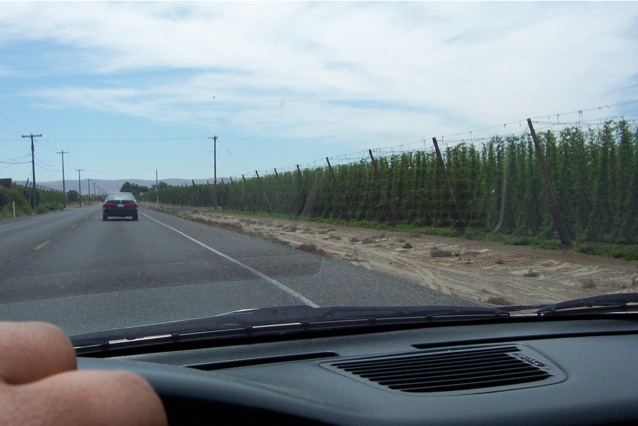 Barley is the money maker here. This is what goes into the Pacific Northwest's highly regarded beers. You can see tall hills off in the distance which I would be climbing later.
This is the peak where I stopped to take photos of the barley fields behind me.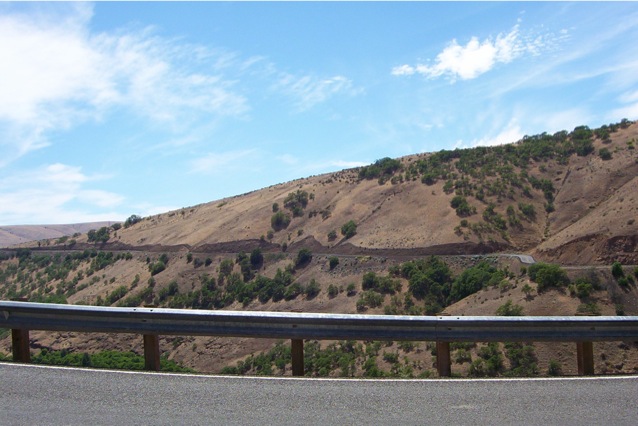 The Civic hatchback, known as the "EG" chassis by Honda enthusiasts, weighs only 2100lbs, which I believe includes air conditioning. Subtract another 50lbs to delete the compressor and related equipment and this car comes in at a hair over 2000lbs, balancing the scales against a 1990 Miata, but with ample cargo space and room for four adults.
Mabton-Bickleton Road is spaghetti-shaped, with pavement switching to gravel and back to pavement in some stretches and sections of road as narrow as an alley. There were only a handful of services along the route. Eventually, the road trickled into I-84 where it met up with the clean and robust Columbia River.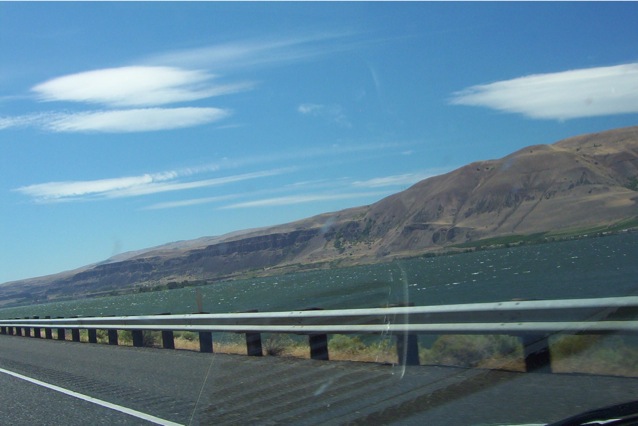 Luxury car guys like me are inclined to believe that a small Honda would do fine in the twisties but rattle and shake at 70mph, but that wasn't the case. I don't know how Honda's engineers did it, but the Civic hatch cruises smoothly and steadily. Getting up to speed in the city is a chore, but on the highway there is more than sufficient 45-70mph passing power.
Wind noise is muted thanks to the car's excellent aerodynamics, the ride is pleasingly forgiving, and it tracks down the road as straight as a ruler, mostly undisturbed by wind gusts. This so-called city car was, to my surprise, far more pleasing on the open road than in town.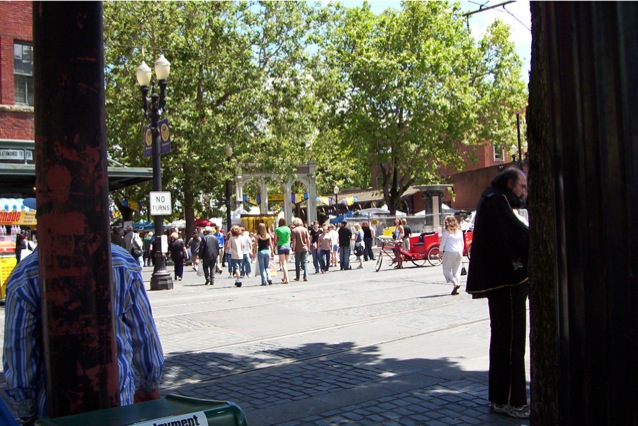 Portland Oregon is a jewel, an overlooked piece of urban heaven where the air is clean, natural beauty is abundant, the ambitious enjoy wealth and prosperity, and the locals are friendly. It hasn't yet been ruined by Californians. Compared to Seattle a few hours north, it's laid back, peaceful, and moderately paced. You could come here from anywhere and feel right at home.
Unfortunately, you can't pump your own gas in Oregon. Owning a car is about control and freedom, and being told I couldn't fill my own gas tank was like the state of Oregon telling me I couldn't eat soup without someone holding the spoon for me. It's an absurd and antiquated law.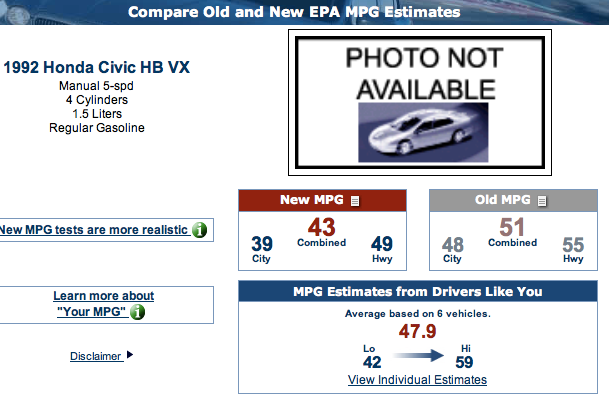 Above: From fueleconomy.gov, old MPG rating method vs new MPG rating method.
With mostly highway driving, I achieved 50mpg, only 5mpg short of the original EPA figure of 55mpg (later revised to 49).
With a few modifications and some thrifty driving techniques, people are seeing as much as 70mpg!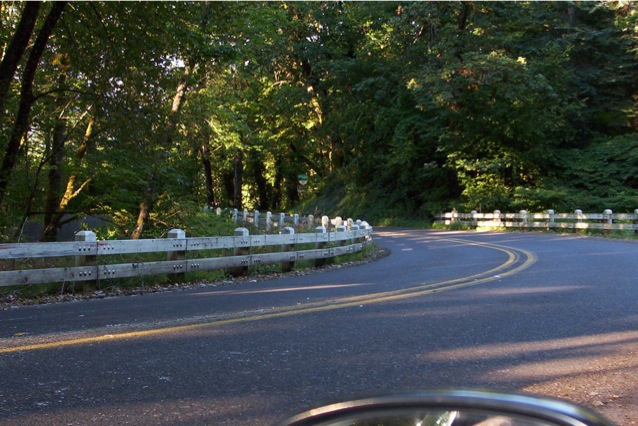 After a night in the city, I took the Columbia River Highway, a route that predates I-84. This used to be the primary method of travel along the Columbia River. Its a narrow two-lane that twists and turns and if you can imagine it, big trucks used to crawl through here before the interstate was built.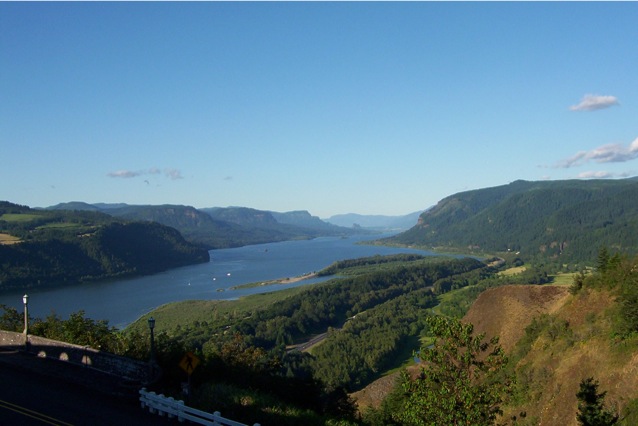 Stunning scenery. It makes you sigh just looking at it.
After returning home, I spent a couple weeks driving the Civic in the city. Spokane has lots of steep hills and stop and go traffic along its north-south drag, Division Street. I saw a low of 27mpg with VERY aggressive driving and full throttle as often as possible and averaged 39mpg driving normally. So, you can hoon it and still come in at just under 30mpg.
—
Here's an overview of how it drove:
Ride: 7/10
Shocking, isn't it? I expected the highway ride to be jittery and rough, but it cruised effortlessly on the highway. In town, its roller skate wheels and short wheelbase were a bit harsh over potholes and ruts.
Powertrain: 8/10
Going from light to light with adequate speed required abusive use of the throttle and aggressive shifting. The transmission was geared to favor fuel economy, so there was hardly any action until you were near redline.
On the highway, passing power was more than adequate. Because of how the super-economical Vx is geared and the way VTEC-E is tuned, the feel on the open road is like having a small turbo.
The Civic's 5-speed manual transmission was notchy but precise. Compared to Mazda's Miata, arguably the holy grail of manual shifters, the Civic required too much effort to change gears. Instead of going snickety snick you got a hard thunk-thunk between gears. Clutch takeup was precise and pedal effort was light, but the linkage felt somewhat unnatural due to the required effort. On the highway, it felt much lighter and easier to drop into fourth for passing.
I'd normally give it a 7/10, but it gets an extra point for achieving 50mpg on the interstate [without hypermiling!].
Steering/Handling: 8.8/10
A thick steering wheel and thimble-like weight make the Civic Vx an absolute joy around corners. Highway tracking is steady and precise without being twitchy, and there's enough weight in the steering to swifty carve your way around ramps and twisties. This did not have power steering, which is unnecessary for a car this size.
Audio/Accessories: 8/10
Interior: 8/10
Comfort: 8/10
I usually drive and review luxury cars, so it seems unfair to use standard criteria. I'll instead focus on the Civic's very precisely assembled interior. The doors and dashboard use soft padded materials that would look appropriate in an Acura Legend.
Front seating is superb, as evidenced by my comfortable five hour drive. Side bolsters are thick with a wide range of adjustments. The high-quality cloth material feels rich and pleasing. It doesn't feel at all cheap or economical inside. From the driver's seat, its as pleasing and spacious as an Accord.
Ahh, but the back seat! You're probably thinking, "That has to be a joke for adults, right?" Wrong. I've been back there a few times and had no trouble going across town. A smaller person would even find it suitable over long distances. I don't know if the same is true of the Civic sedan, but the hatchback's flat roof gives ample head room. I'll admit, getting in and out was a bit of a chore due to the car's height, but if a chubby Cadillac owner like me can find reasonable comfort in the back of a Honda hatchback, so can the general public.
As an added bonus, the hatch opens in two sections (like the Buick Roadmaster or Range Rover), so you can use the bottom of the hatch door as a seat for tailgating.
The audio system was an aftermarket Sony CD player with some aftermarket speakers, so I can't tell you anything about the factory radio. The hatchback's shape was nice for acoustics. Switchgear felt substantial and precise, with a chunky, satisfying feel accompanying every knob rotation, lever movement, and button press.
Climate and radio controls are easy to reach with big knobs and sliders, mounted high to maintain a view of the road. See the gallery at the bottom for interior photos.

Quality/Reliability: 10/10 (More like 11/10)
Nothing breaks! This is the generation of Hondas that put the company on top, the era of the Acura Legend, Civic Si, and NSX. The paint is superbly finished and the interior is assembled with precision using high-quality vinyls, cloths, and plastics. With 150,000 miles, not ONE flaw was present.
Overall: 9/10
As I reach the end of this review, recalling my experiences from six years ago, I've grown more and more fond of this car. As a city car its more than adequate, easily the best of its class, but as a long distance cruiser, its impressive. Honda is known these days for killing the NSX and farting out bulbous heaps like the Crosstour sport-androgyny-wagon. The new CRZ, the successor to this car and the plucky CRX, is a complicated hybrid with a face only a mother could love and loud interior designed for people with ADHD.
If GM's golden era was the 1960s, Honda's was the 1990s.
If you run across a Civic like this and have any hesitation about buying it, do yourself a favor and fork over the cash, immediately. I wish I bought it from my dad before he sold it to a coworker. Between his Mercedes for leisure and his company car for cheap daily driving, he rarely drove the Honda. Then again, its pretty miserable to have a car without air conditioning here in the midwest.
Expect to spend $2500-$4500 depending on the condition. Most examples have been badly abused and thrashed to hell by urban drag racers. Get the manual; don't bother with an automatic.
Specifications:
Curb weight: 2100lbs
1.5L I4 VTEC-E, 92hp, 97lb-ft
5-speed manual transmission
Observed fuel economy: 30-50mpg