Flip This Car! $500 1998 Mustang
Originally written September 2009:
A friend of Ian's decided to pack his things, buy a new Jeep, and move to Puerto Rico. As a result, he abandoned a bed, a few items, and offered his bruised and neglected 1998 Mustang coupe for $500.
The good: Mechanically sound two-owner car, 85,000 miles, oil changed every 3k, no leaks and no issues.
The bad: Crunched fender (SUV bumper hit it at a slow speed), nasty interior, never been washed so there's a layer of crust, bald front tires.
I had to fly to Tampa to pick it up, so here's some road trip photos with captions:
[I forgot my Kodak, so all I had was my Blackberry.]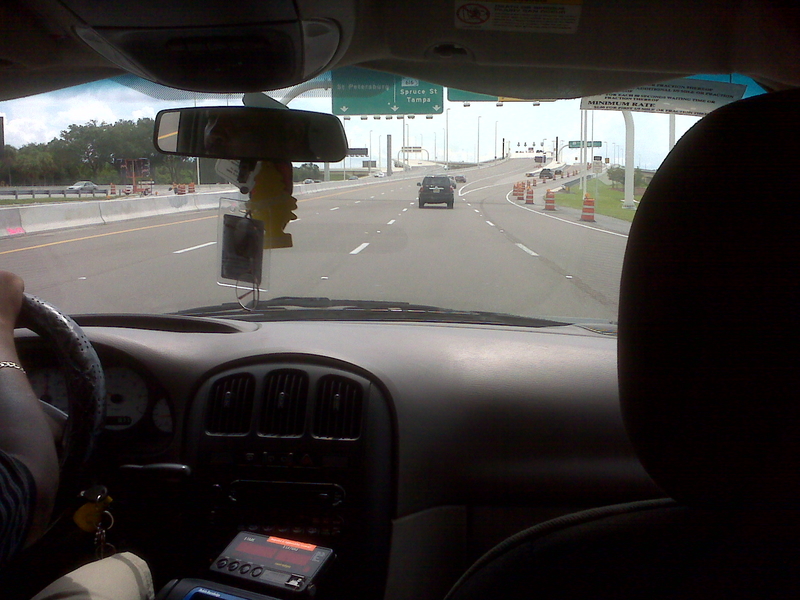 Taking the taxi in Tampa. The driver kept bitching about his job.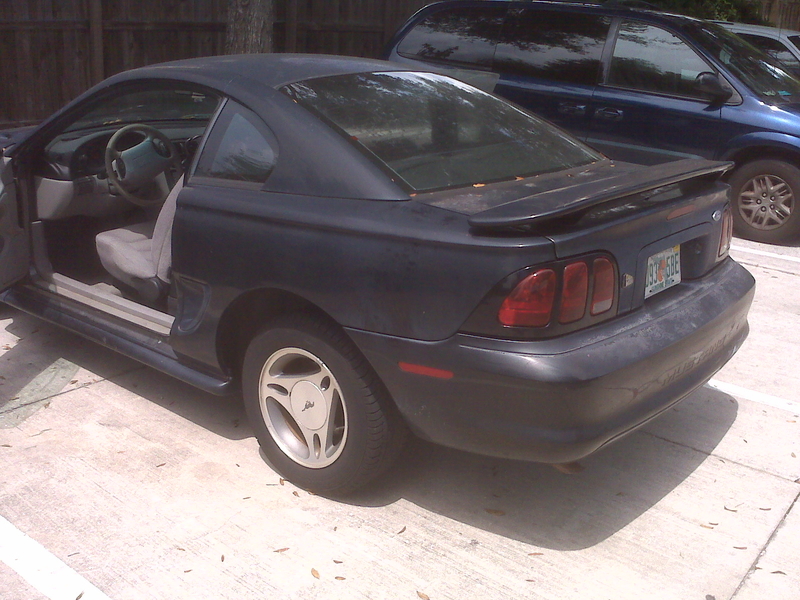 When I first picked it up, it was quite hideous. What you're seeing isn't faded paint, its dirt. There was a layer of crust on the whole car. I got dirty just walking around and being in it.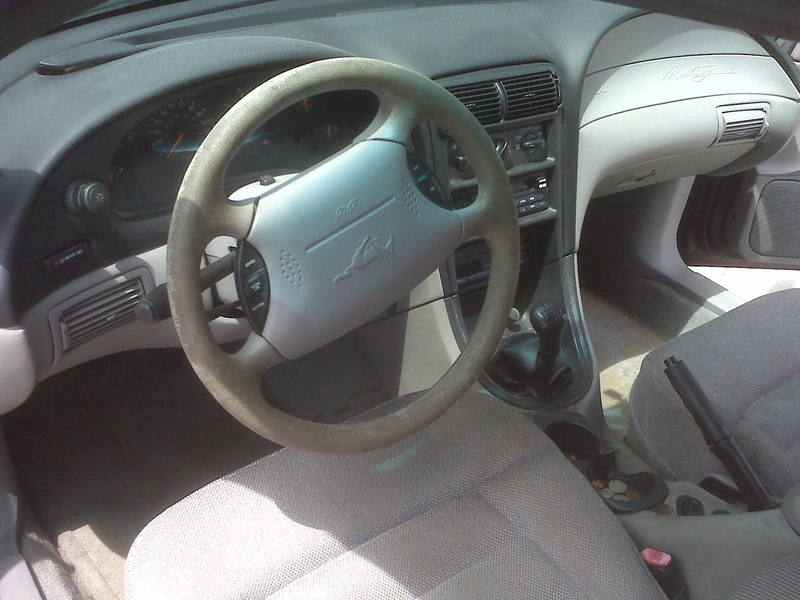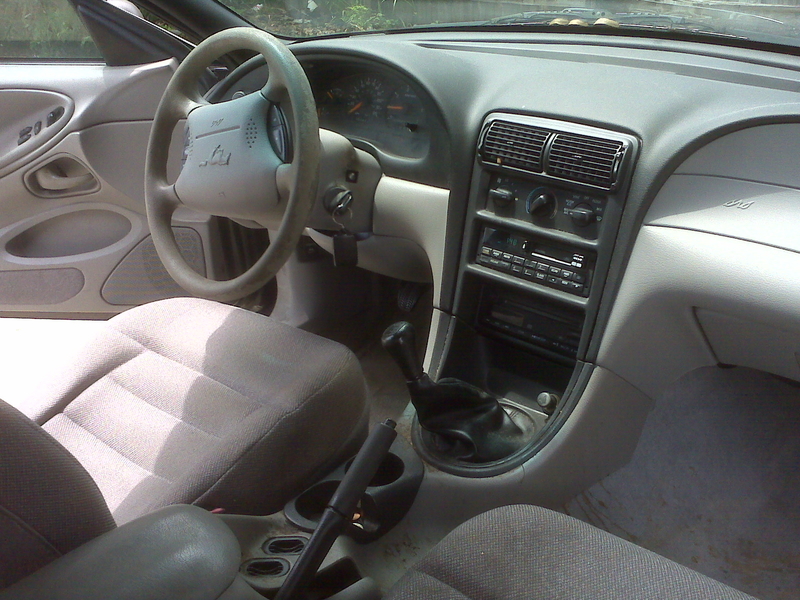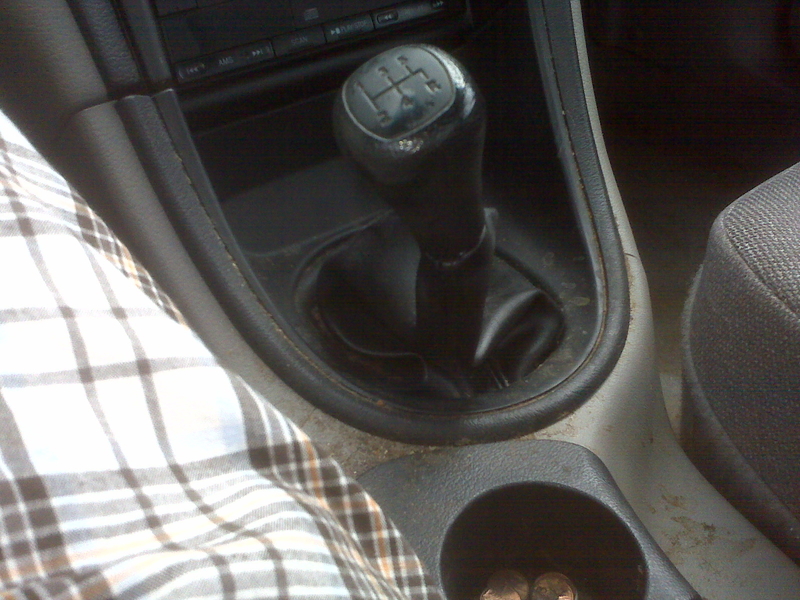 The interior is in tact but full of dirt and coffee stains. I'm paying the kids at the car wash to deal with this mess tomorrow.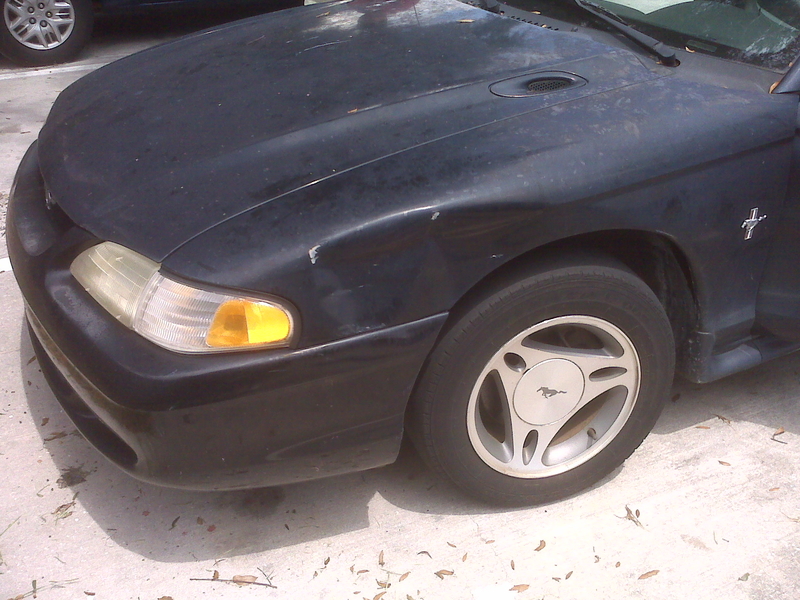 The crunched fender and crust-covered paint. Some buffing should bring back the shine, at least enough so that I don't look like a meth addict driving around the county.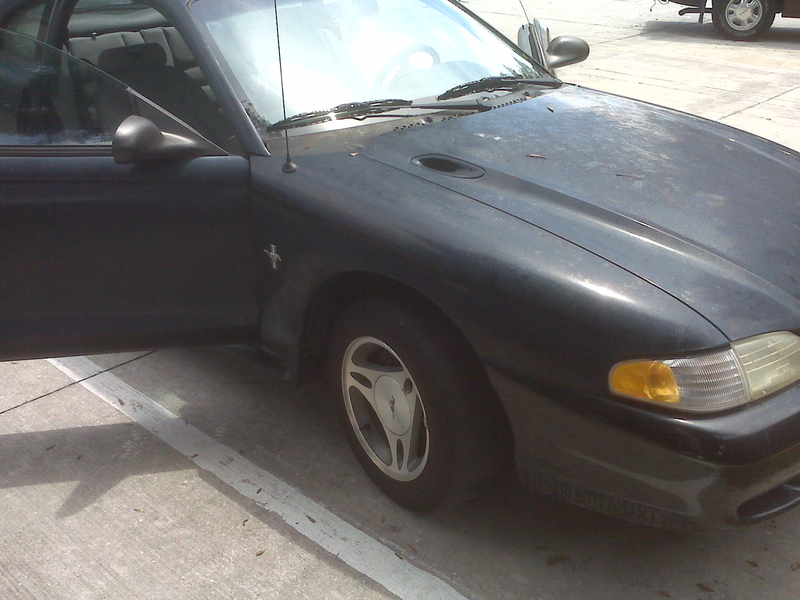 Headlights are foggy too.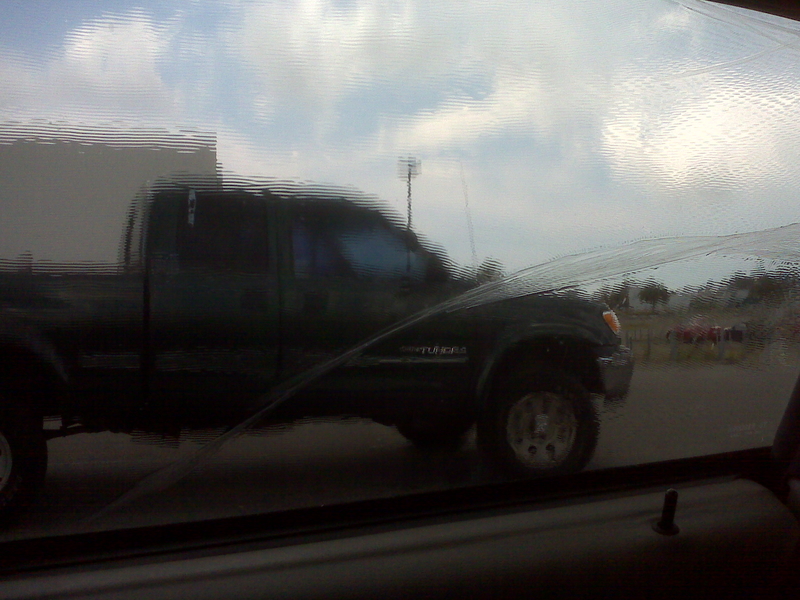 That's NOT a cracked window. There's some nasty cheap tint all over the car that has to be removed. It shrank in the heat and looks horrible. From inside, it looks like its constantly raining.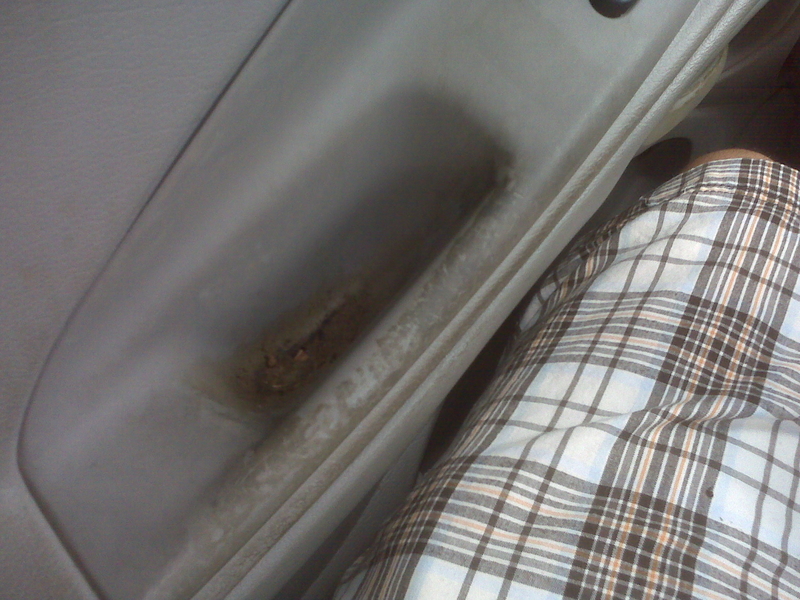 Its shocking how dirty this car is, because the guy who owned it was a very clean, very organized guy.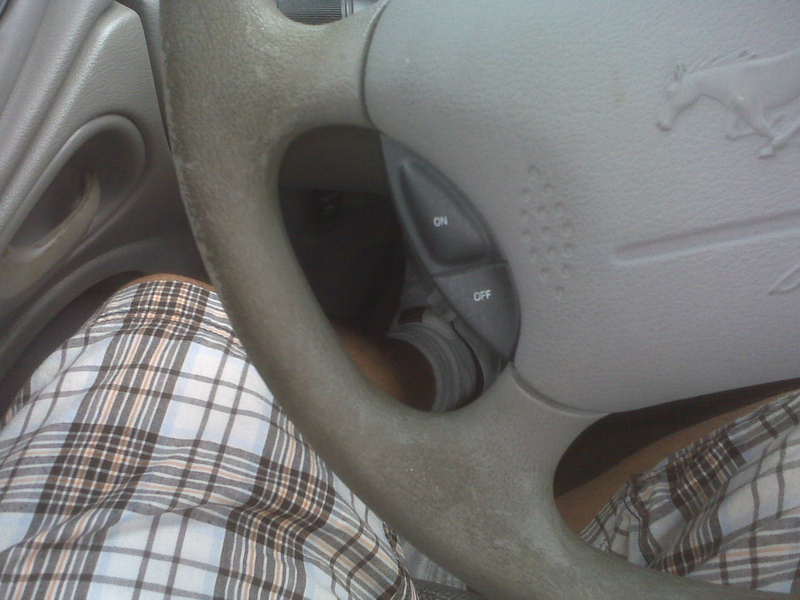 Eww.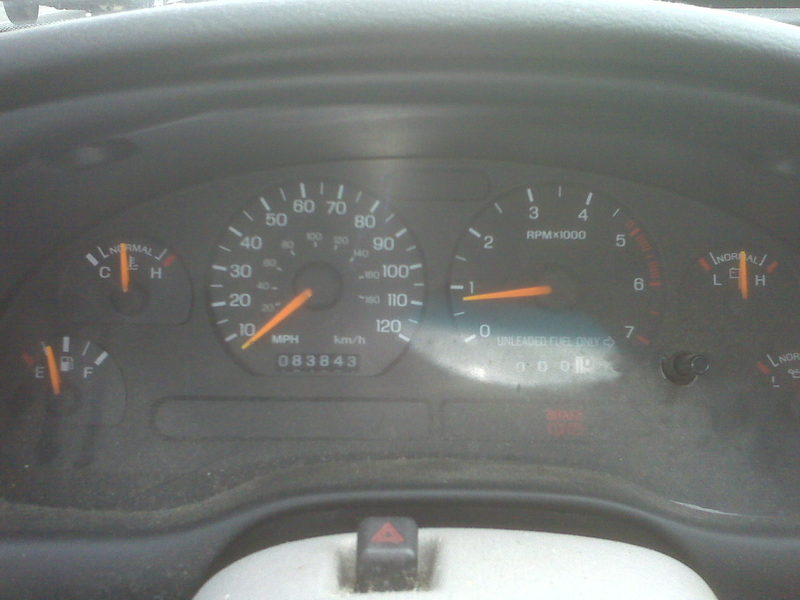 The odometer stopped working I believe at the same time I tried to reset the trip meter. I thought I felt a crunch when I pressed it, and it took a few tries to get it to reset.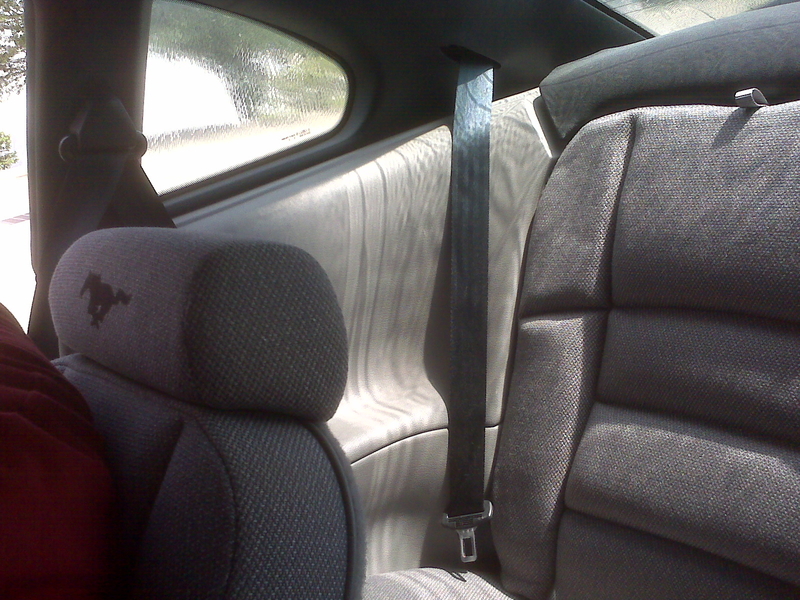 At least the back is clean.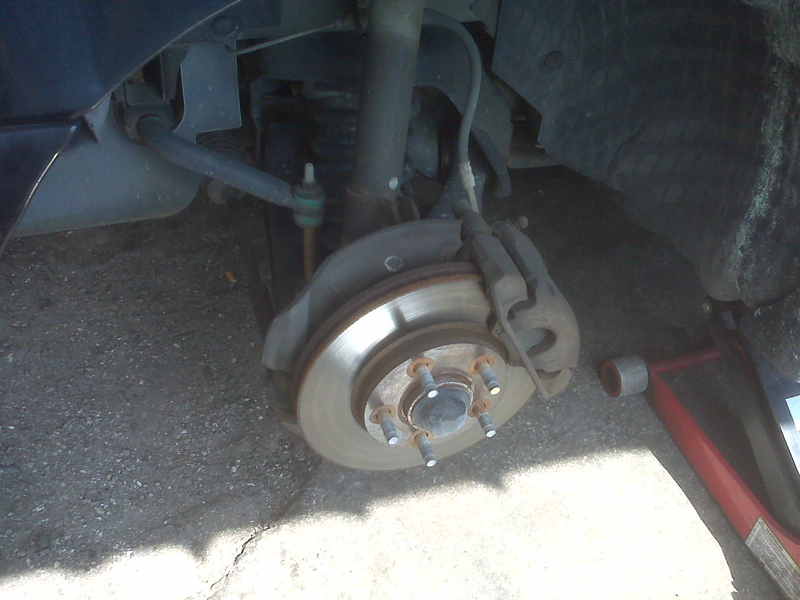 Stopped at Miami Tire to pick up a used pair to replace the balding ones.
Almost no pads left, front rotors need a turn.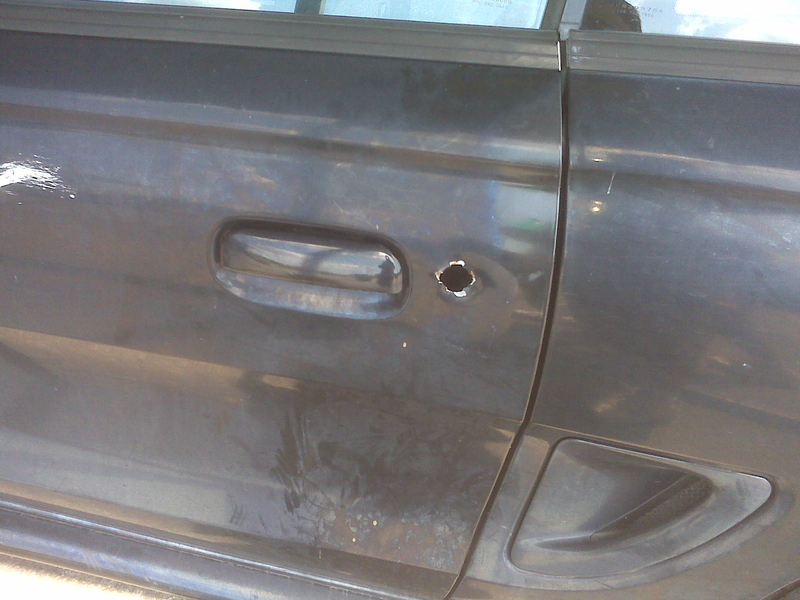 A couple years ago, some stupid addict tried to break into the car with a screw driver. Both locks were damaged but the drivers side was left with a gaping hole. I might fill it with bondo and spray it over.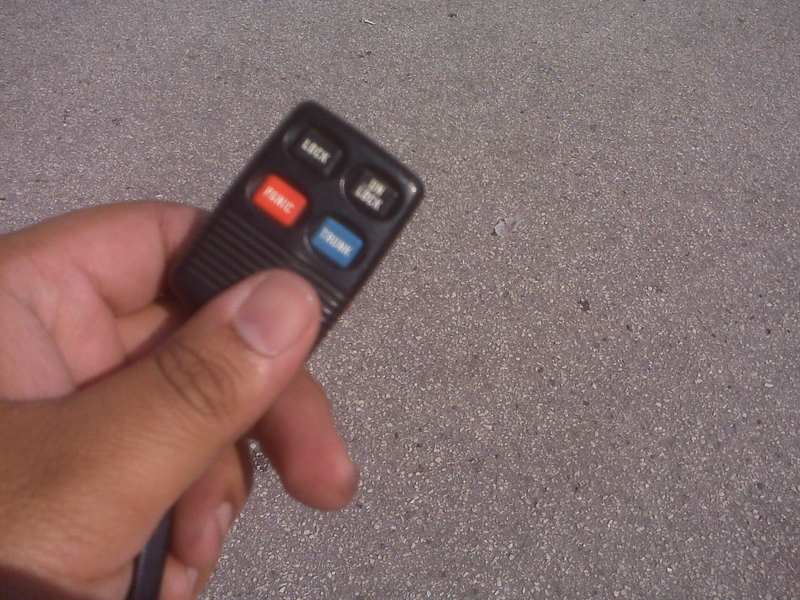 The keyless entry works fine after replacing the batteries for $10.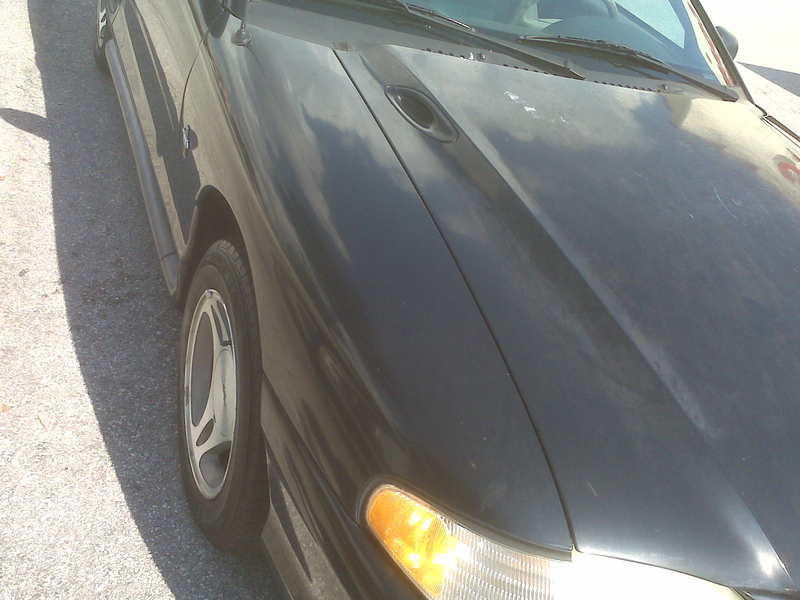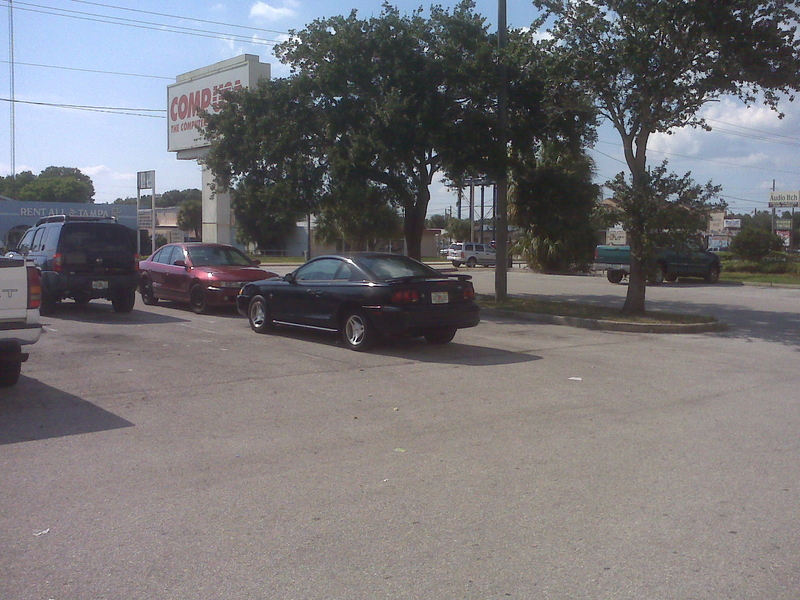 The first wash this car has had in eight years.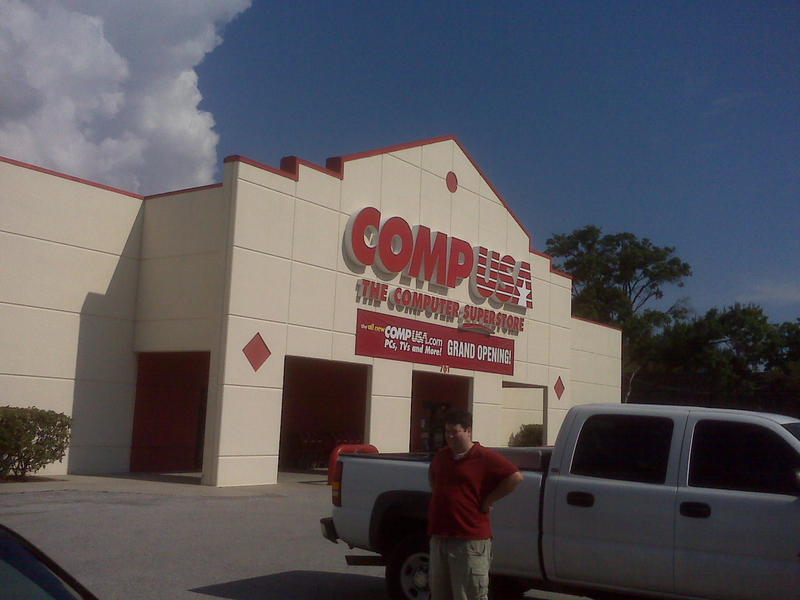 CompUSA! Still open in TX and FL, owned by TigerDirect.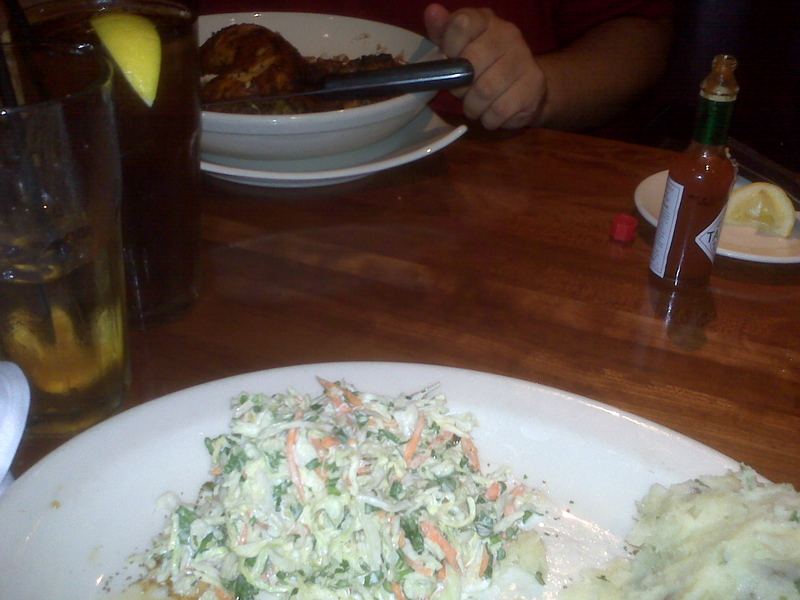 Went to J. Alexanders for some rare tuna, slaw, and mashers.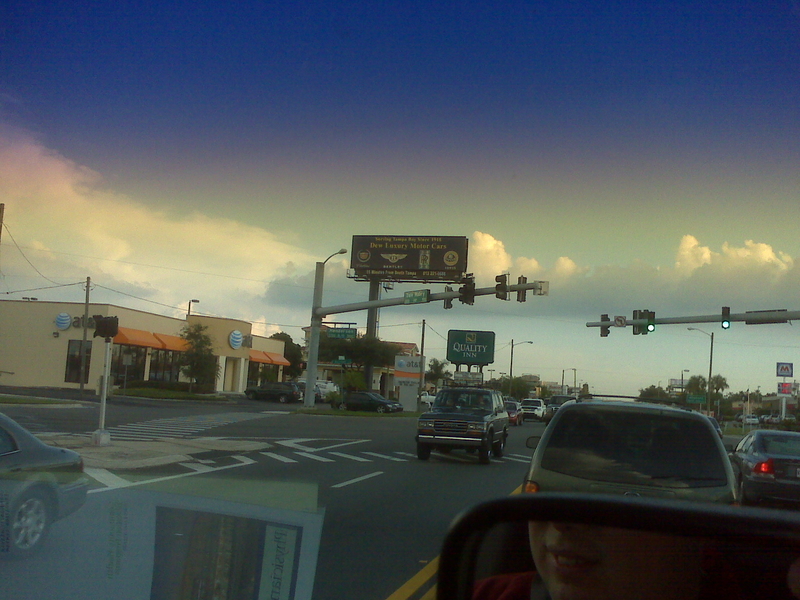 A billboard for Dew Motors, carrying Rolls, Bentley, Lotus, and even Cadillac.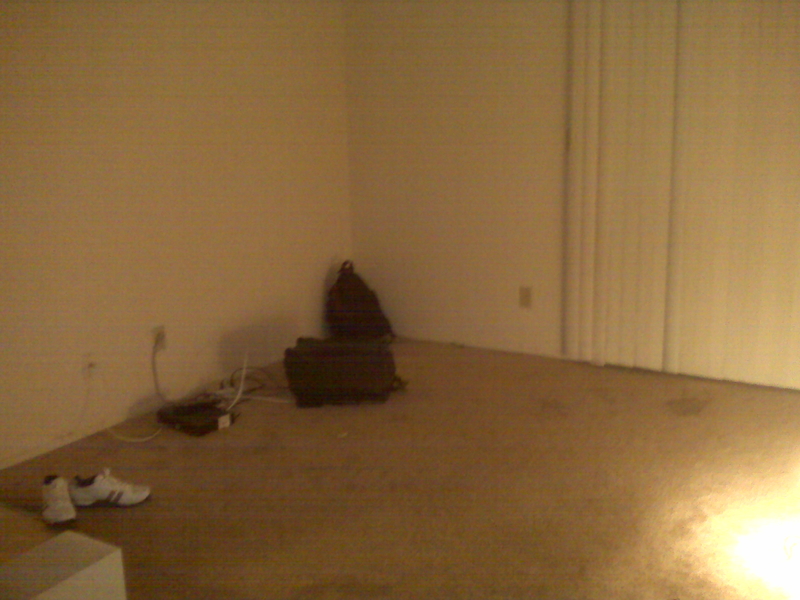 This is Jason's old and now-empty apartment where I slept, lol. I felt like a crack addict breaking into a foreclosed home.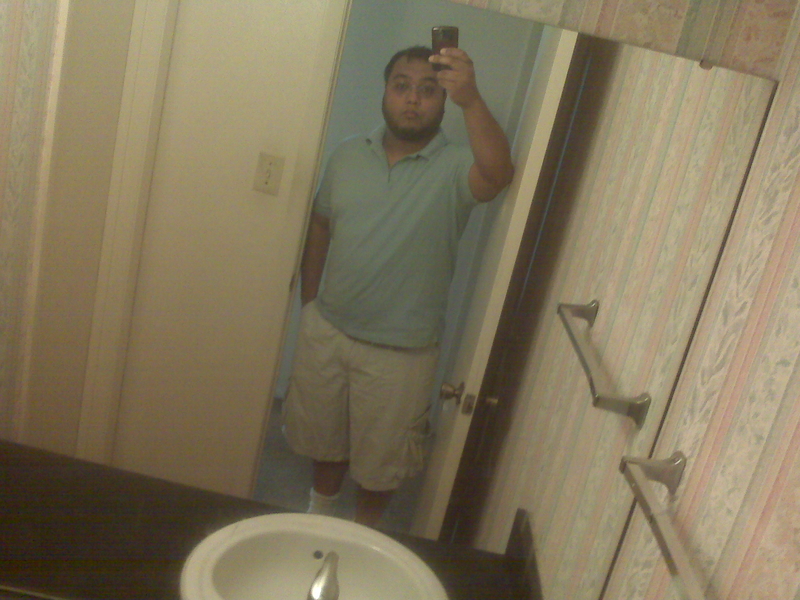 I bought a shirt. I'm not sure what the deal is with the sock situation.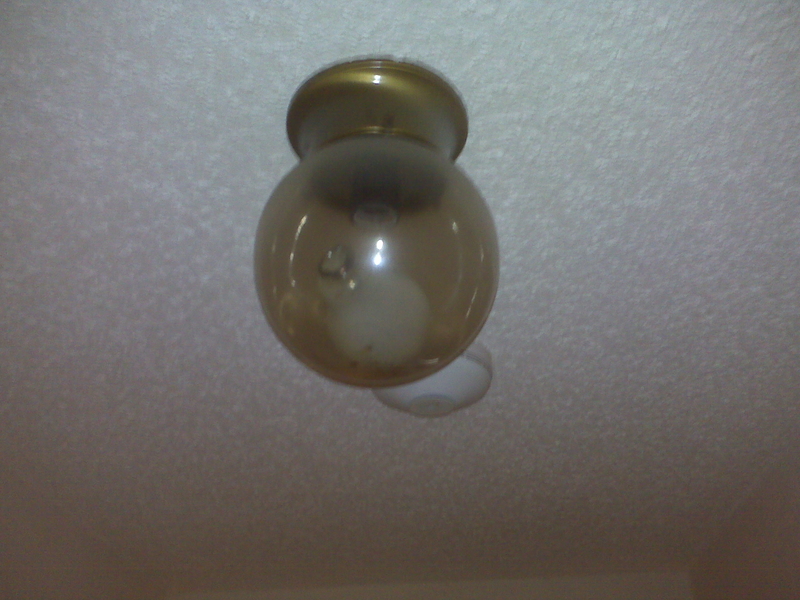 The light bulb in the hallway was so old that it cracked and fell out of the socket.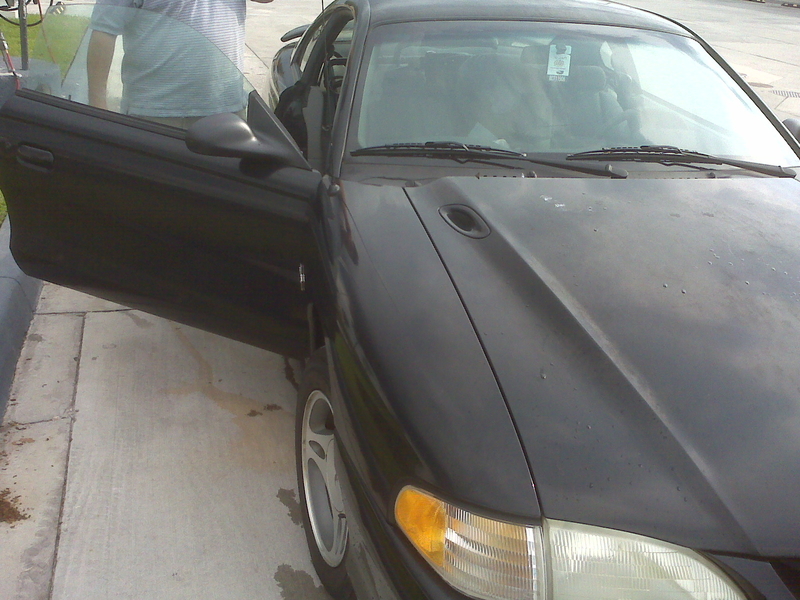 After two washes. Much better.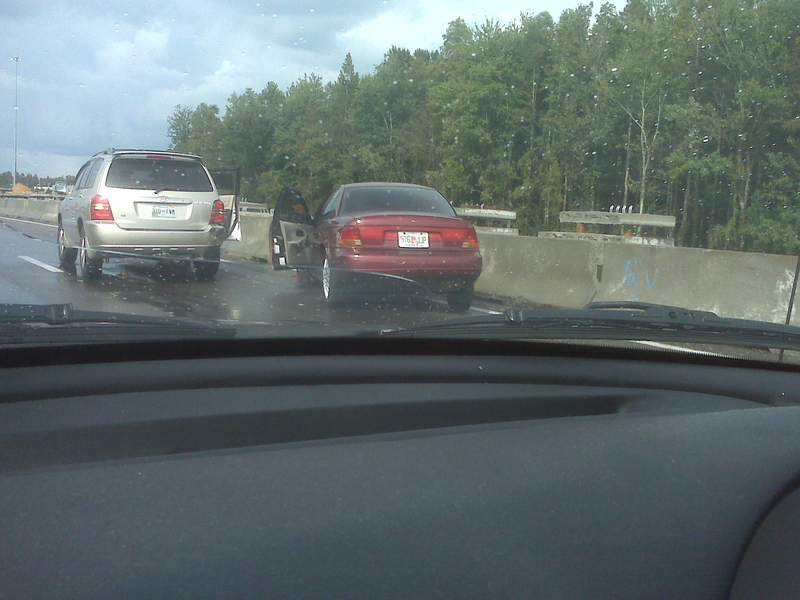 It seems impossible to drive anywhere in Florida without seeing a wreck. This one involved four cars.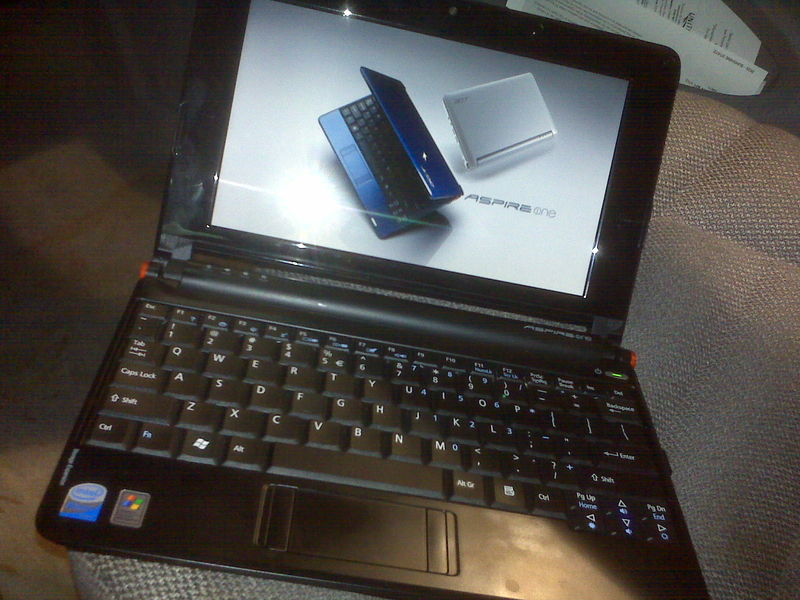 New toy, $199 Acer netbook, an open box deal at CompUSA. Came with a 3-cell battery (need to upgrade that), 120GB HD, 9" LCD, 1GB RAM, WinXP.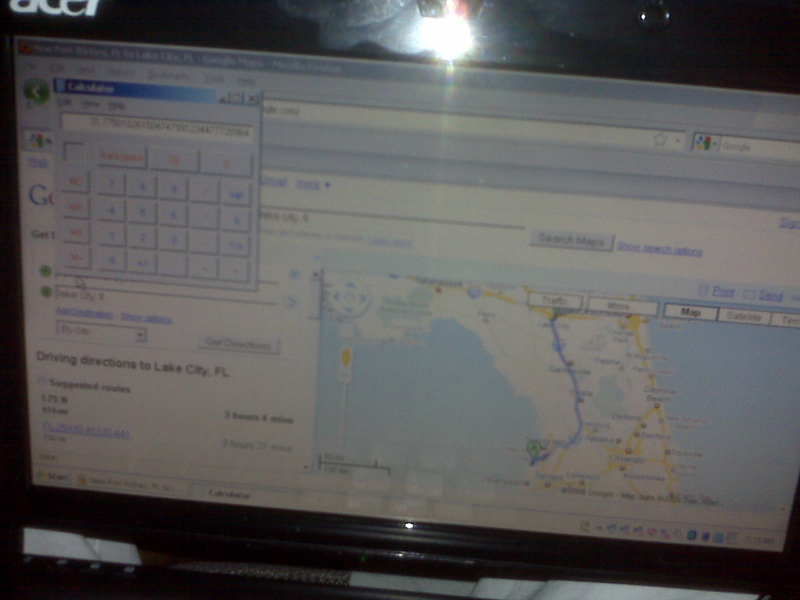 Calculating fuel economy. 31.7 mpg!!!! Go Mustang!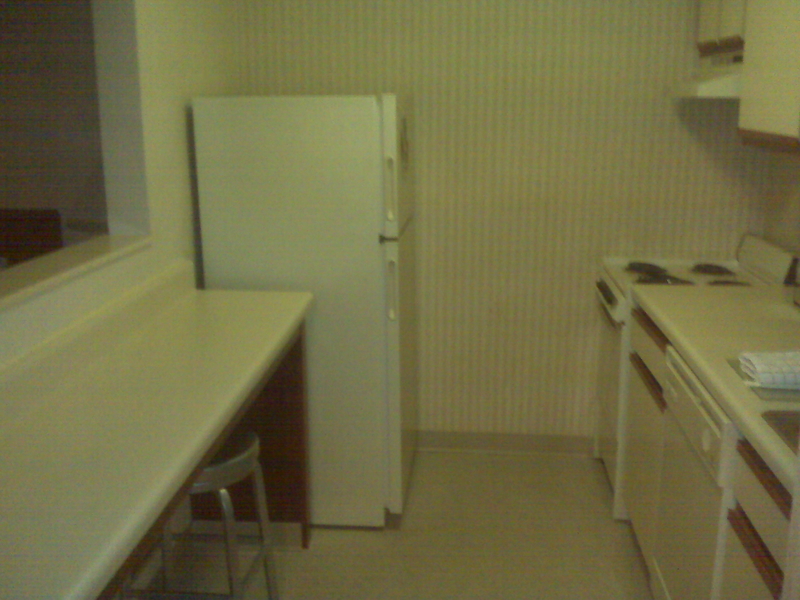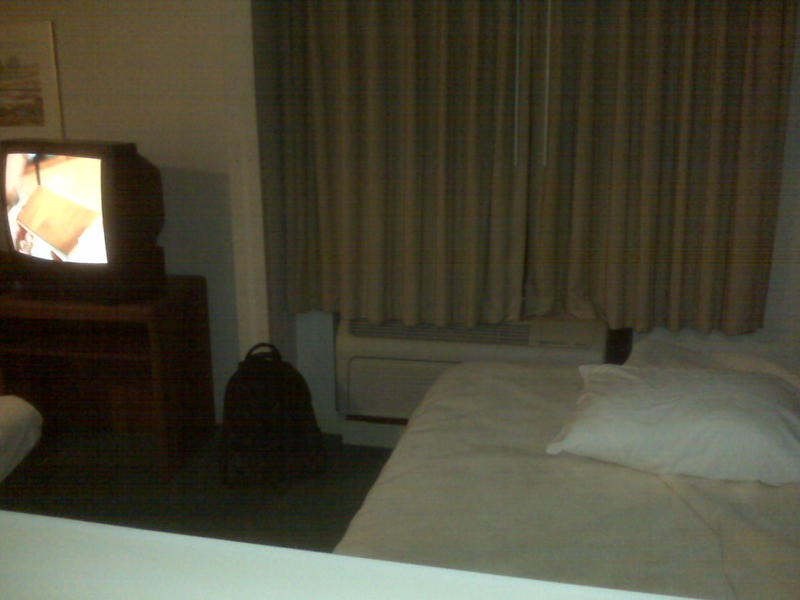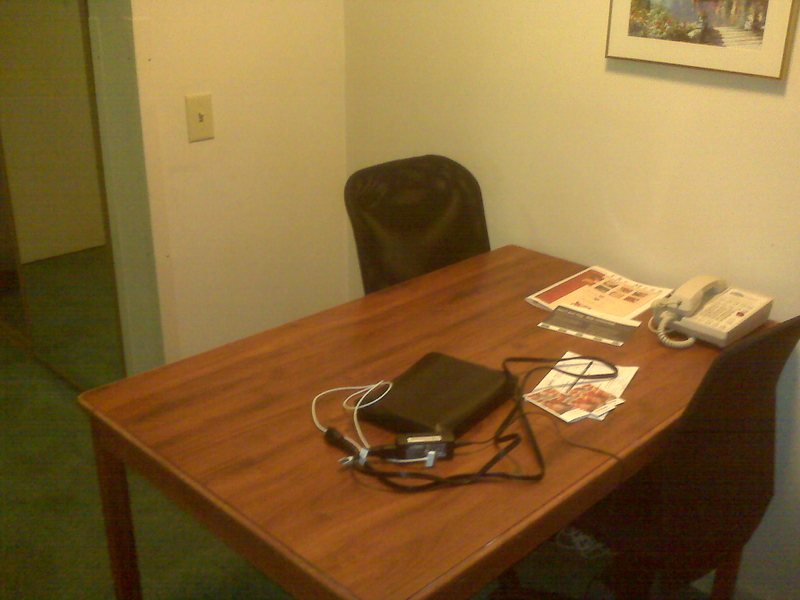 Booked a room at Staybridge Suites in Atlanta for $29. Priceline rocks.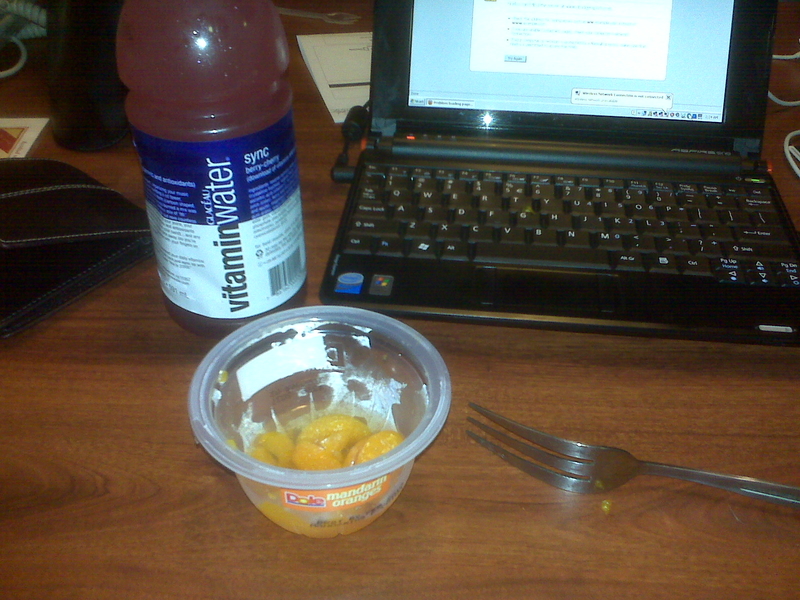 I ate a cup of fruit and felt compelled to share it with you.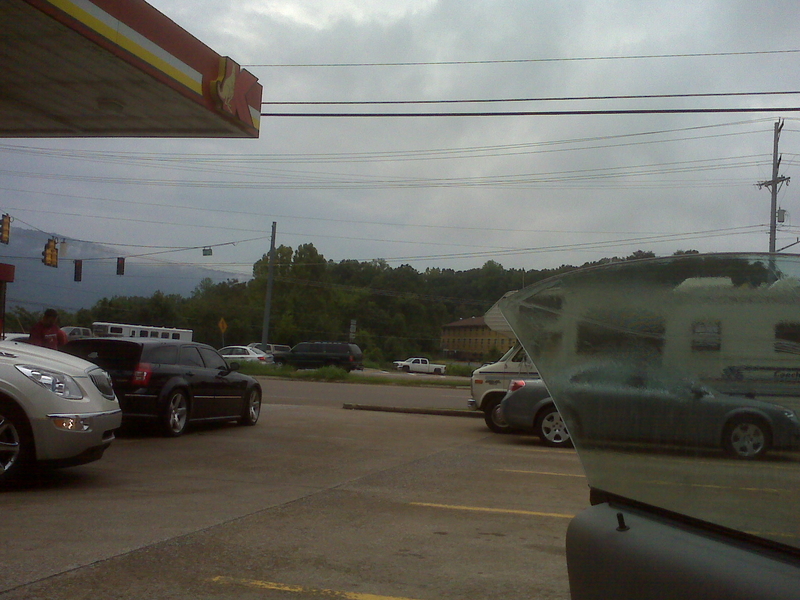 Just outside Chattanooga, a nasty accident on I-24 forced a detour.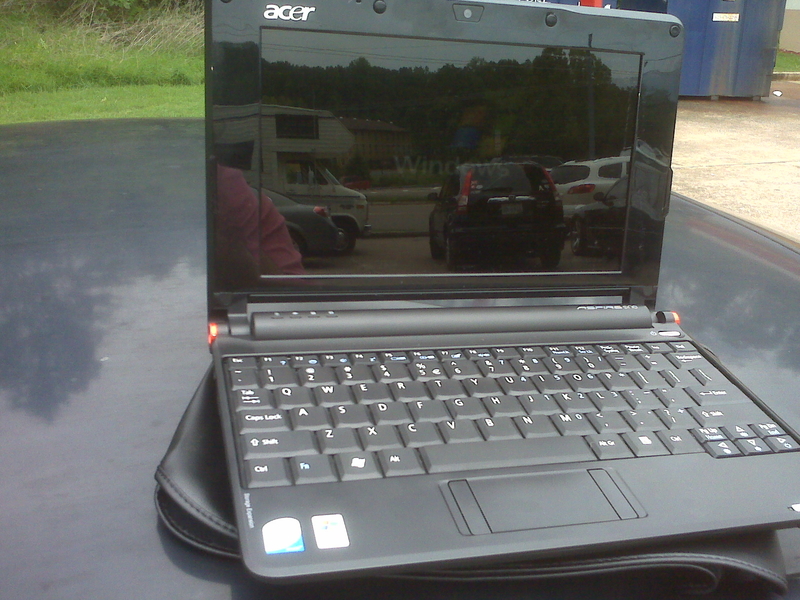 Booting up, mapping out a new route.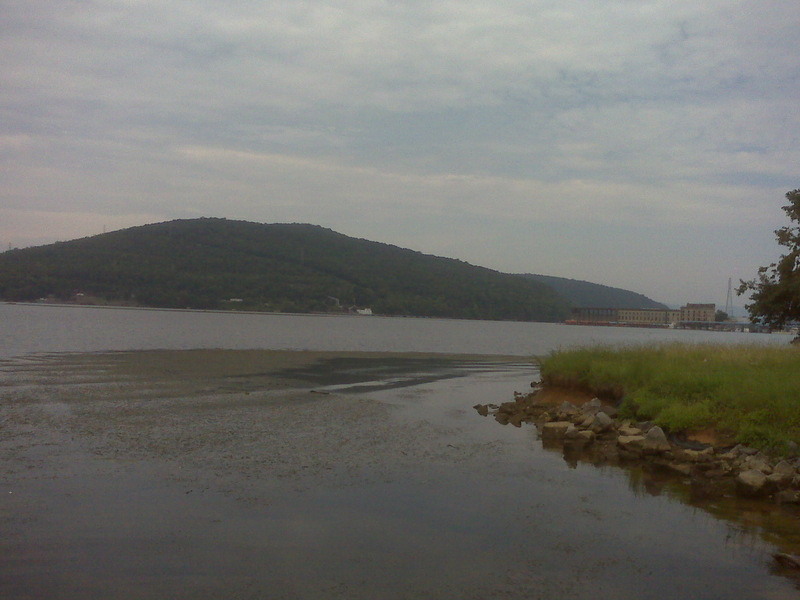 Best detour ever! Lakefront property here is ridiculously cheap, some under $200k with a decent house. Tennessee is gorgeous.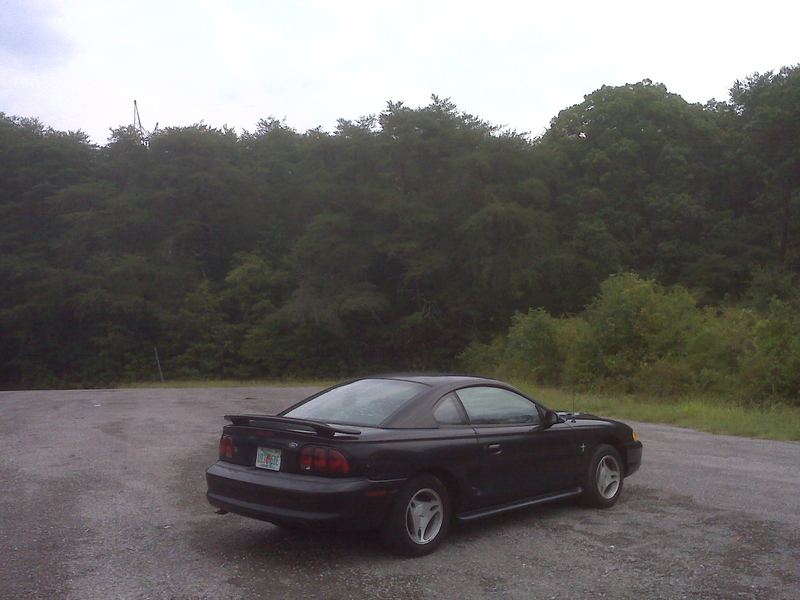 Looks good if you stand far enough away in dim light.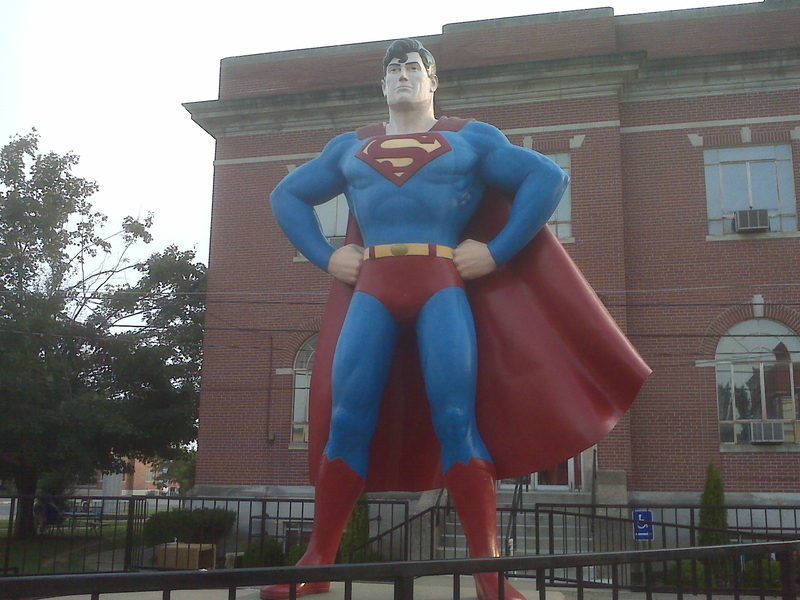 Stopped in the city of Metropolis to visit Superman.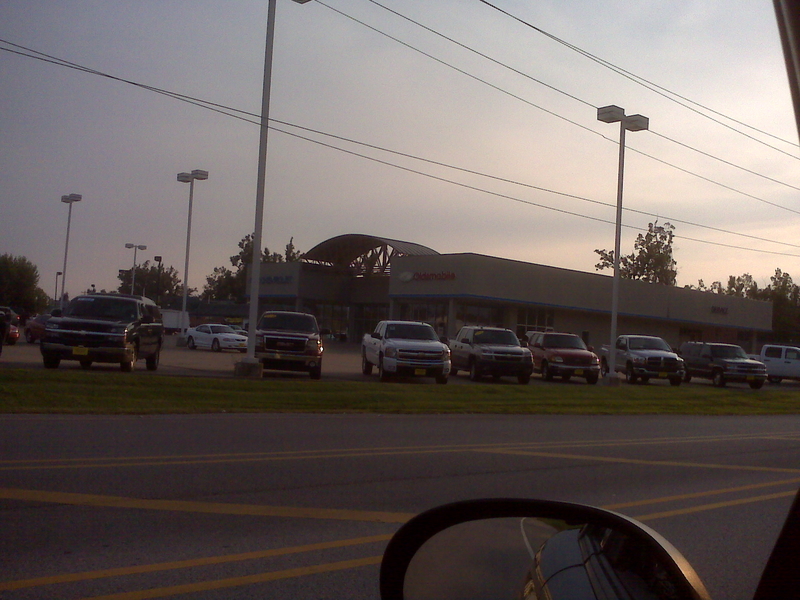 An Oldsmobile sign still standing at a Chevy dealer in Southern Illinois.
I made it home without any issues at all, easily exceeding 30mpg. The car itself was surprisingly good. I usually enjoy clean late-model luxury cars, but this busted old thing was actually a lot of fun to drive.
Overview:
3.8L V6, 150hp, 210lb-ft
5-speed manual transmission
Two-door coupe
Power windows, locks, mirrors
Weighs about 3000lbs without the driver.
Comparable: Camaro V6, Nissan 240SX, Ford Probe, Mazda MX-6
Steering/Handling: 3.9/5
Steering was reasonably accurate but it had some of the usual on-center highway sponginess associated with Fords.
Handling shocked me, in a good way, flying around ramps like a sporty car ought to, securely gripping and moving predictably. Somehow, the suspension in this badly neglected car was still in tact.
It doesn't have the lively feeling that a Nissan or Mazda offers where you can feel the road sizzling in your hands, but it communicated adequately enough to know what was going on.
Braking: 3.7/5
Despite low pads and warped rotors, it bit hard and stopped with authority. Didn't expect that.
Styling: 2.5/5
The bubble body is probably the least-favored modern Mustang body style. There's a couple vents in the hood and a nice curve along the side. The rear wheels look too sunken in.
Interior: 3/5
The door panels had soft surfaces and the switchgear was precise, but the black border around the center stack was poorly painted, which looked terrible. 
All the controls were easy to reach and the gauges were basic and clear including temperature, oil pressure, fuel, and battery voltage. The steering wheel buttons and window switches were not lighted, but they were easy to find and use at night.
There isn't much wind or road noise, feeling like a somewhat more expensive car.
The cupholder is in a stupid location, right behind the shifter. No wonder there's coffee stains everywhere.
Audio/Accessories: 4/5
This is another pleasant surprise. With a Philips tape adapter connected to my Blackberry, the Ford radio sounded reasonably clean and powerful for a cheap factory radio. There was little distortion, some thumping bass, and a decent bit of power. Again, a total shocker. This one had a CD player as well, located right in front of the shifter (a stupid location) — I didn't bring any CDs.
The windshield wipers are unusually quiet, and all the power accessories still work.
Suspension: 3.6/5
The base coupe is softly sprung and cruises along the highway quietly. Like a Jeep, it crashes hard over large bumps, probably due to the solid rear axle and crap tires. Overall, it cruises around much more like a quiet sedan than a cheap economy car ($16k MSRP in 1998).
Comfort/Climate: 5/5
Brutally cold AC and simple controls. Couldn't ask for more.
The seats are perfectly shaped, with lots of padding and plenty of thigh and back support. Power seat switches are located on the front of the seat, which is actually a little easier to reach than on the side. I felt absolutely NO fatigue after 1000 miles of driving.
Acceleration/Engine/Transmission: 3/5
The shifter takes some muscle, but the clutch is reasonably light. Movement is reasonably precise but a strong arm is required for spirited driving, taking some of the fun out of it. The engine doesn't sound like anything special, humming along like a bland "pile of motor", but its so quiet I don't really notice it. There's enough room under the hood to repair anything with a screwdriver and hammer on the side of the road.
It moves nicely enough, all the way up to 80mph where it runs out of steam.
There isn't enough power to spin the rear tires, not even close, so traction in the rain wasn't much of a problem. I don't know how quick it is to 60, but it didn't feel painfully slow (or pleasingly fast).
Quality/Reliability: 7/10
I've heard some stories about 3.8L head gasket failures, but unlike the Ford Windstar (which needs its engine removed), its only a few hundred dollars to fix. Stupid little things like lights and door sensors will go wrong, and a few interior pieces may degrade over time. Ford's reputation for automatics is mixed. Otherwise, expect solid dependability from the V6 engine and manual transmission. The Mustang's high production count and means the used market will have a large selection of heavily depreciated cars in reasonable condition.
Overall: 4/5 (wtf?)
Everything about this car behaves like a midsize sedan, but with a manual transmission and sharper handling. Nothing sticks out as really impressive but comfort is high, fuel economy is very reasonable (30mpg highway), and repair costs are low.
Because it was a cheap and economical sporty car for high school girls and secretaries, I came in with very low expectations, but I was pleasantly surprised. When it comes down to specifics, it seems as if I had mixed feelings about this car, but I assure you, I greatly enjoyed taking it across the country.
In all, its the best $500 I've ever spent on a car. If this crude and neglected '98 was this good, I can only imagine how great the 2010 Mustang is.
—
Followup: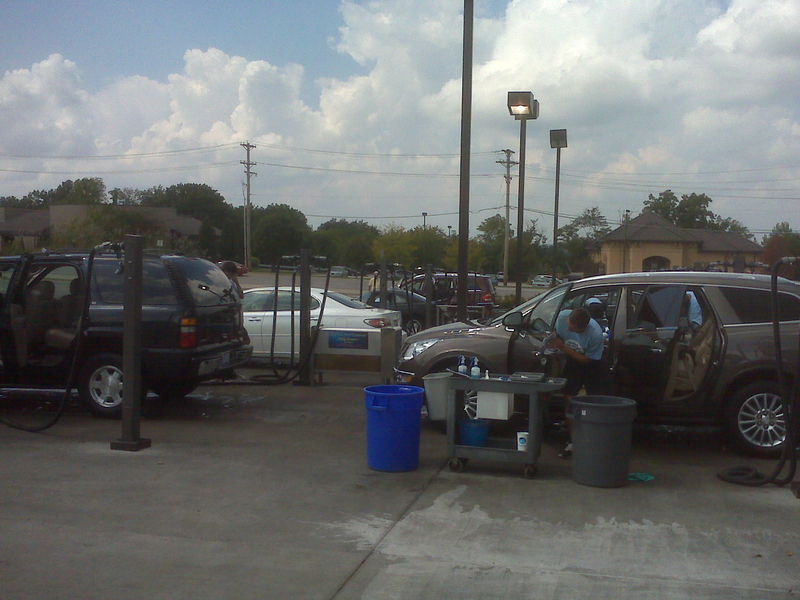 Took it to the local Waterway car wash and paid $50 for an interior clean. The poor kid… it was hot outside and I kept having him go over every filthy crevice.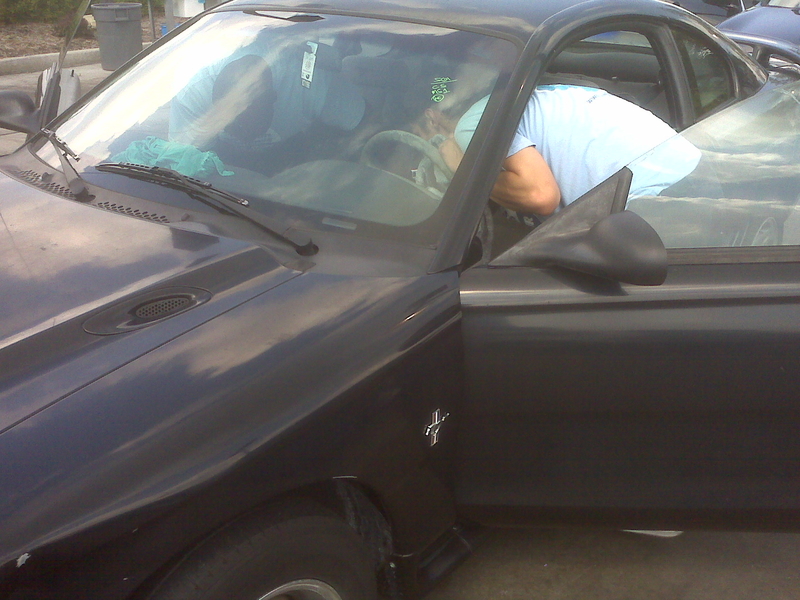 I said "Is this the filthiest car you've ever seen?"
He replied, 'Uhh… yeah.'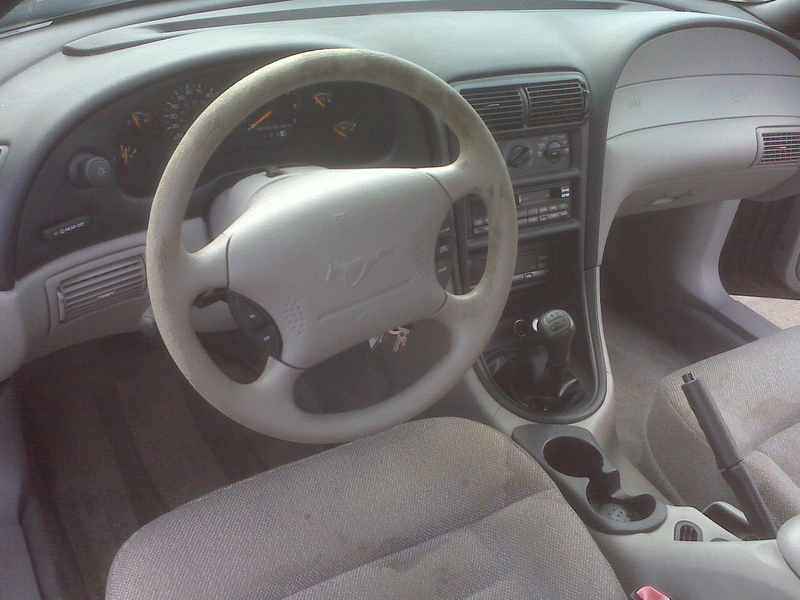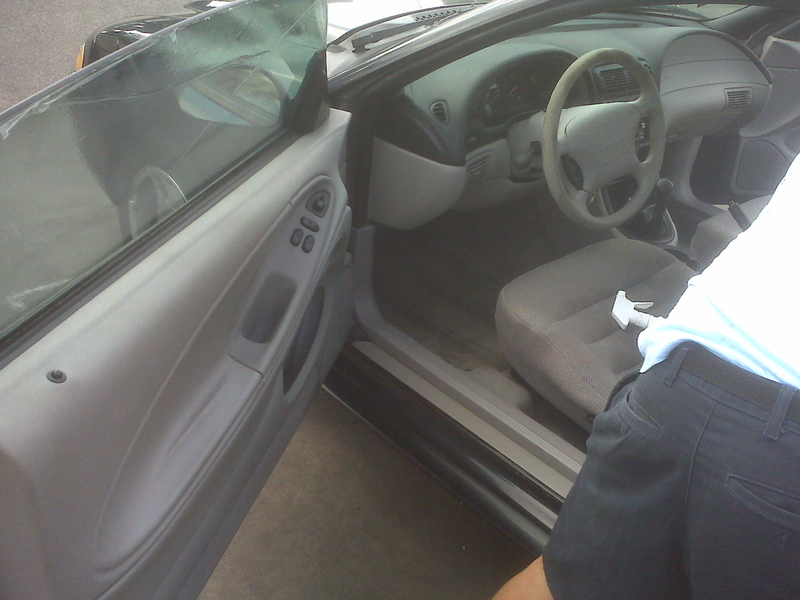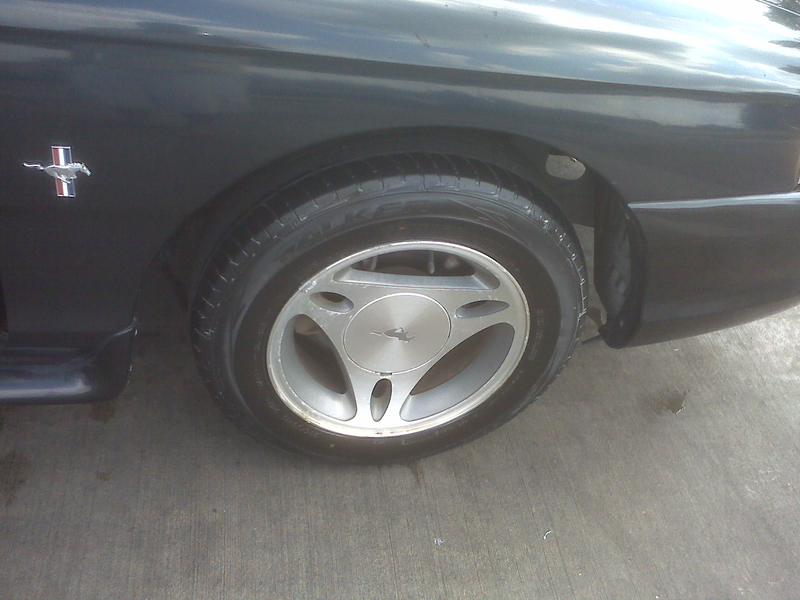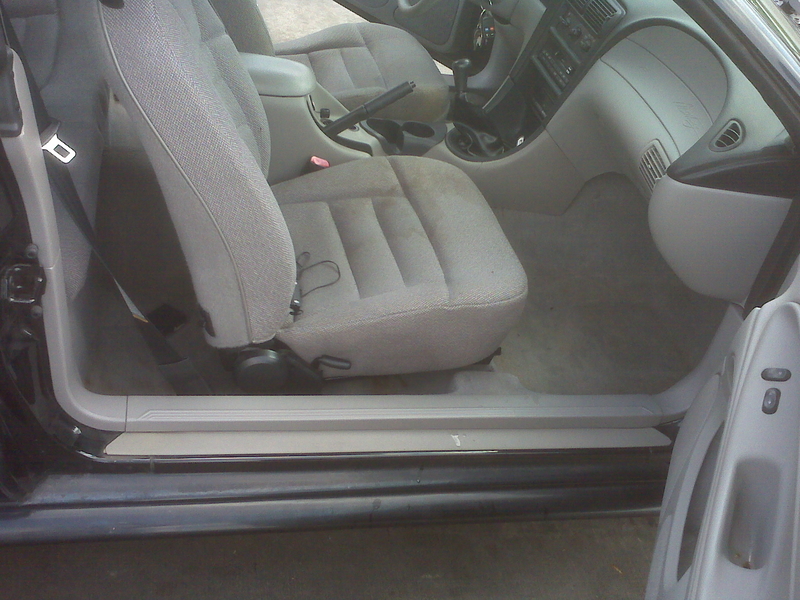 Much improved. Carpets were deep cleaned but didn't pay for seat cleaning.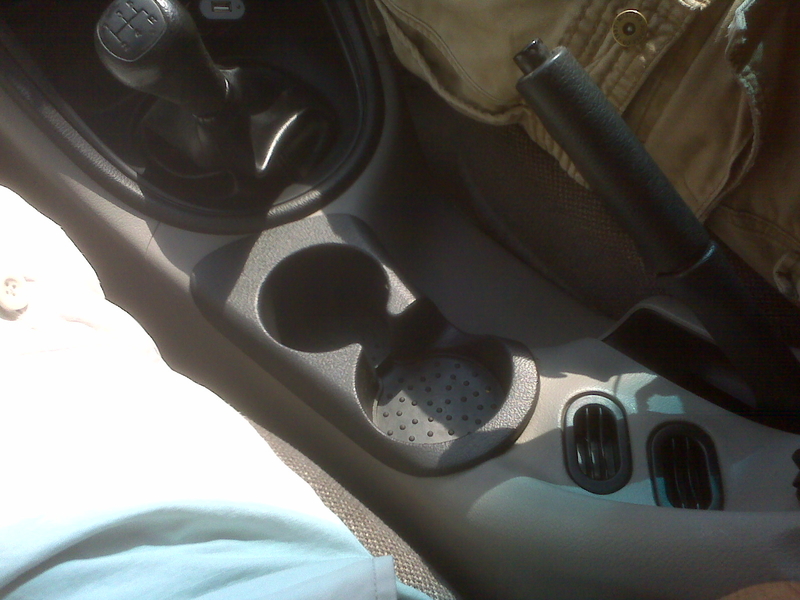 No more crud!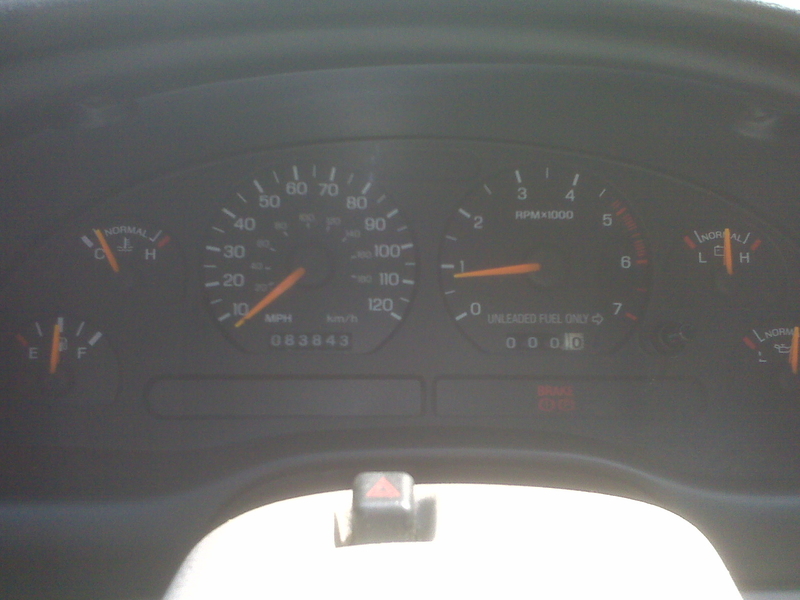 I can see the gauges now.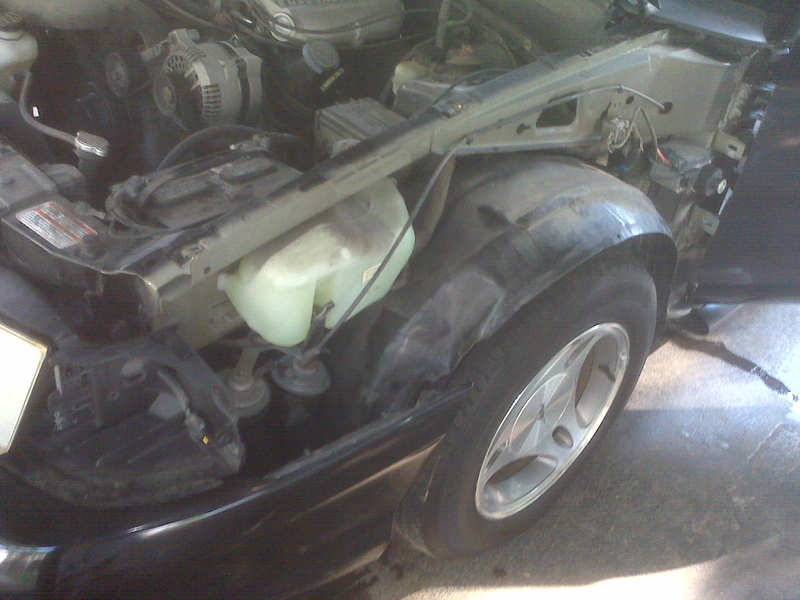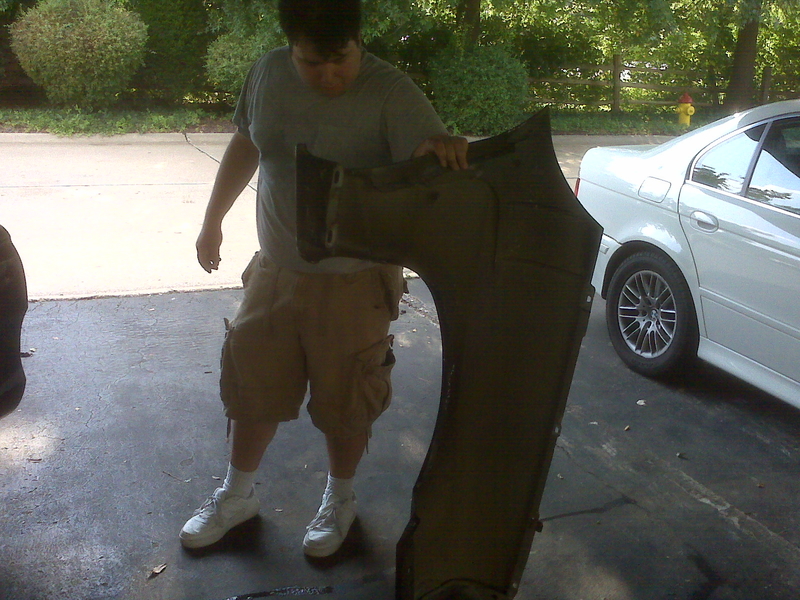 We removed the crunched fender, a reasonably easy job.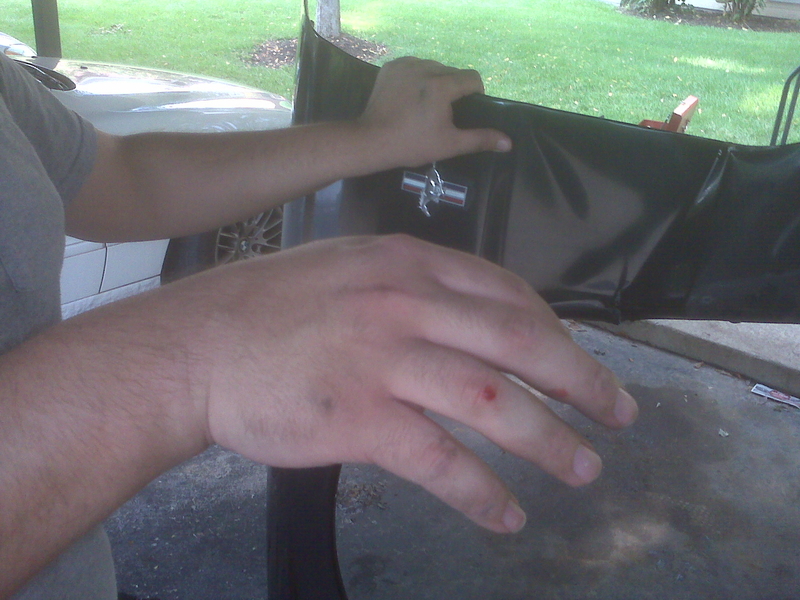 No pain, no gain.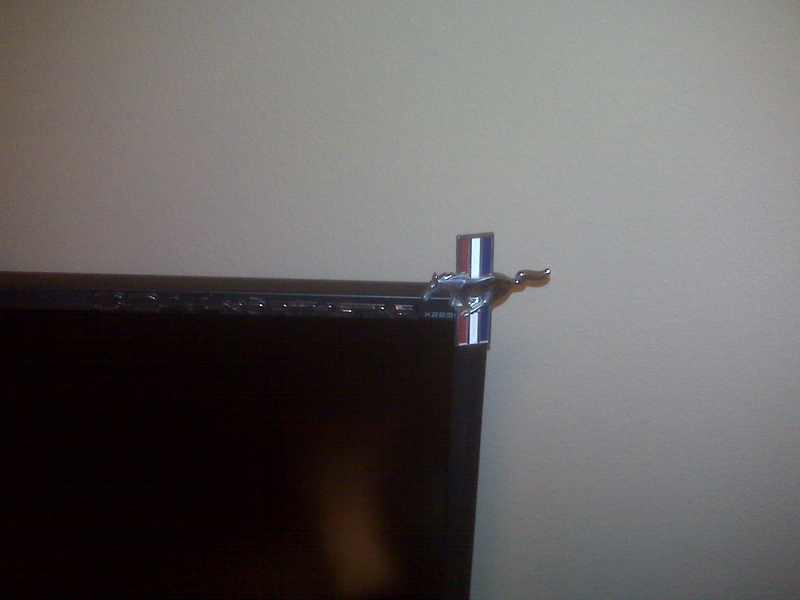 My TV now has a Cadillac Northstar badge as well as a Mustang badge.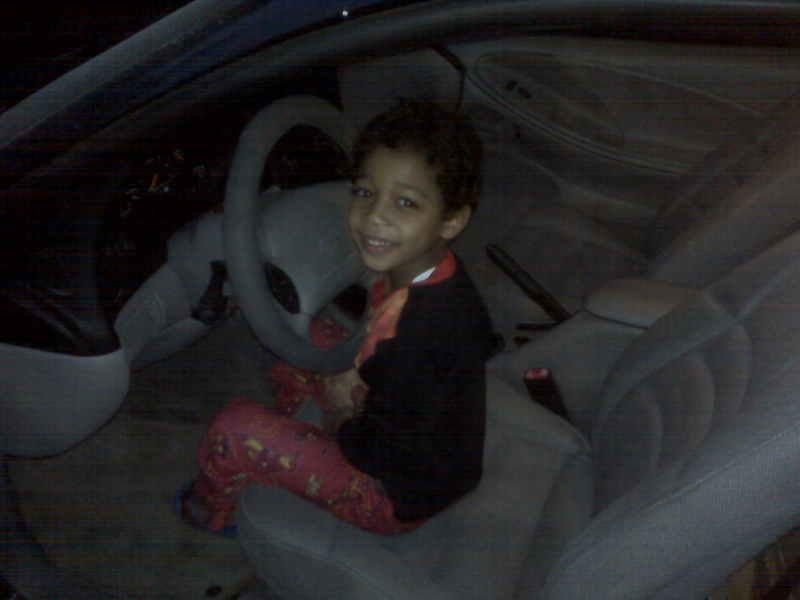 My five year old brother was excited to see a real live Mustang. He drives a little red one.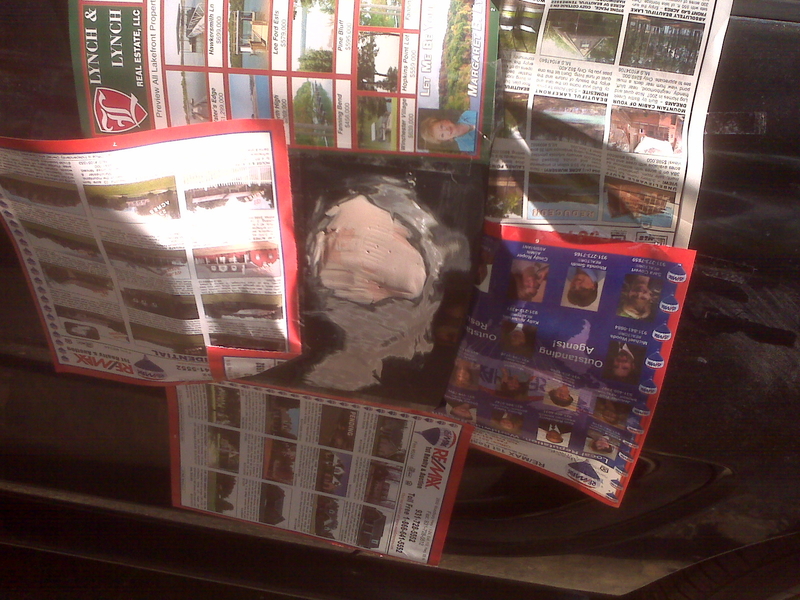 Some sloppy Bondo for the hole where the key slot was.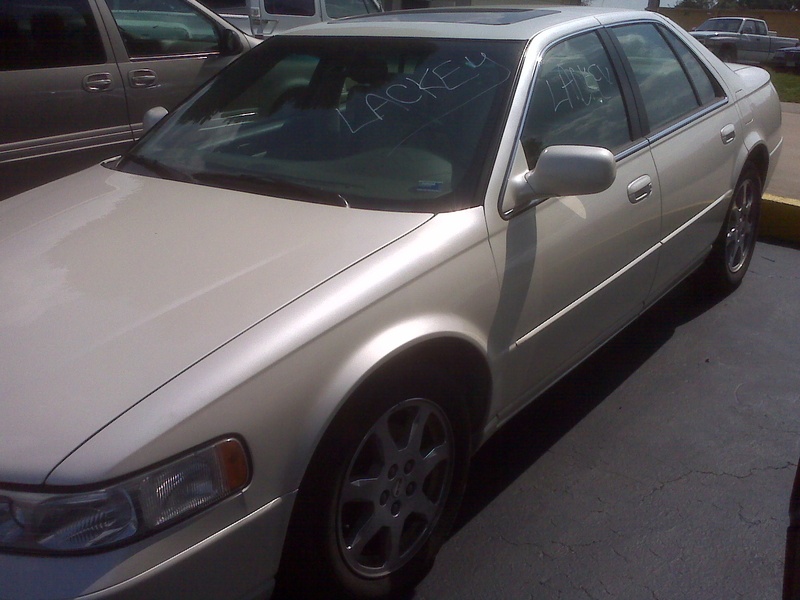 Drove up to Quincy IL/Hannibal MO to buy a replacement fender for $75. The dealer said this gorgeous Seville STS was part of the clunkers program. 🙁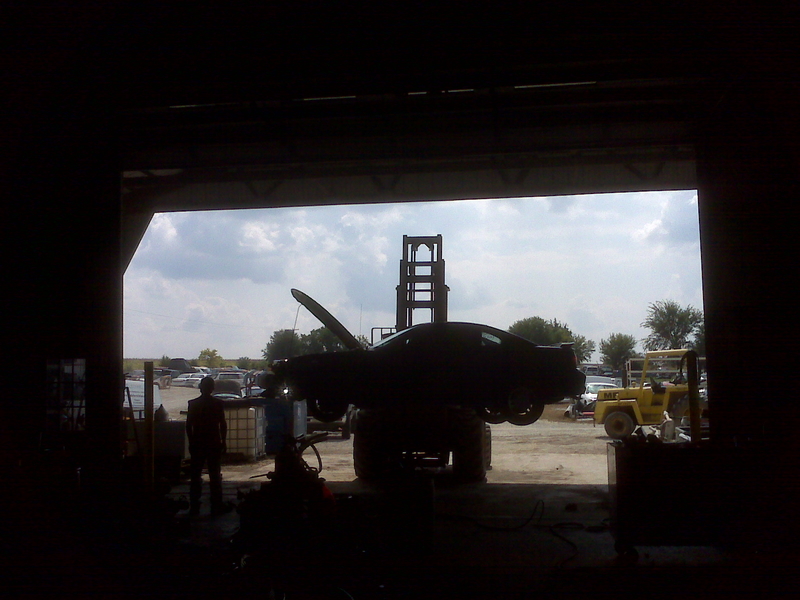 Our donor car, a 96 V6 auto with nice clean panels and a clean interior.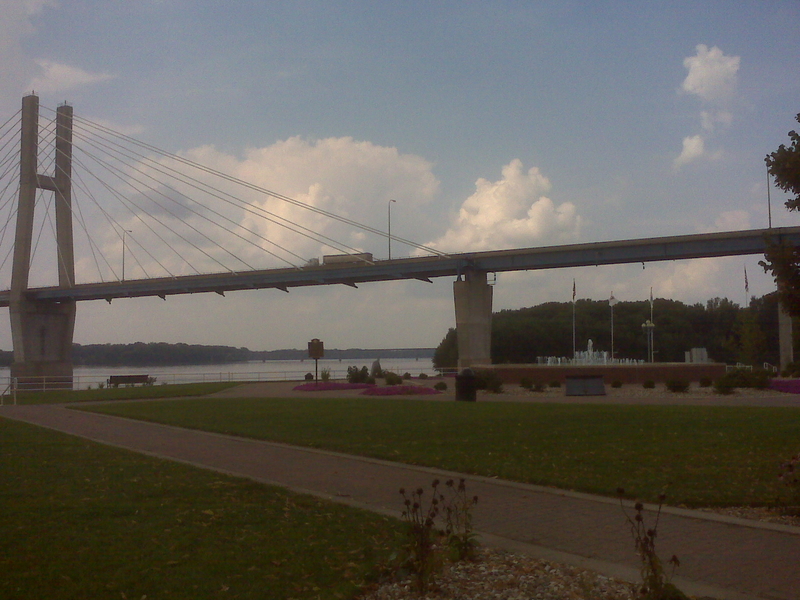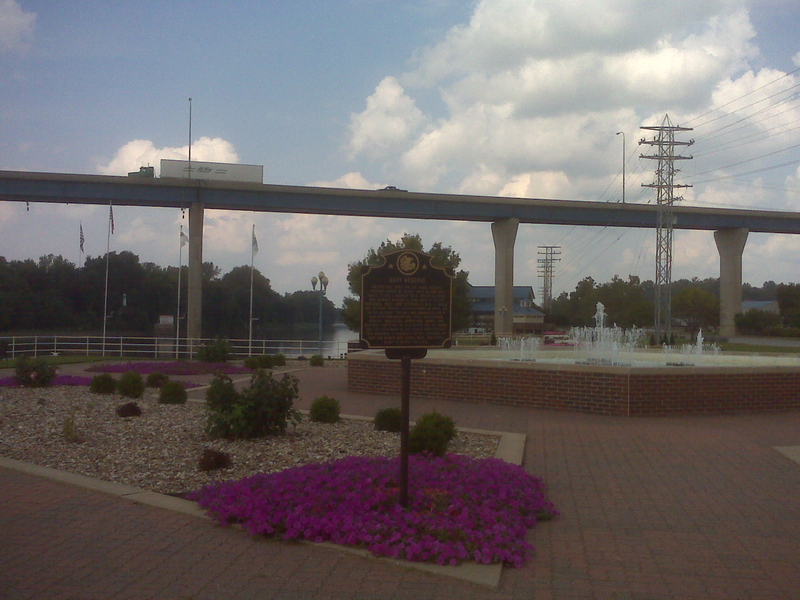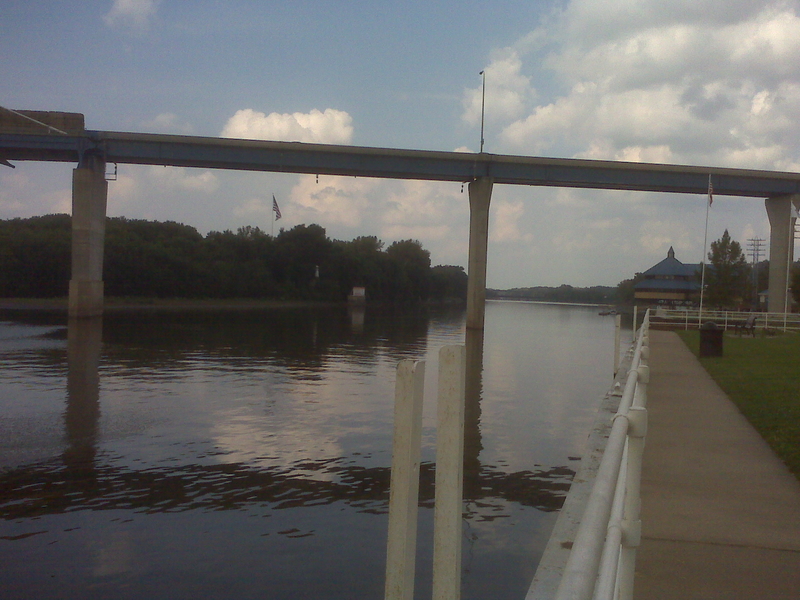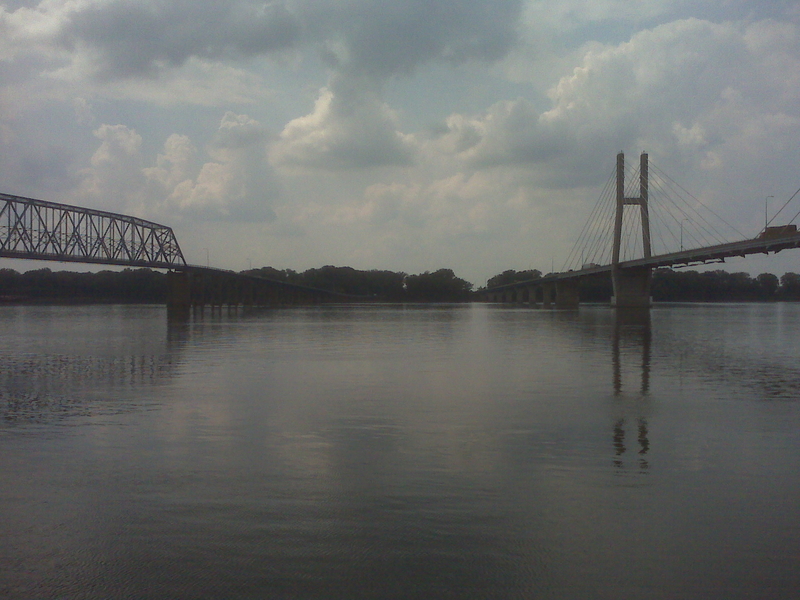 Quincy riverfront.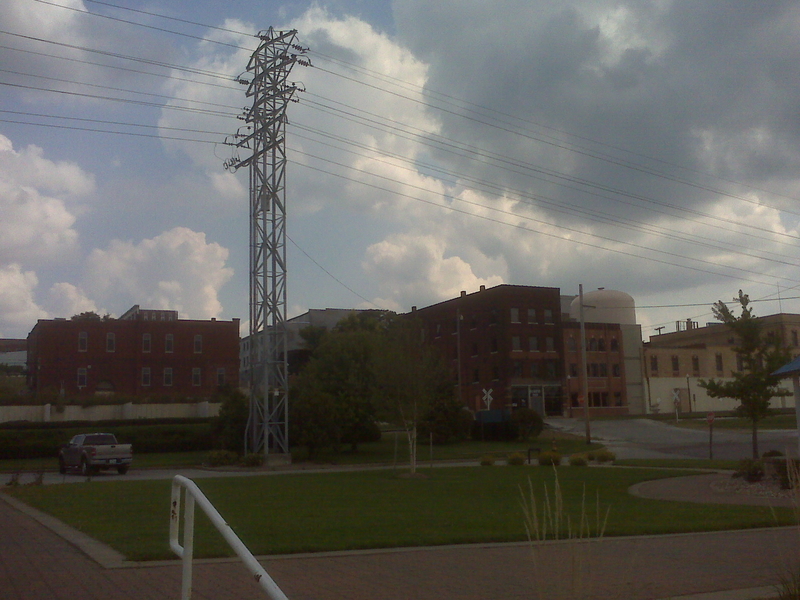 Quincy Illinois. My GPS said there was a Schlotzky's, but when we arrived it was gone. 🙁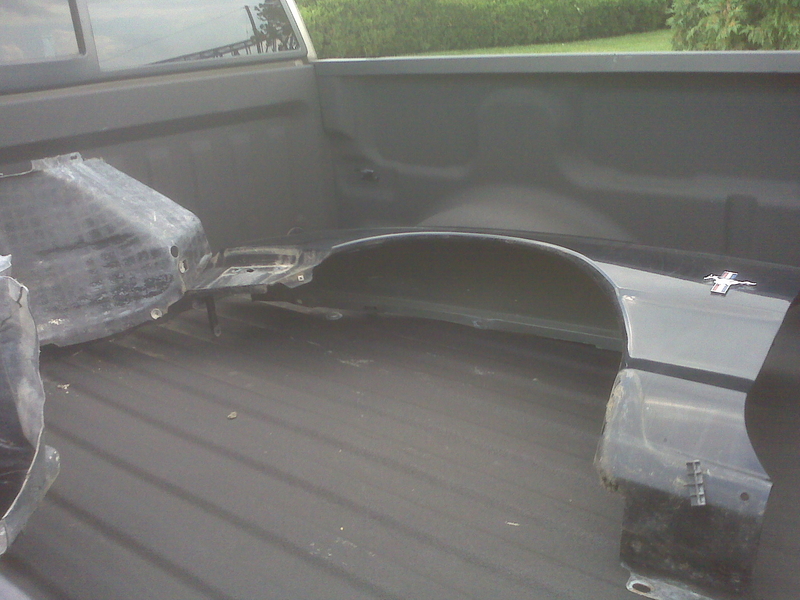 Loaded up the fender and skirt in my roommate's 2006 F-150 and headed home.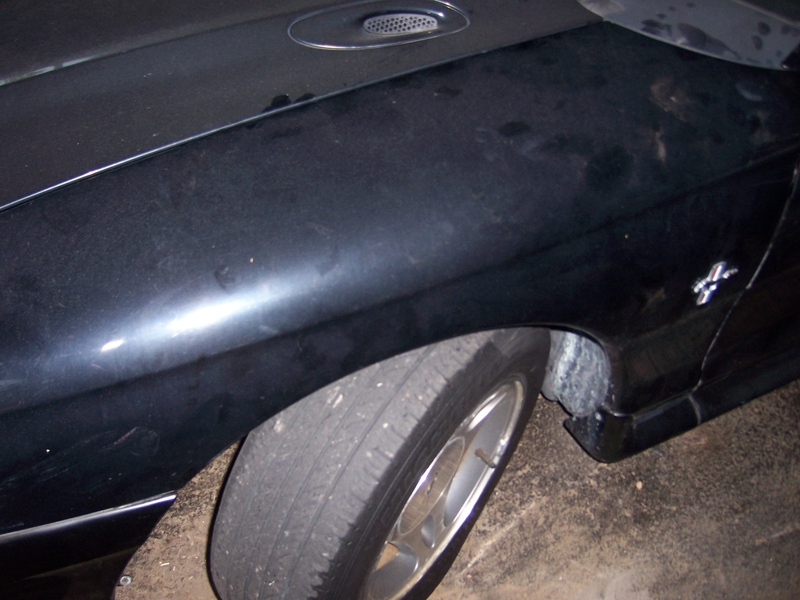 Fender installed.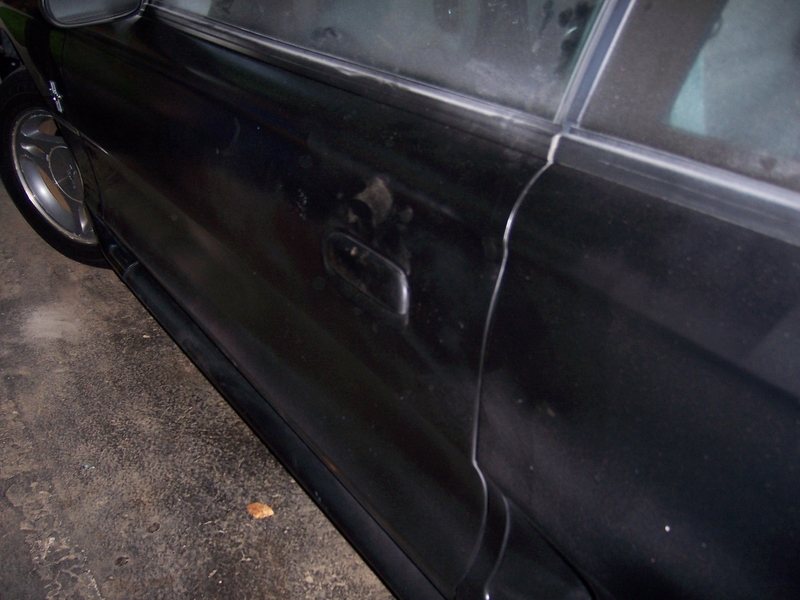 Keyhole crudely sealed up.
Later on….
"DING! DING! DING! DING! DING! DING! DING! DING! DING! DING! DING! DING! DING! DING! DING! DING! DING! DING! DING! DING!"
That's all I heard going down the road. I tried WD40 on the door latch which only helped a bit. I tried cutting the black/pink wire, but the headlight chime remained even with the vehicle running. Frustrated, I finally dug around underneath the dash, pulled the connector, and ripped out the chime.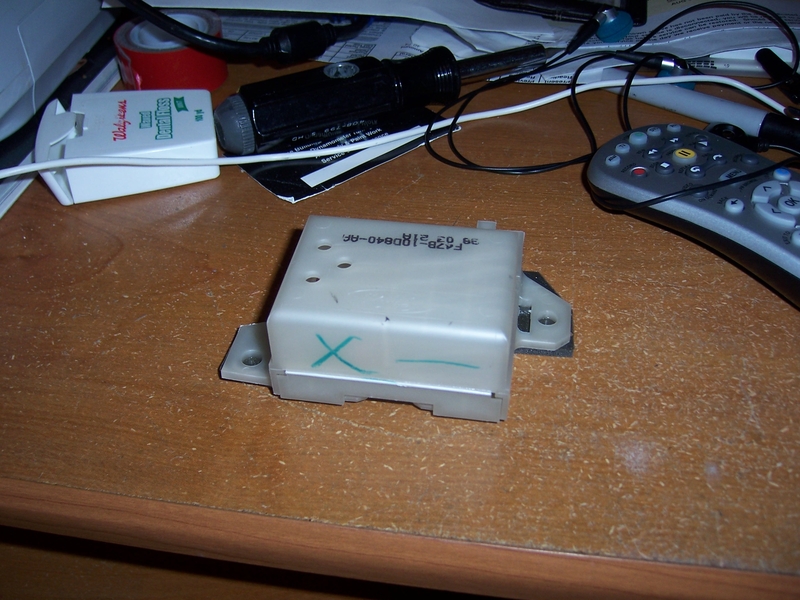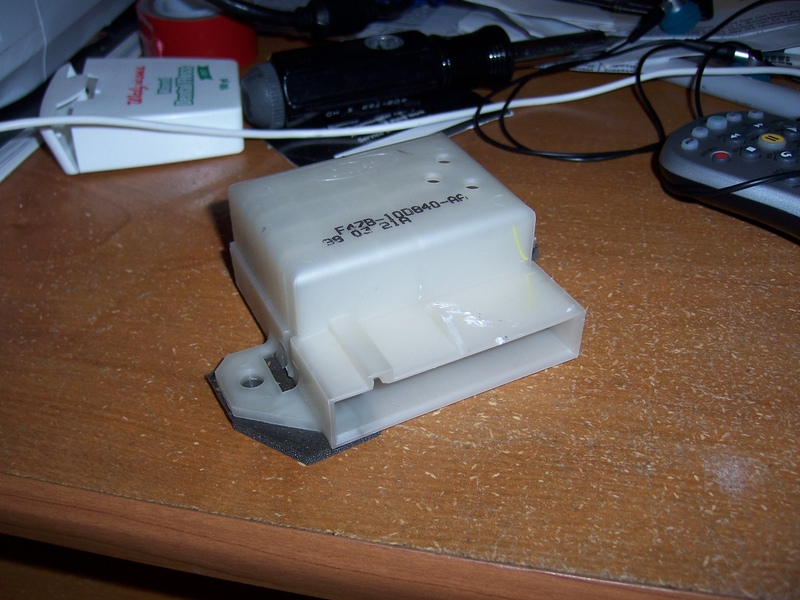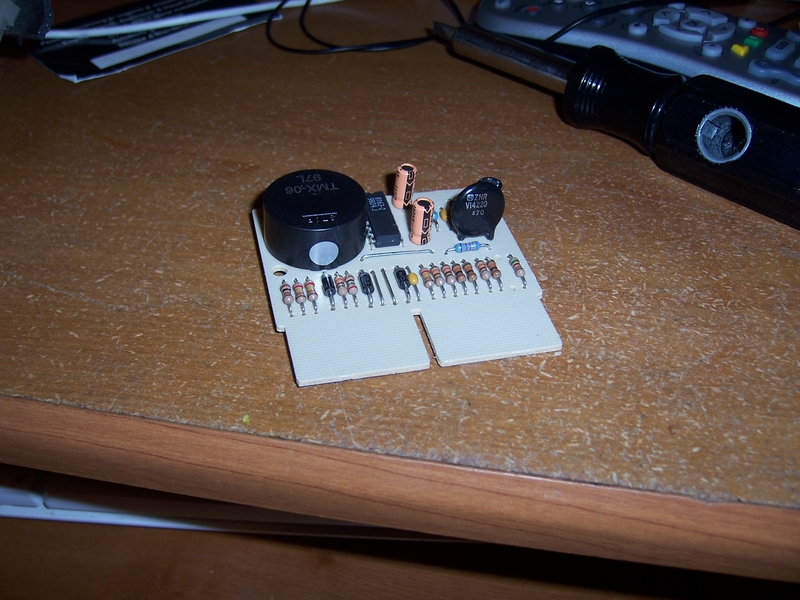 Looks fine inside I guess, so whatever was causing the problem was elsewhere. I don't have any airbag errors or anything. I just have to remember to not leave my headlights on or leave my keys in the ignition. Every damn Ford does this.
Bought pads and rotors but someone replaced the standard hex bolt on the caliper with a star shaped one. I couldn't get enough bite on it so I'm letting a shop do the brakes. :/
Took it out to dinner tonight. [Did NOT valet park. :P] And I discovered recently that yes, you can shove two full size Canon copiers into a Mustang coupe with enough lube and pushing.
Costs:
Flight to Tampa – $120 incl tax
Car – $500
Cab fare from TPA airport – $32 incl tip
Gas from Tampa – $85
Lodging – $45 incl tax
Batteries for keyless – $10
Two used tires – $50+$15 tip
Fender – $81 incl tax
Lodging – $45 incl tax
Gas to/from Quincy – $46
Bondo/Paint/Clearcoat/Polish – $20
Interior cleaning – $75 incl tip
Smiles – Priceless!
Total spent: $1124
Sale price: $1400
Conclusion:
This was a great car. I eventually replaced the spark plugs and a few fluids, but I never really drove it, so after six months I sold it on Craigslist to a local kid for $1400.
I basically got paid a couple hundred bucks to take a trip to Florida and drive a free car. Not a bad deal at all.