Part 4: 1963 Chevy Impala Wagon Build Project
1963 Impala restoration project.
This is a story about an American classic that was acquired, rebuilt, and restored. Republished with permission from Neal Hartman. Captions, photos, and story are primarily by his father, Mark Hartman.
——————————————————-
Good evening gang, how are all of you doing?
Well, it's been a bit, so I figured I'd whet your appetite for now.
Last weekend, I took a little trip down to Missouri to visit Rick and see how things were looking in person. I have some photos for ya to view and…well, do whatever it is you all do with photos.
What I have are some old/new tire and wheel comparisons, pictures of a painted but unfinished roof, a floor pan that has some nifty paint on it, and just some random tid bits.
Anyway, here you go…
Here some pictures of, as I mentioned, the new and old tire and wheels on the rear. You can see the difference in height.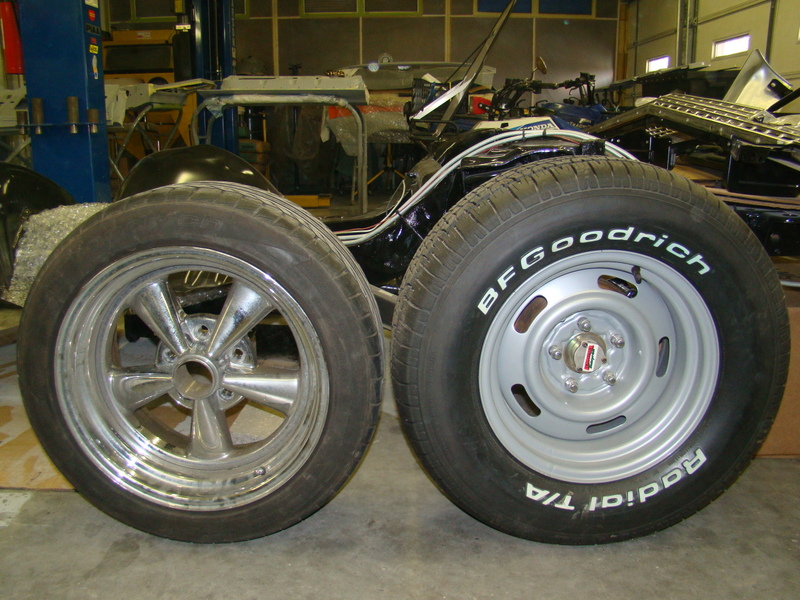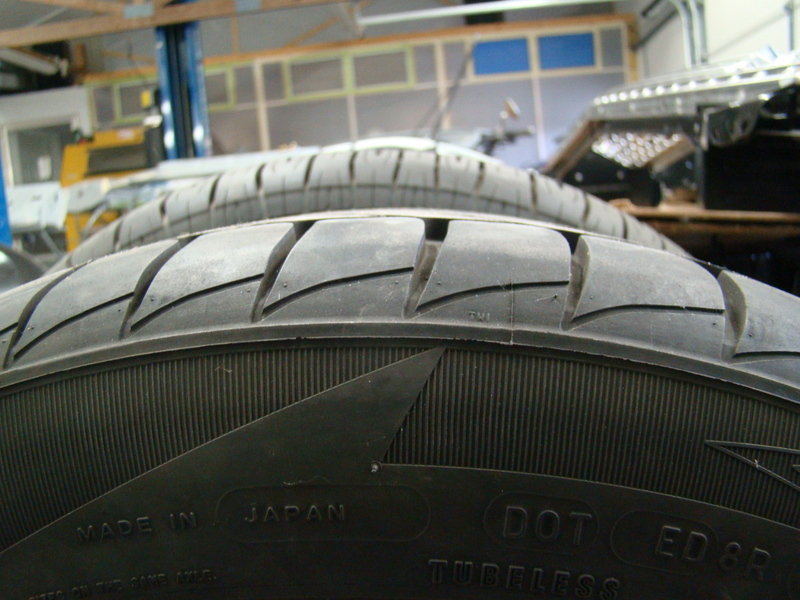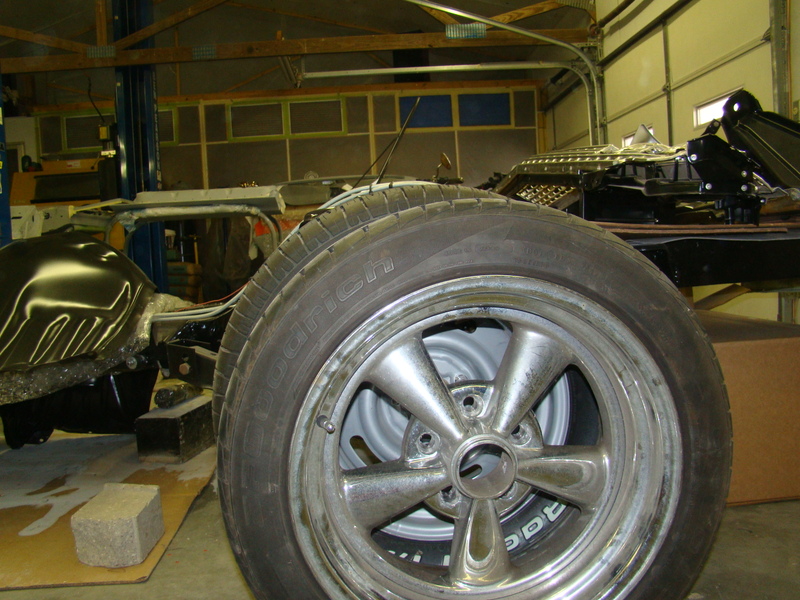 Now, take a look at how close the tires are in width.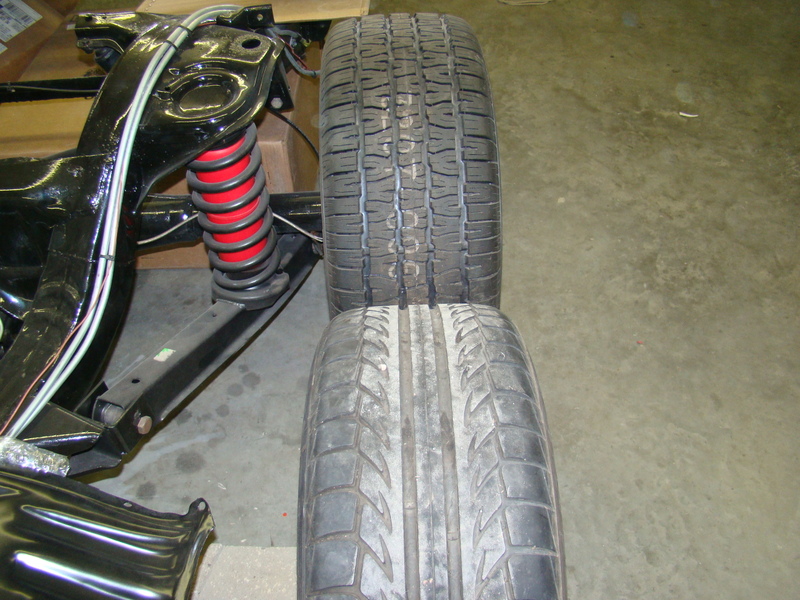 Now, some nice pictures of the suspension for you: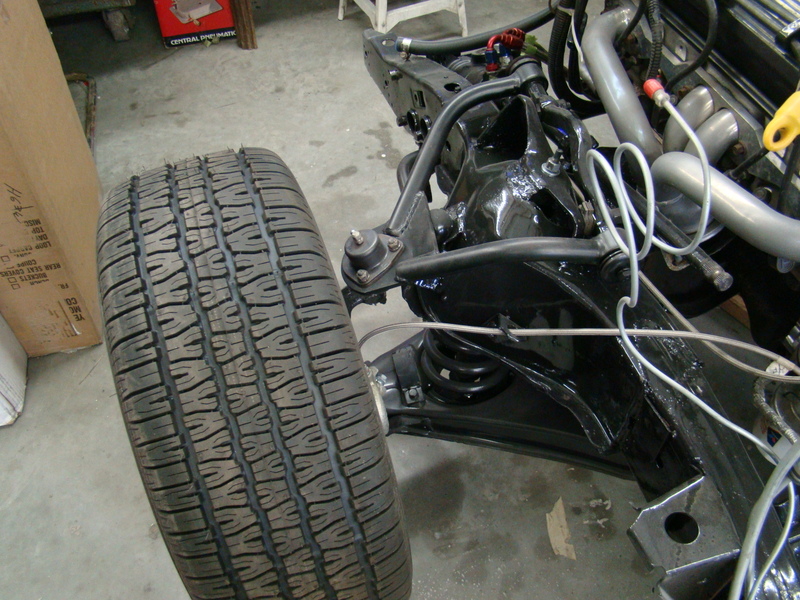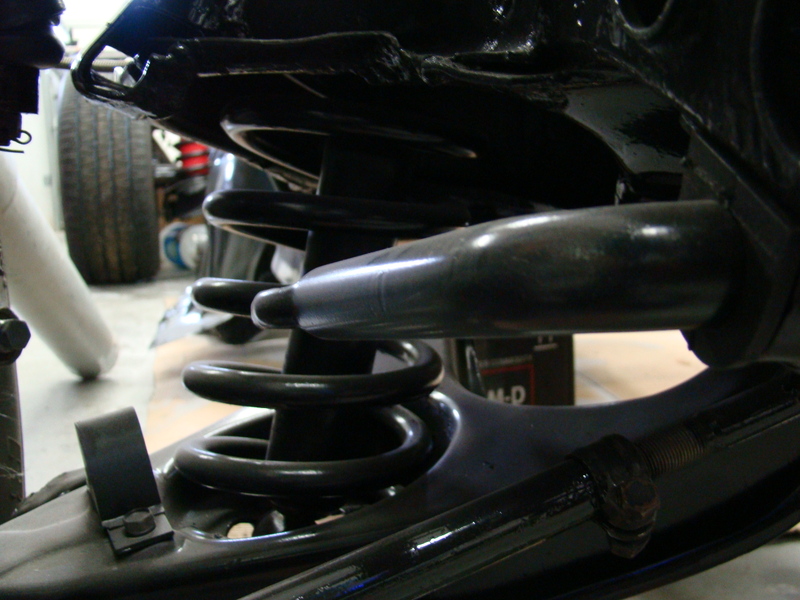 Now for some roof pictures. Please remember, these are of an unfinished roof.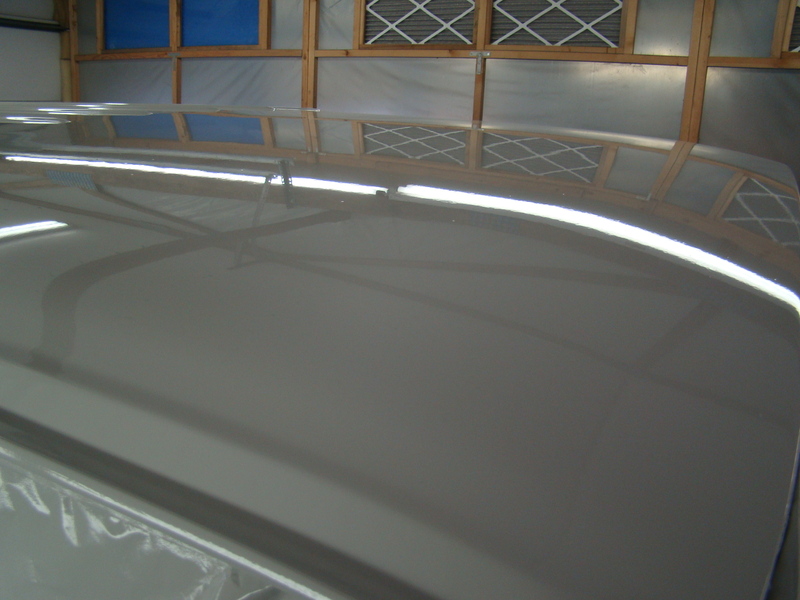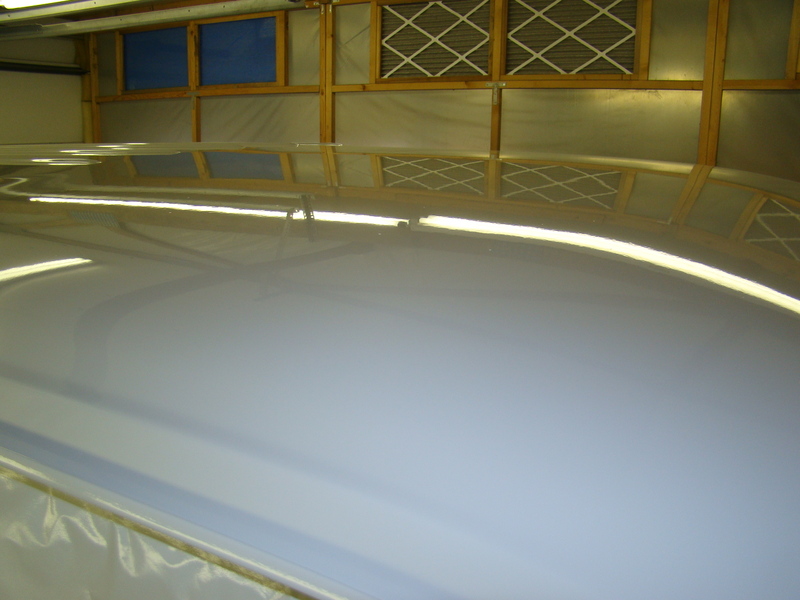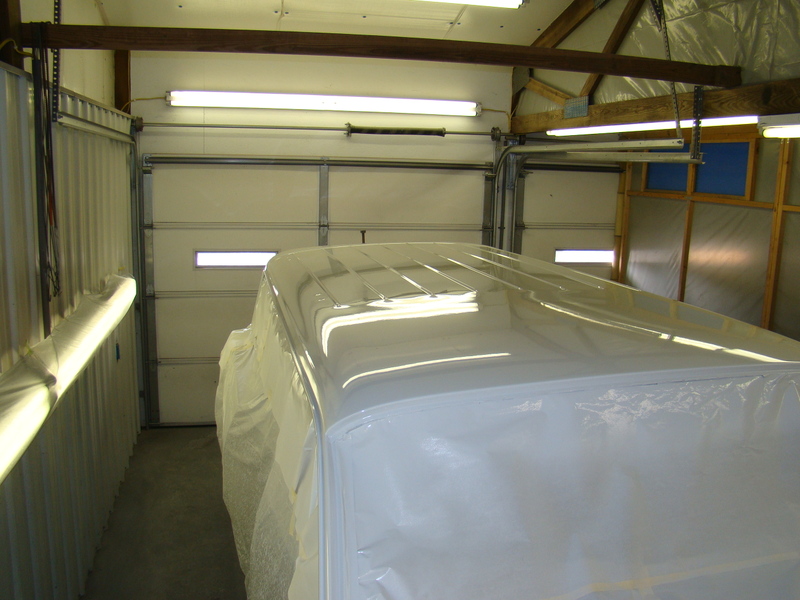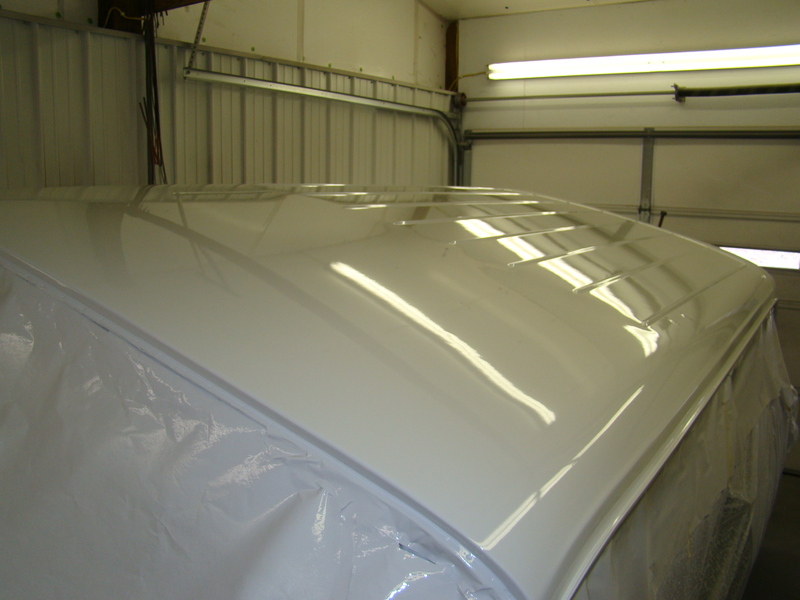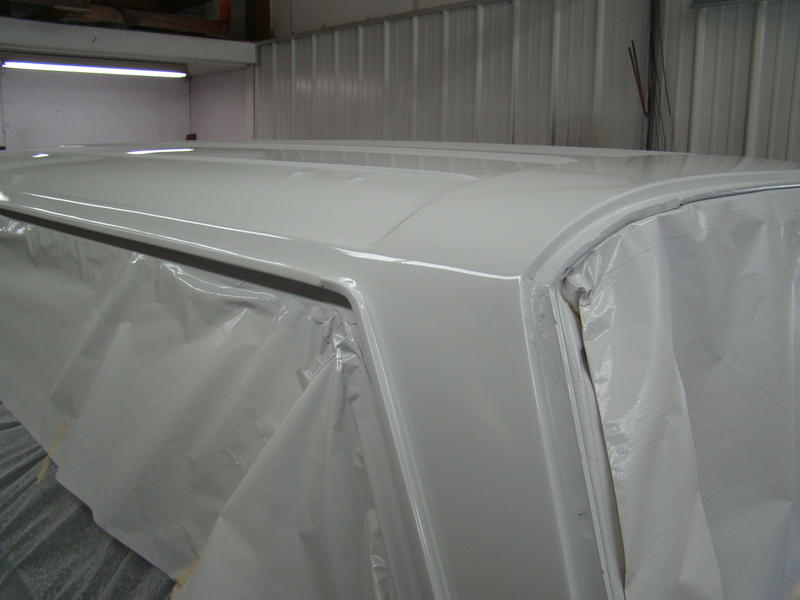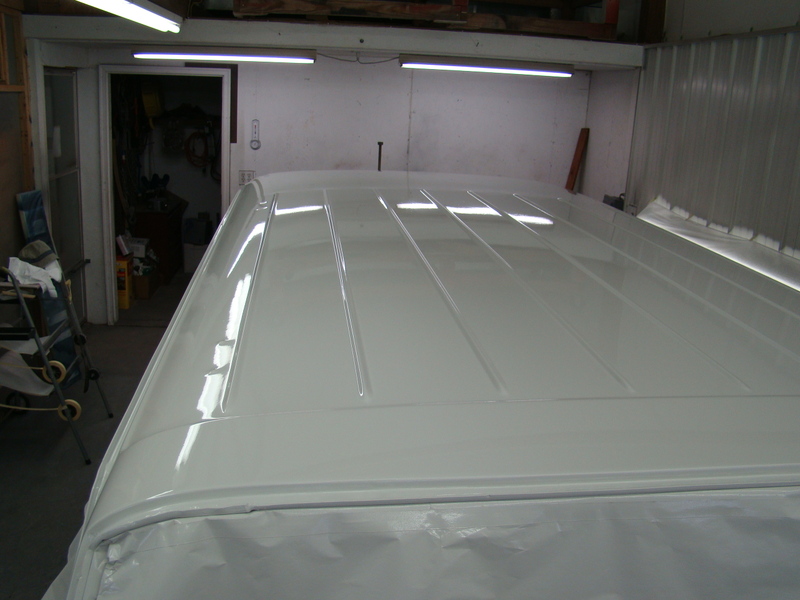 Now, here are some pictures of the floor pan with POR-15 on it.
(POR-15 – Paint Over Rust!)
Once rust and corrosion starts, it must be properly treated or it will ruin your classic. POR-15 allows you to paint over rust. POR-15 is a high-tech, high performance rust-preventive coating designed for application directly on rusted or seasoned metal surfaces. POR-15 dries to an incredible rock-hard, non-porous finish that won't chip, crack, or peel, and it prevents rust from recurring by protecting metal from further exposure to moisture. POR-15 is great for painting over rusty frames, floor pans, farm equipment, marine equipment, or even a heavily corroded battery tray.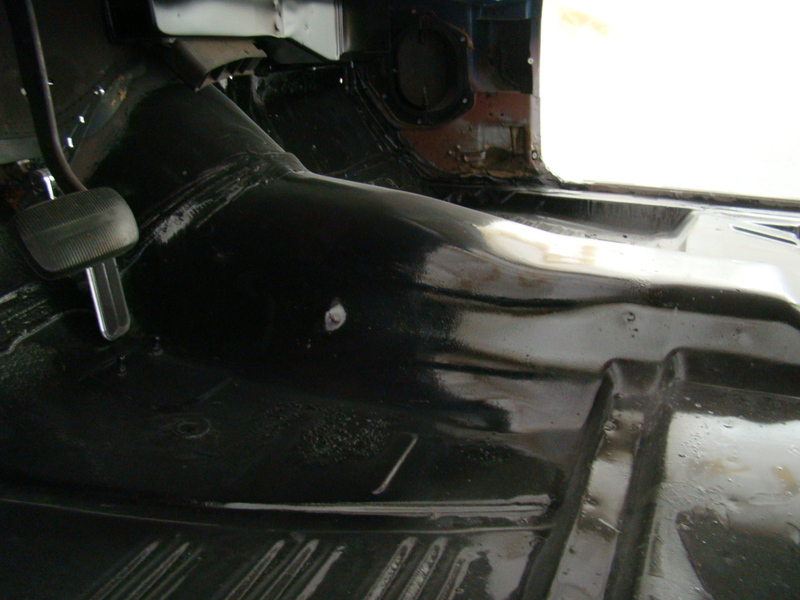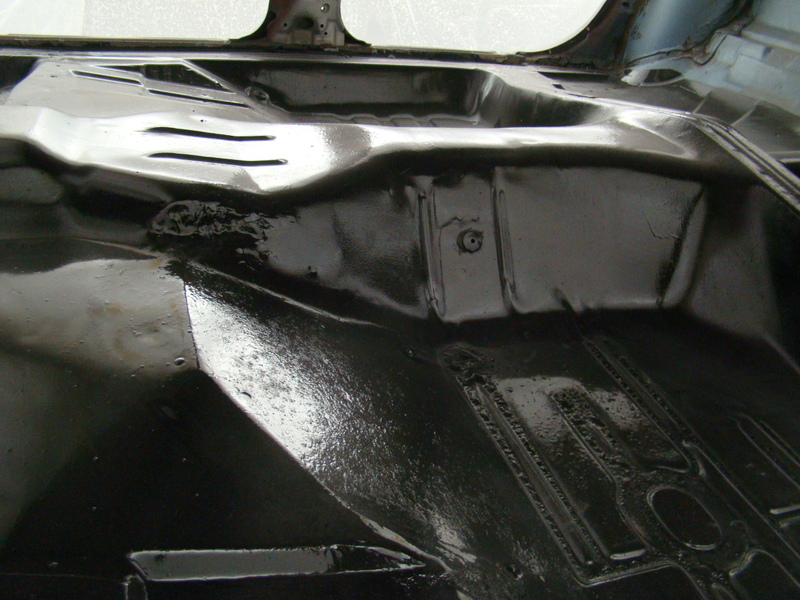 Now for some randomness.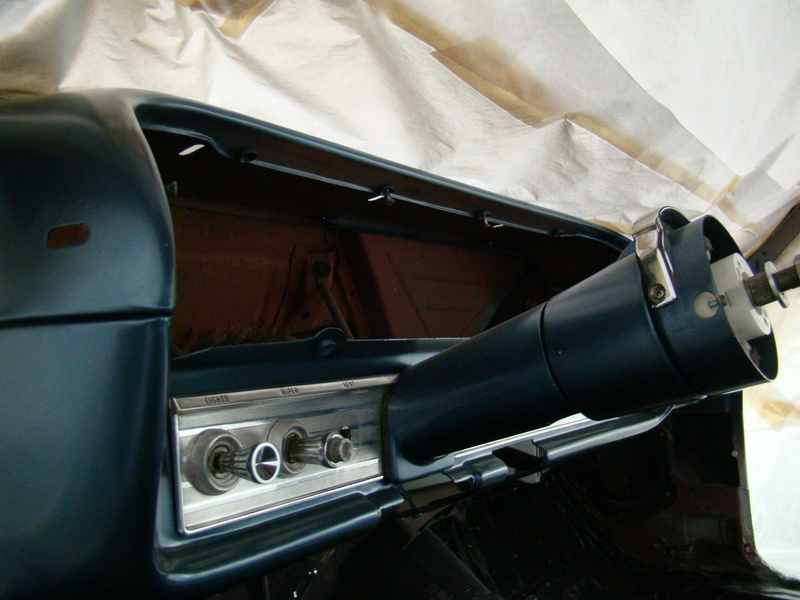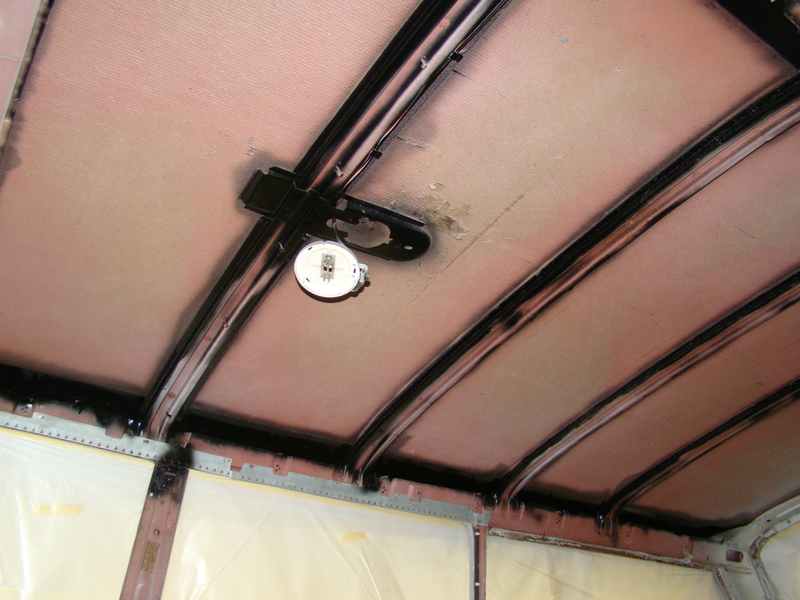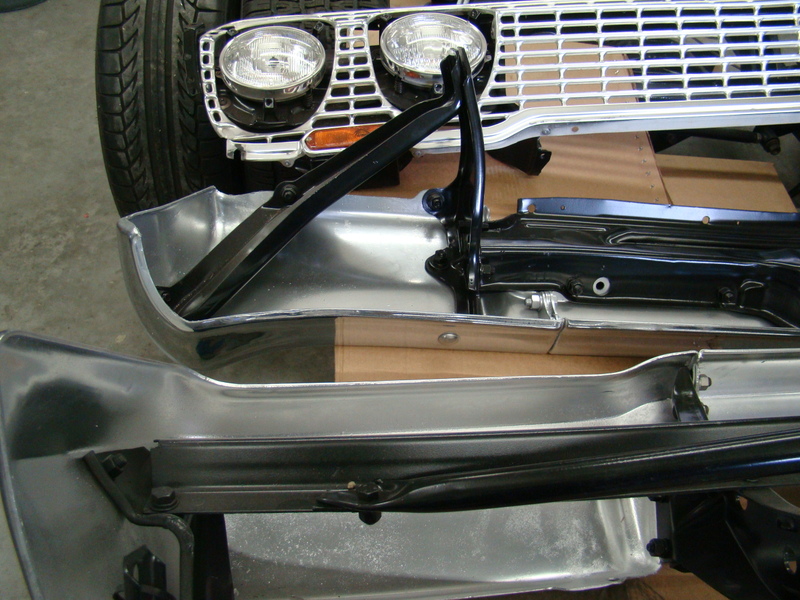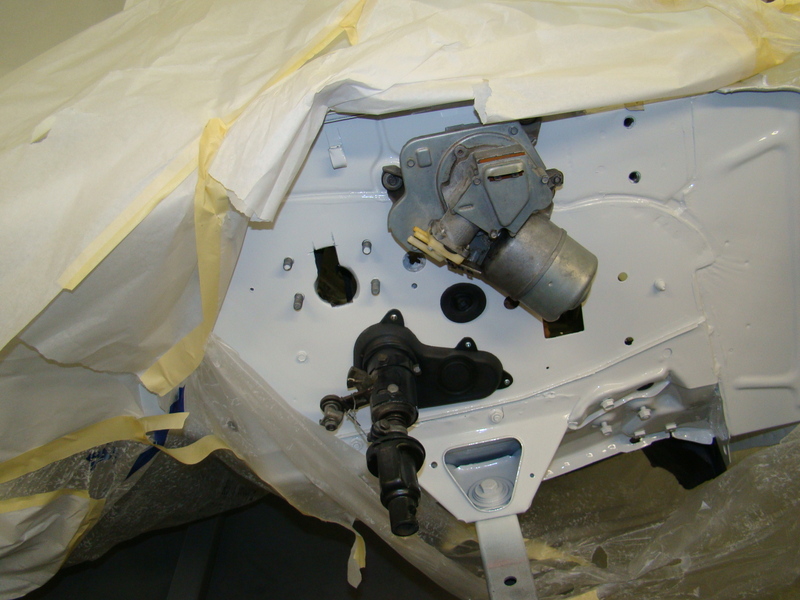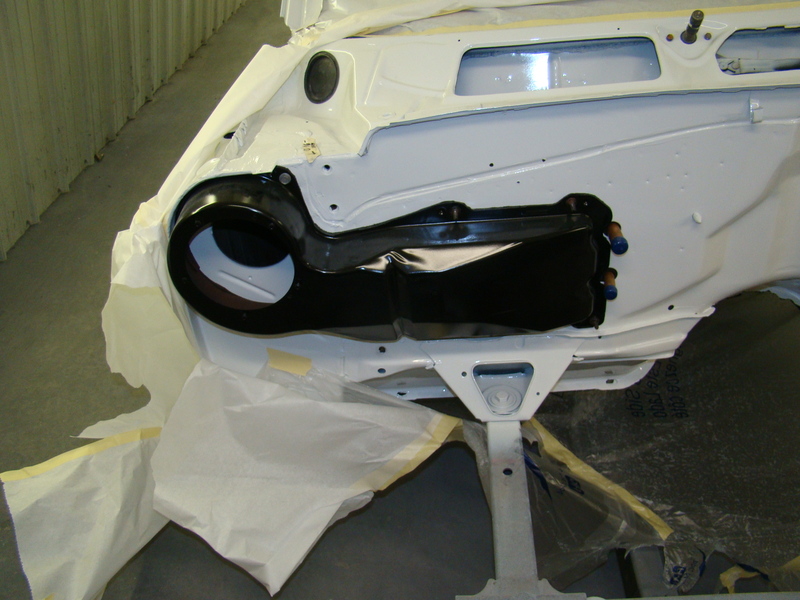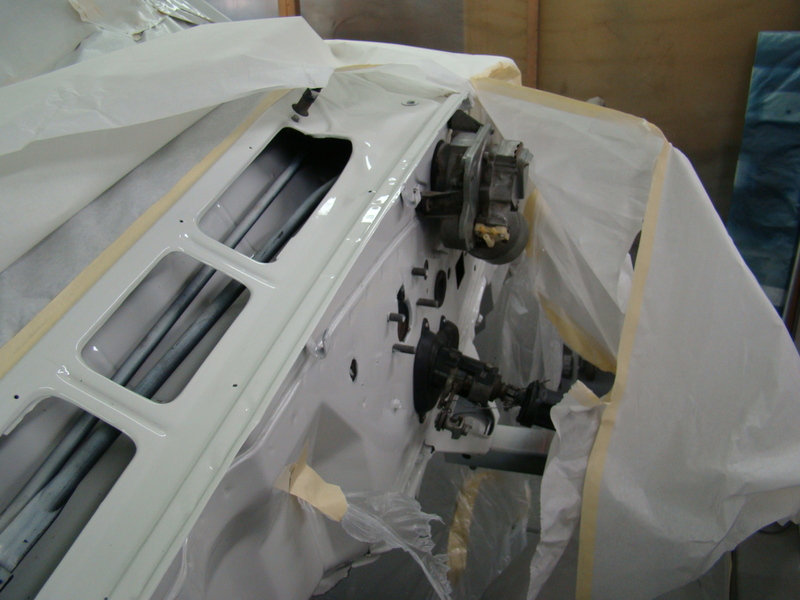 And here are some pictures of the man behind the scenes doing all the work and sending pictures and e-mails to me.
Say hello to Rockin Rick!!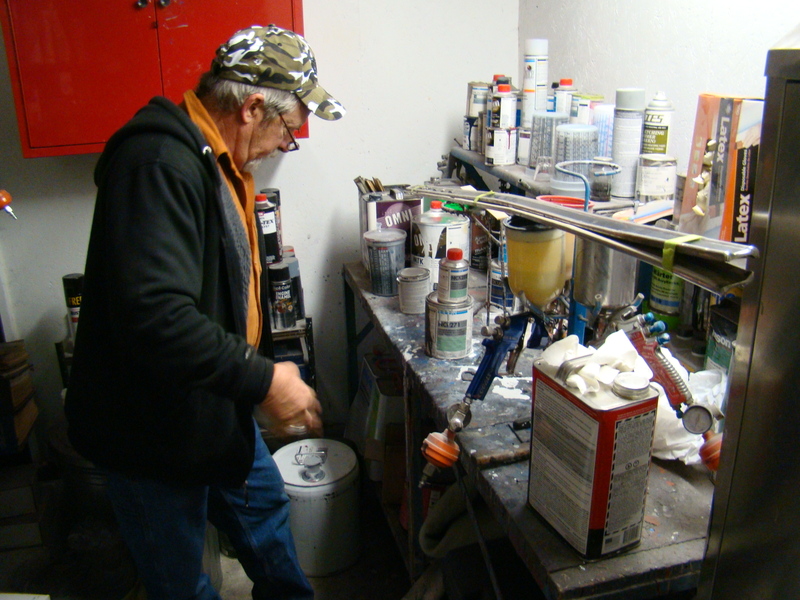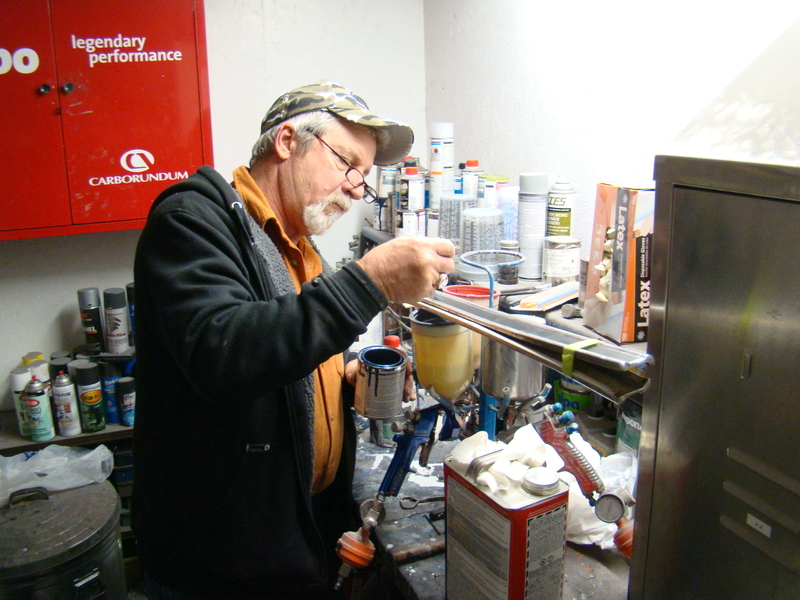 ——————————————————-
February 23rd, 2011:

Howdy, ladies and germs…guess who's back with more pictures? That's right…the Grouchy O.B.
What I have to offer you today are some pictures of a few days before the last post I put up. I went down on the 19th to view the car with my own eyes, and the pictures I show you now are from around the 17th and 18th of February. So now you know why in this post you can see the roof being done after I showed you pictures of the mostly completed roof. (Mostly completed at is only painted. No buffing, sanding, etc.)
Oh…one more thing. Some of the pictures have the date set as 2003. That's because Rick, the master of bodywork that he is, didn't switch batteries quick enough in his camera and everything was reset back to default. Well, guess you can't master everything, right old friend? HAHAHAHA!!!
So, as always, here is Rockin Rick's message.
Mark,
As promised, here are some more pics for you.
As you can see, all of the interior color has now been finished and awaits assembly. All of the doors and tailgate now have their blue paint work done. All of the mentioned parts have had their second block down done (exterior), primed, guide coated and now await final sanding before paint.
The black mist on the parts is guide coat. Its purpose is to help you find imperfections before painting. It will show up as black spots so they can be fixed before paint.
The gentleman helping me prep the roof for paint is a fellow premier car builder Tom Peek. Tom is the person in the pictures painting your roof. Tom came in and helped me on the roof, as my injured left shoulder (rotater cuff ) prevented me from being able to hold my arm up for painting the roof. This roof is so long that you must be able to switch hands in the application process. I'll be fine on the rest.
I get by with a little help from my friends, as the Beatles' song goes.
Thanks Tom!!
I'll send more pics as they come.
Ole Man in MO.
And now for more car porn!!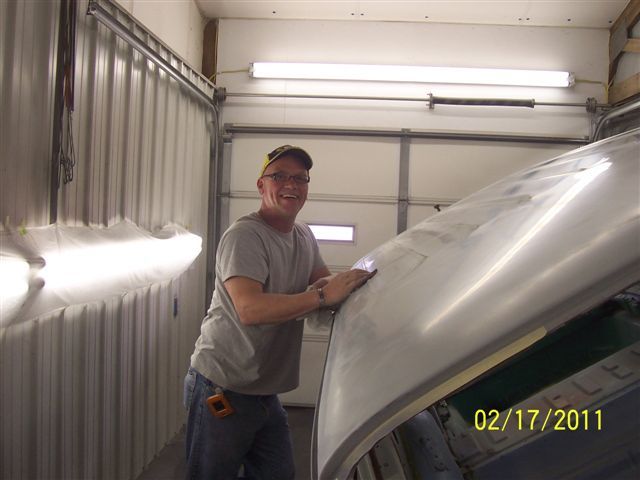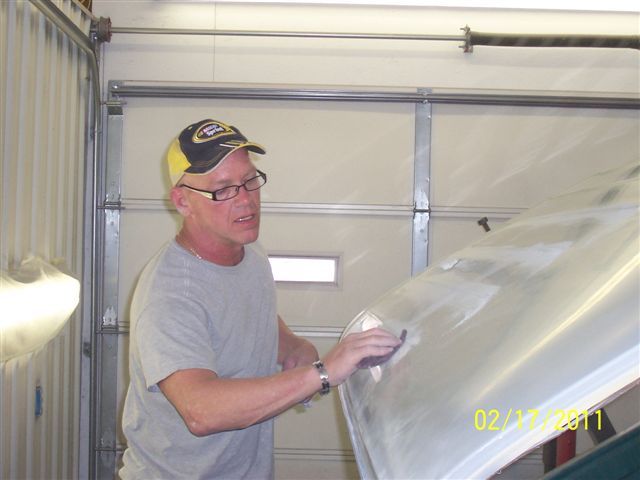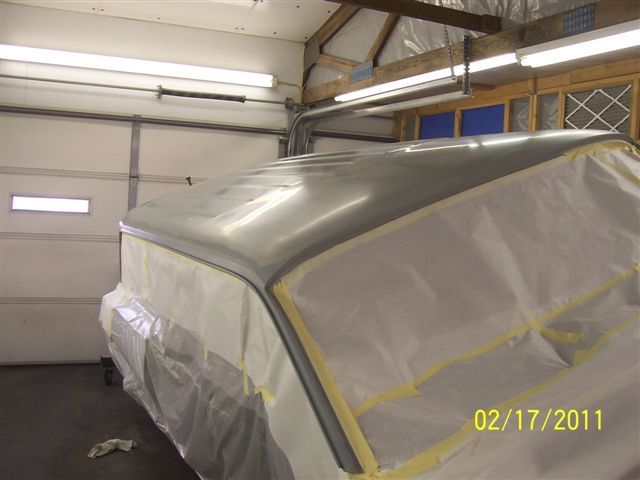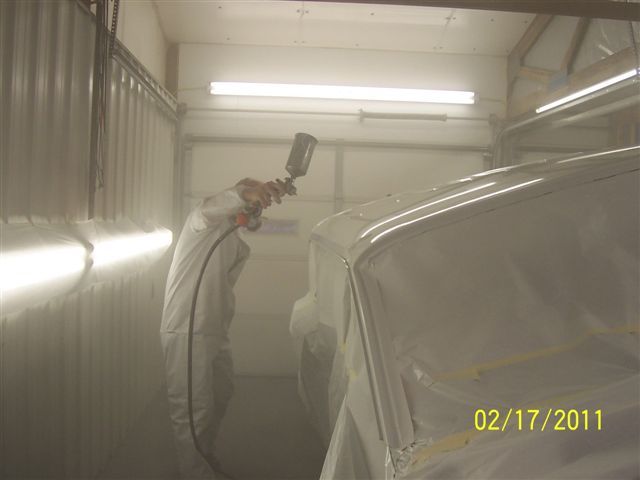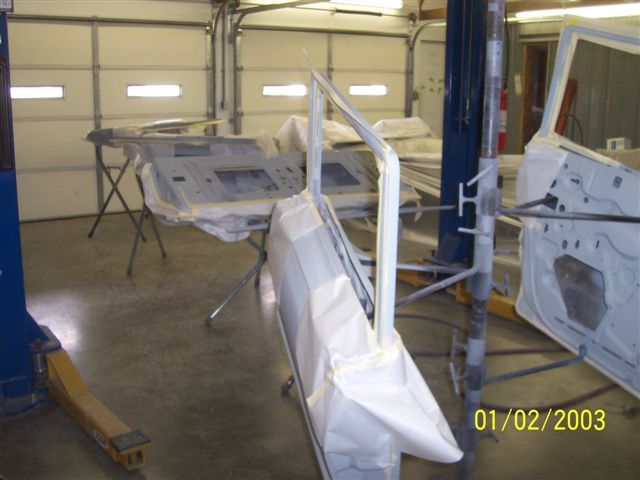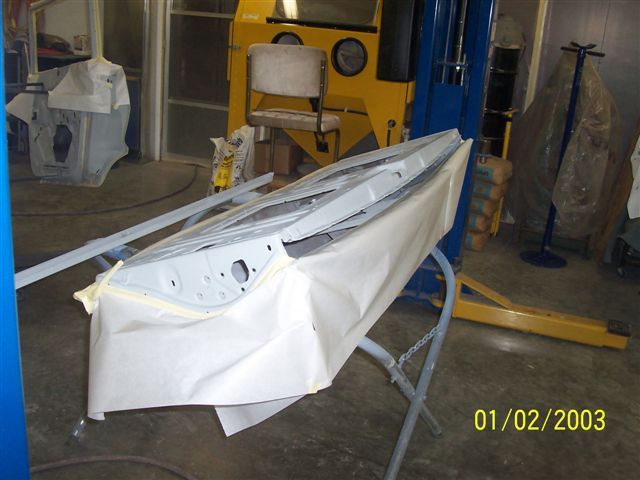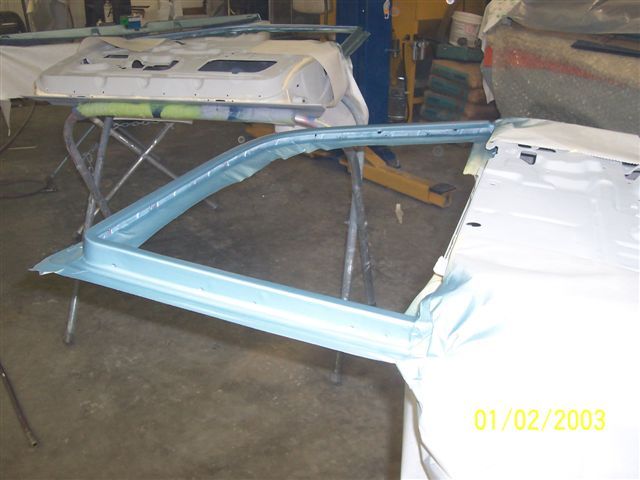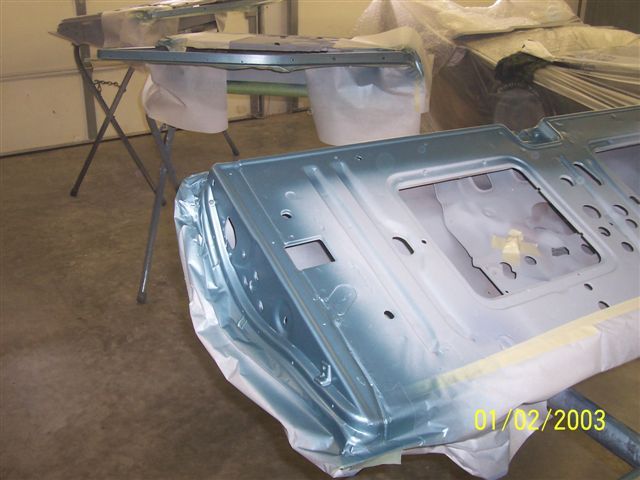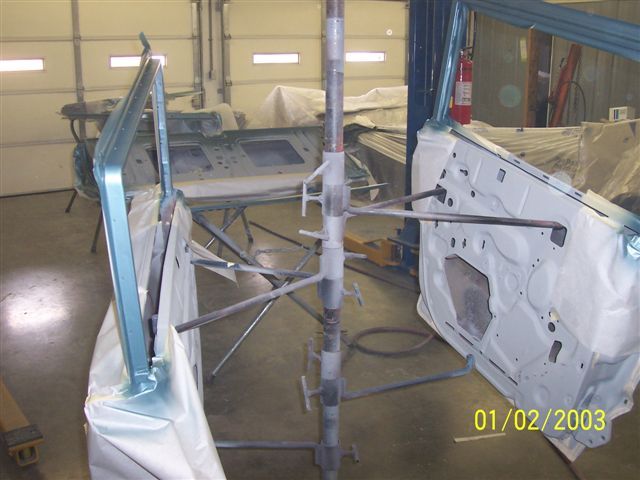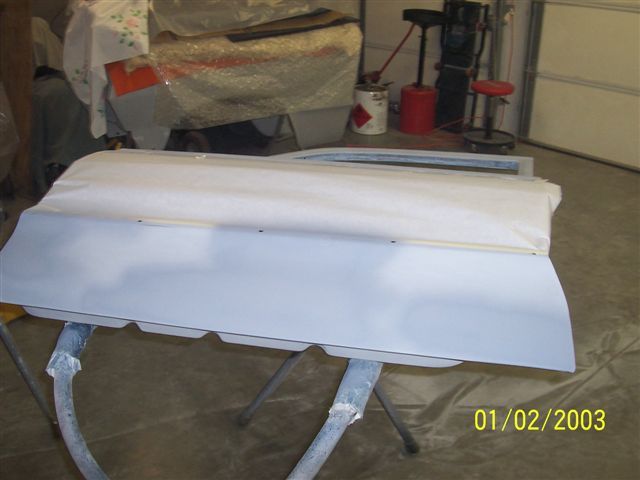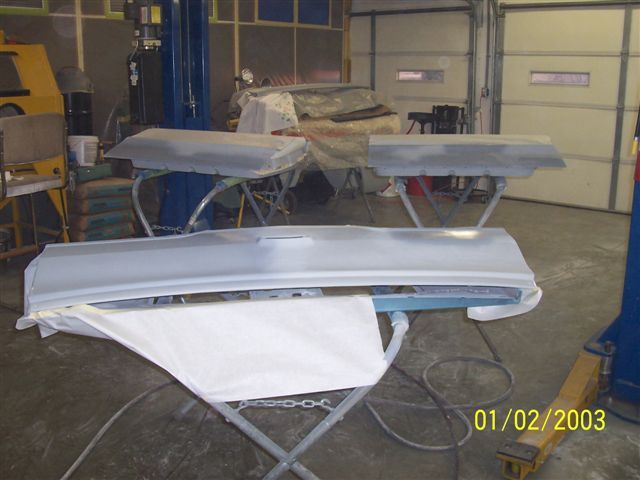 I would also like to extend a very hearty THANK YOU, TOM PEEK for taking time out of your presumed busy schedule to help out Rick with my car. I am very appreciative of your help.
——————————————————-
March 6th, 2011:

Well, boys and girls, it's the grouchy old one back again with an update for you all. And, I might add that things have picked up quite a bit on the old lady and have begun moving at a decent pace. Still not sure when the resto-mod will be finished, so I won't speculate on that.
Anyway, as usual, here is Rick's e-mail that always accompany the pictures.
Mark,
Here are some more pics for you.
A lot of work has been done over the last few days as you can see. Tom was a little slow on his end so he came over and helped me prep and paint the wagon. That really helped out as I was unexpectedly slowed down early Tues. morning and had to drive to Shelbina and take care of some personal business. That delayed me and I really wanted to get the body painted that day due to the warm day.
I gave Tom a call and he bailed me out. Went home at 9:30 that night…long day!
Paint came out very nice.
The body remount went off as a snap. No problems whatsoever. The lift makes this part easy and precise.
I'm installing wiring today and will have more pics as I progress.
By the way, the American Autowire Update wiring kit is VERY NICE and the quality excellent!! This will make my job much easier.
Rockin Rick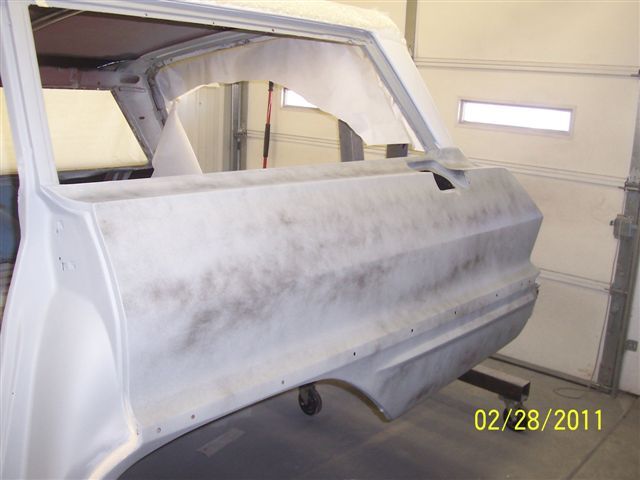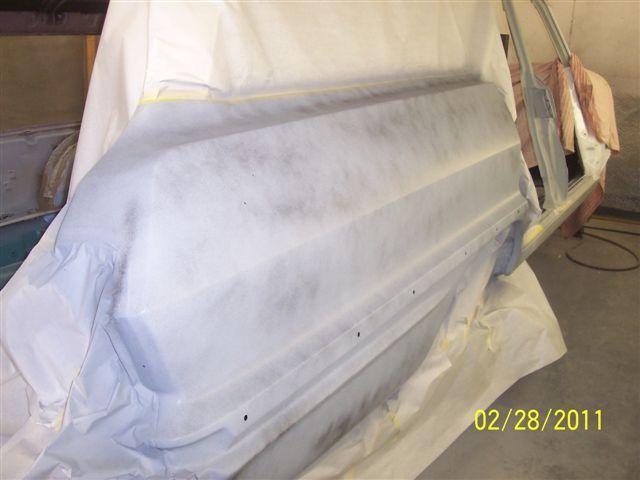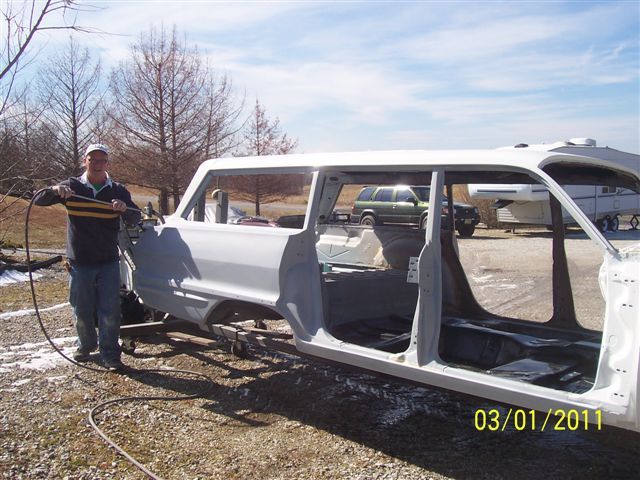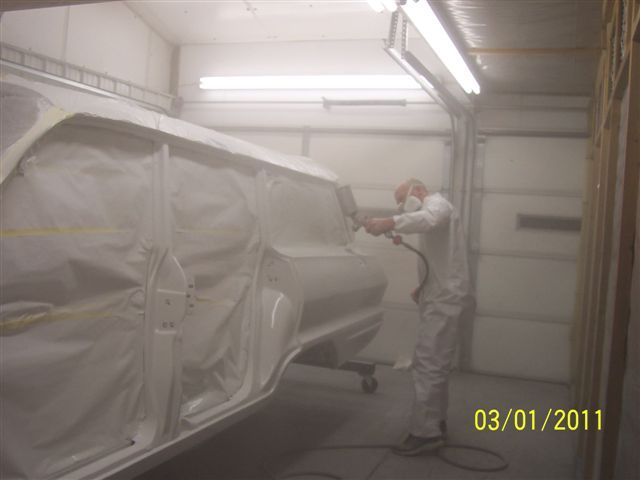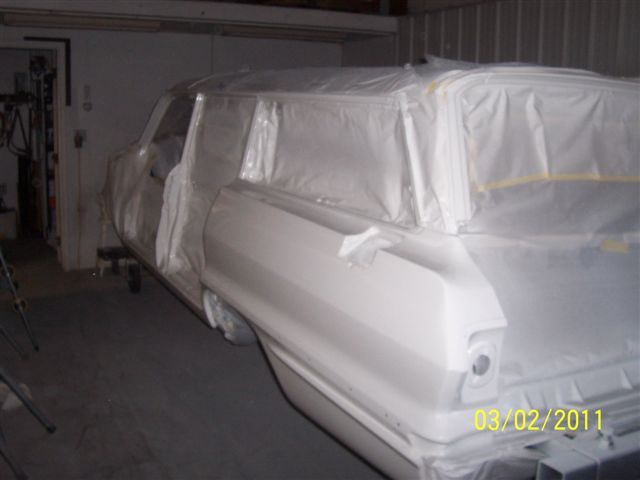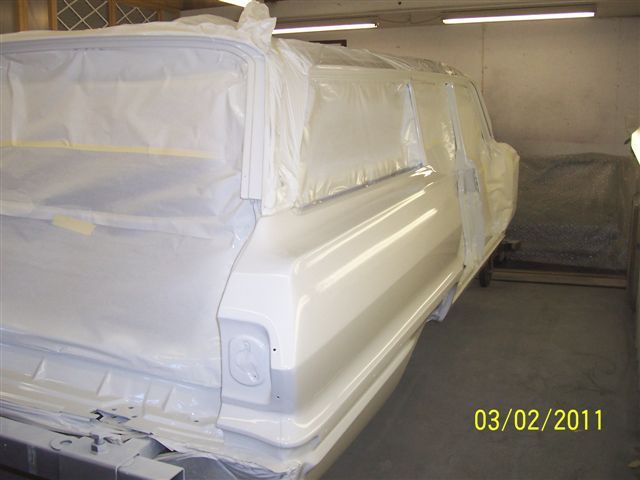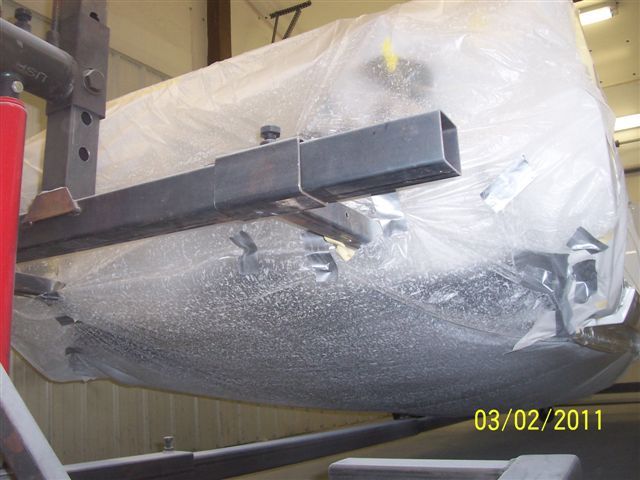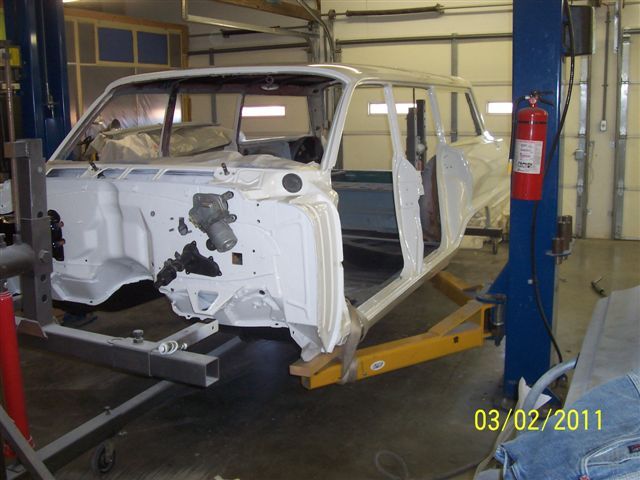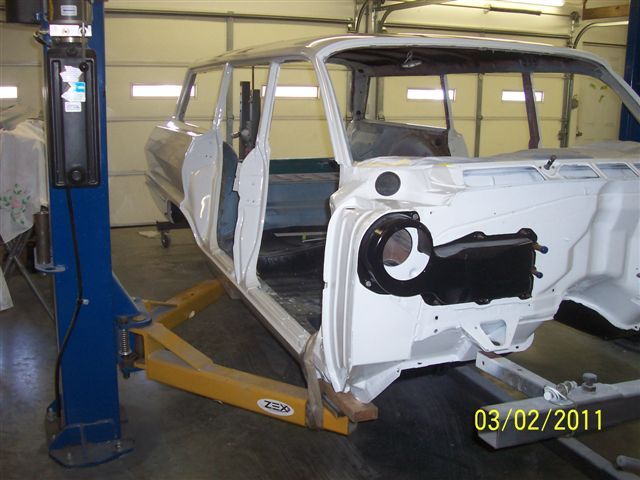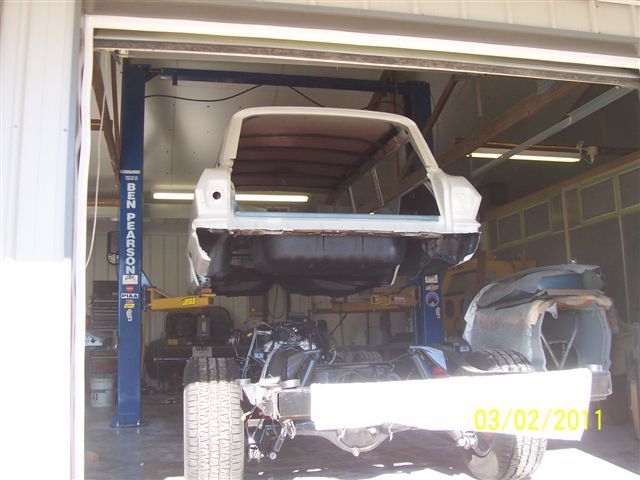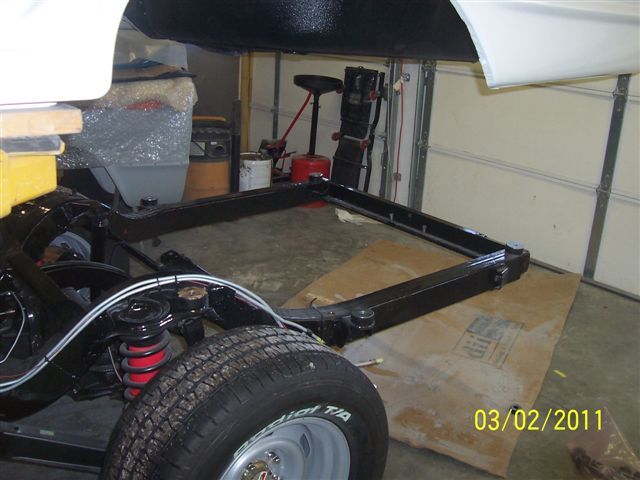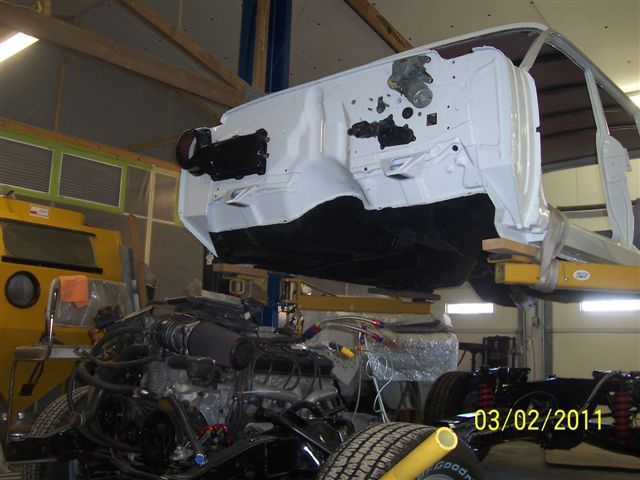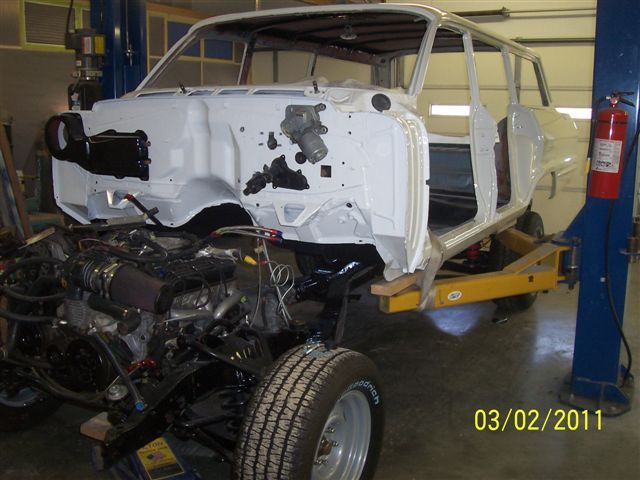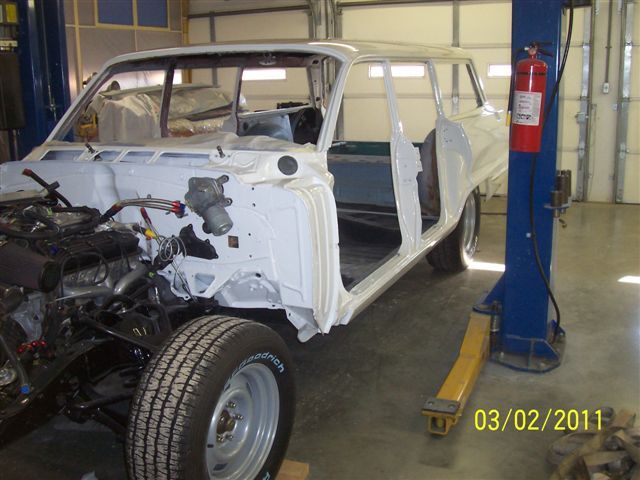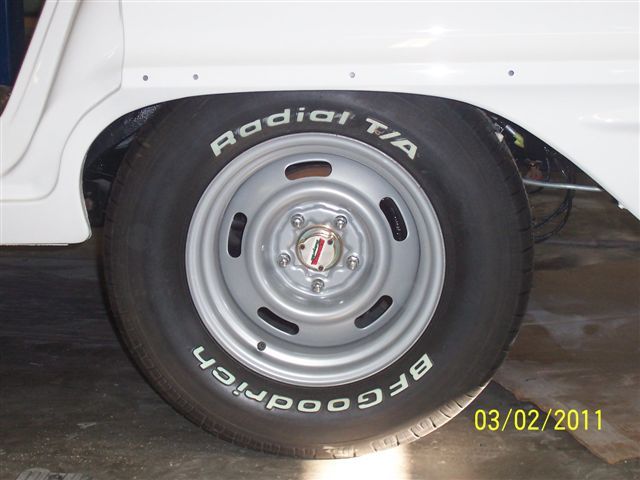 ——————————————————-
March 14th, 2011:

Well, gang. I am back for another update, but first I would like to say a few things.
With the events in Japan the past few days, my wife and I are relieved to hear from Neal on a regular basis that he is doing ok. We are keeping a close eye on the situation and hope that things don't spiral out of control. Please keep him and his family as well as his in-laws in your throughts/prayers/etc. I have also seen the other thread and am happy to read the support you have offered by your words to him and other residents in Japan affected by this tragedy.
May God bless you all, and may my non-religious friends be blessed in what ever way you can be. Thank you.
Anyway, on to the topic at hand.
Here is the e-mail received from Rick:
Mark,
Here are some more pics. I'll keep this short as it's getting late and I'm tired.
I've been busy assembling the wagon, plus prepping the doors and tailgate for exterior paint. I plan to paint doors and tail gate tomorrow (Tues.) if all goes well. After that I will install doors and tailgate, then on to front fenders, hood, etc. until I get all parts painted and installed.
More to Come,
Rick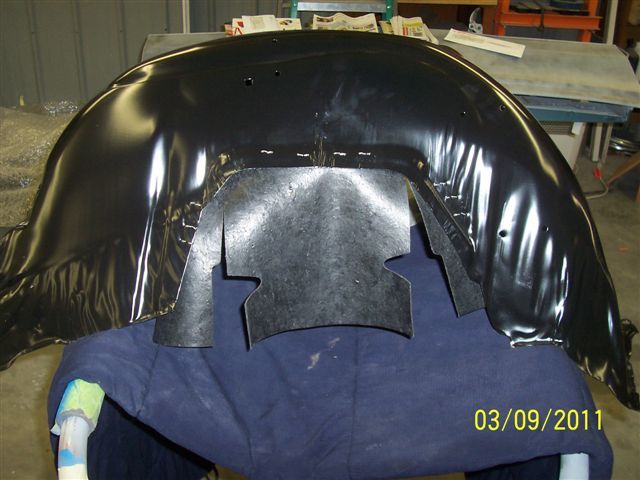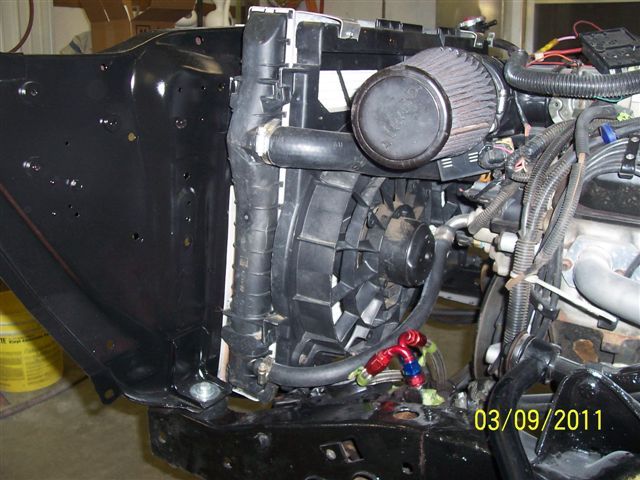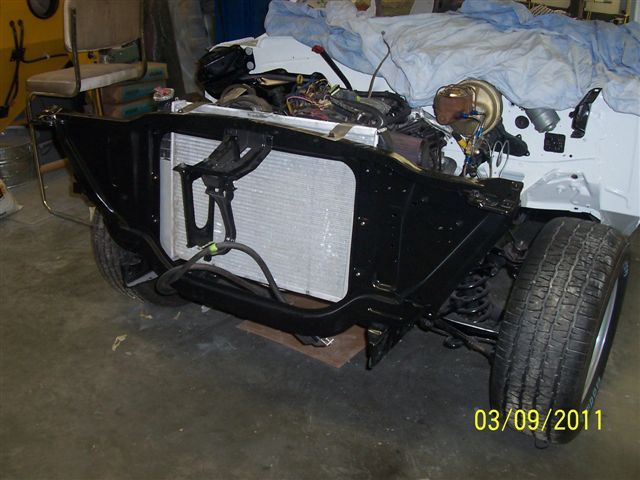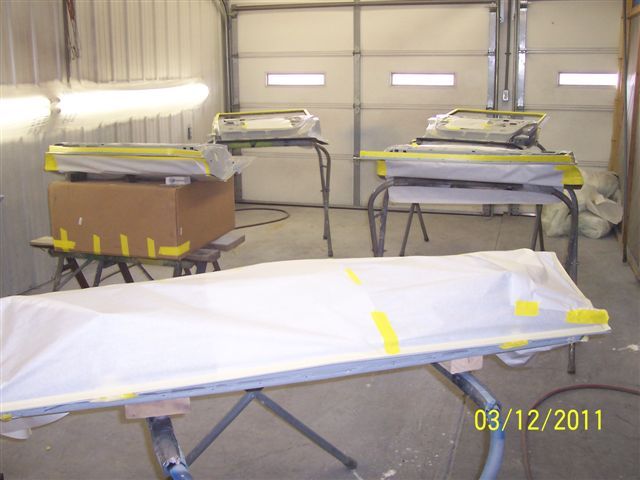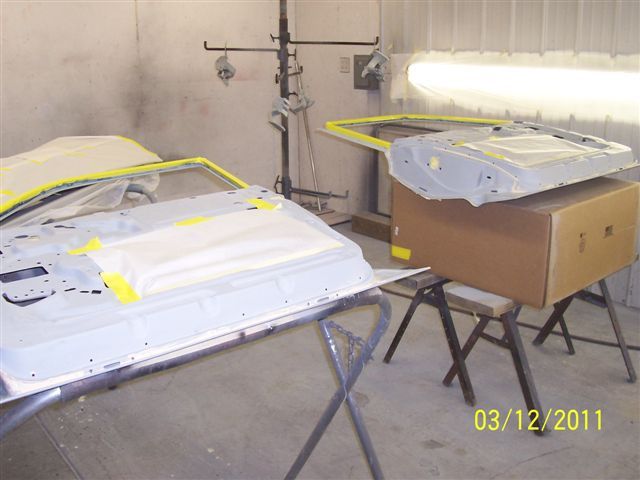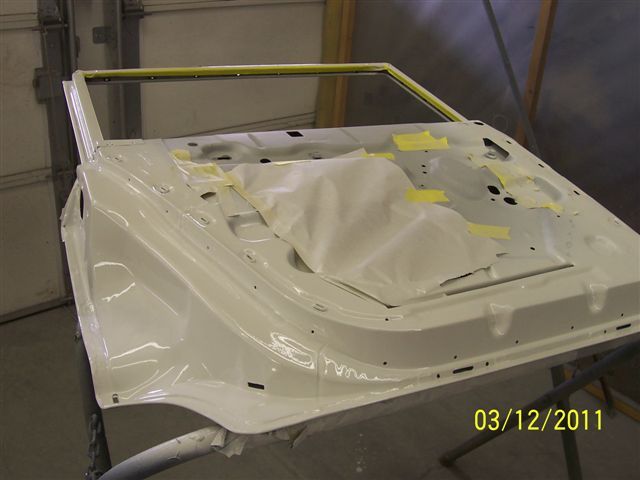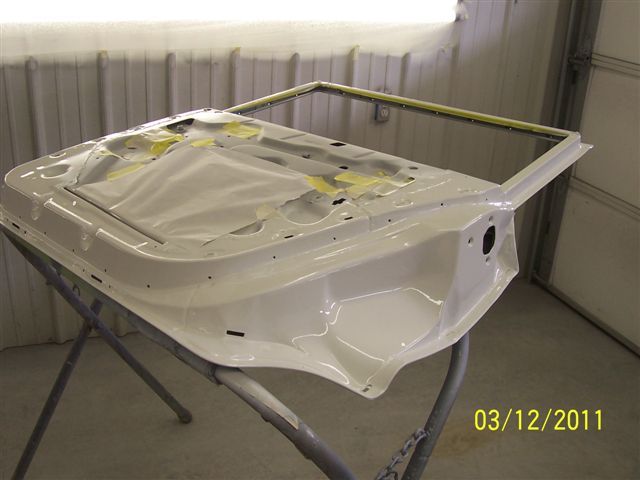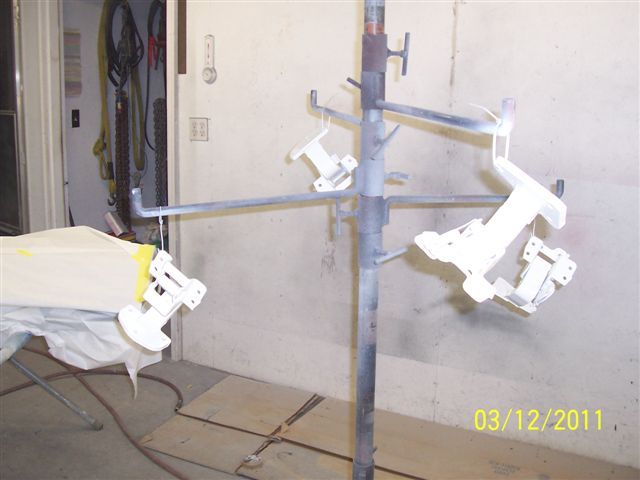 ——————————————————-
March 23rd, 2011:

Good evening boys and girls. I'm back for another update, but this time, I have my boy watching over my shoulder…literally.
He made it home this past Monday, although he and I really wished his wife and youngest could have made it here. But, things be damned, it just wasn't in the cards this time.
Anyway, as always, here is the message from Rockin Rick.
Mark,
Here are some update pics for you.
The doors and tailgate have been guide coated and ready for final sanding. The dull white coat in the next pics is sealer which is applied after final sanding and right before painting. This promotes good adhesion of the top coats (paint) and helps protect the bodywork under it.
The next pics are the paint itself after painting. Paint came out very well with excellent gloss.
The rest of the parts (primered) are the next set of parts to be fine tuned and painted.
As you can see, the hood required quite a bit of prep, even though it was a new piece. It had some distortion along both edges from the forming process and was not acceptable in its present form. Also had a few small dents here and there that had to be addressed before paint. Don't fret as this is very common even on new parts. I see this often as the reproduced parts are formed on dies which have had much former use. Hood has been fine tuned, and will be painted with rest of parts.
Also sent a few shots of the doors installed. I will send more as progress continues.
Thank you for the updates about Neal and his family. I've been keeping them in our prayers. This has to be very hard on all of you and hopefully things will continue to get better. Hope you have a good day.
Rick
P.S. Had a pretty rough storm here last night with hail and high winds but no twisters. Most of that was towards the north of us. Did get a few hail dents in the Jeep's hood and on Sharon's Accord but they were slight. Thank Goodness, as I don't have time to fix my own stuff. Ha! Ha!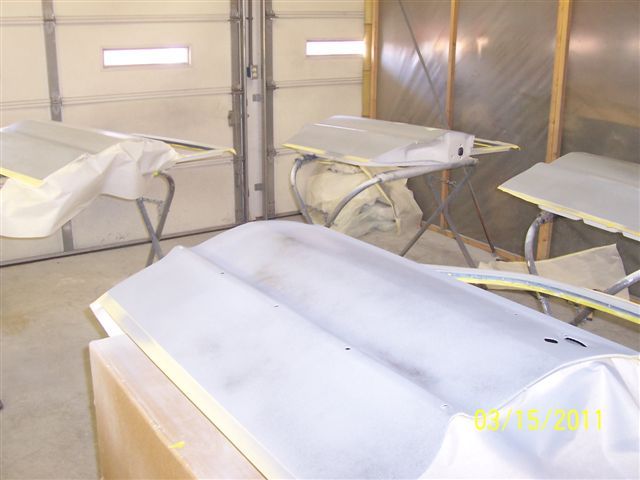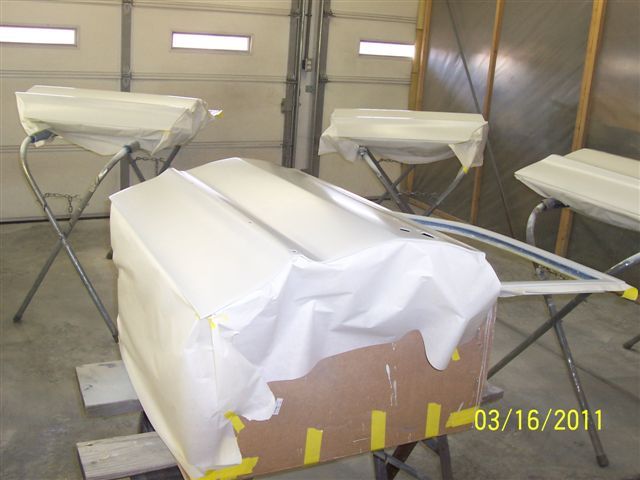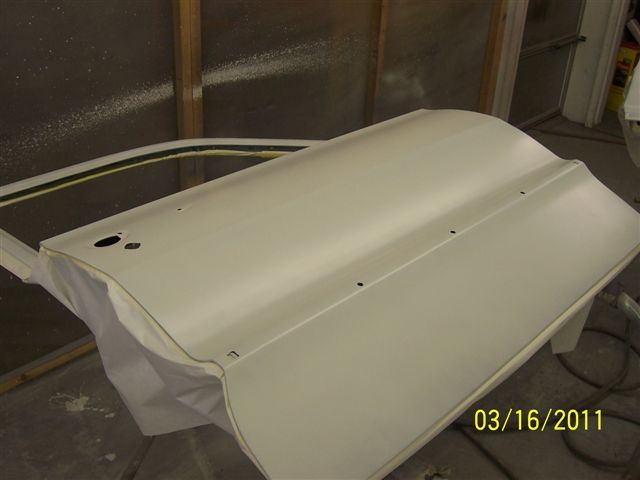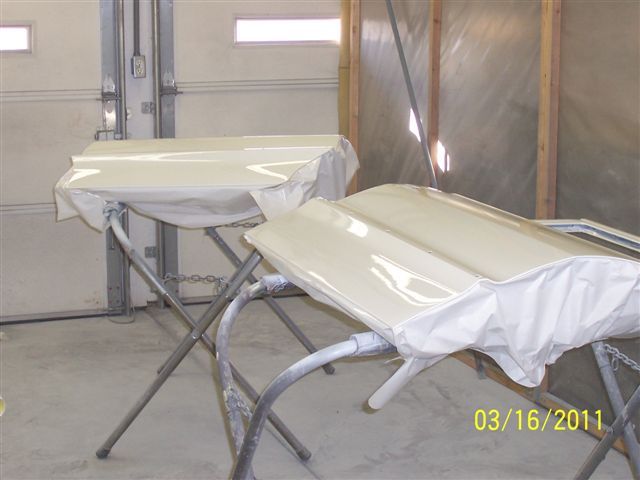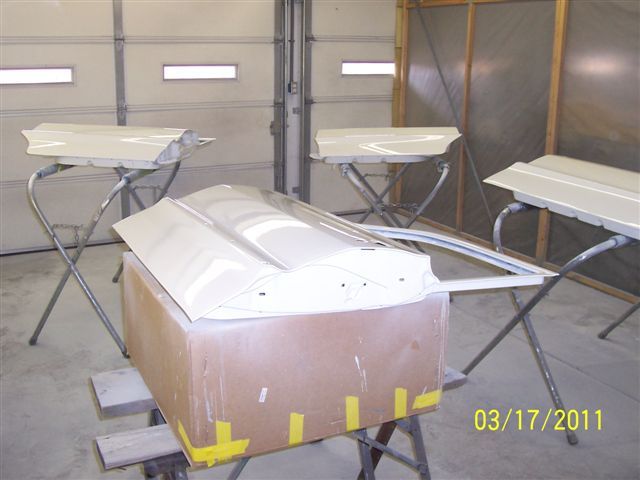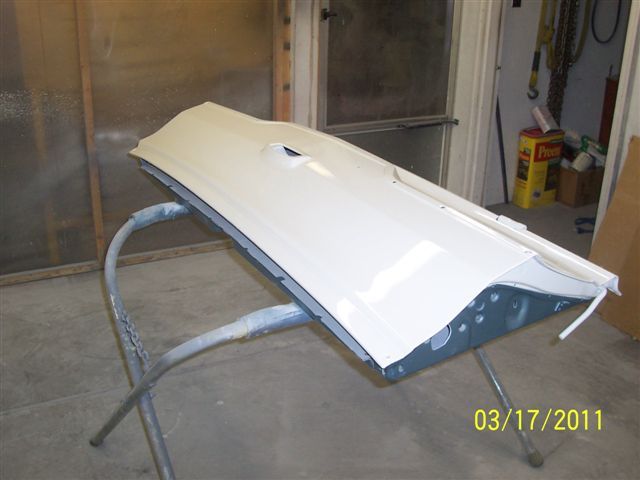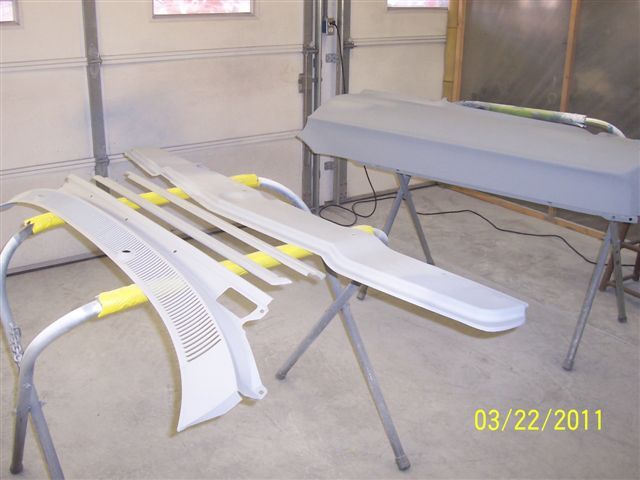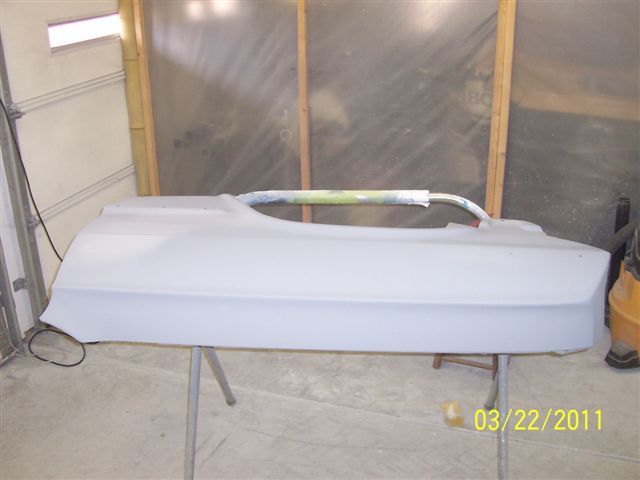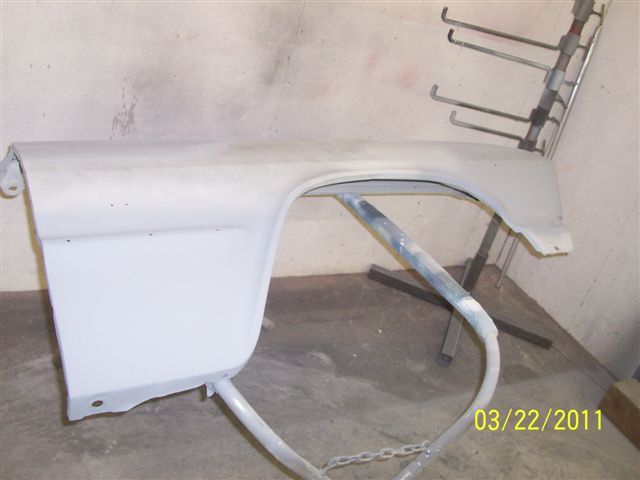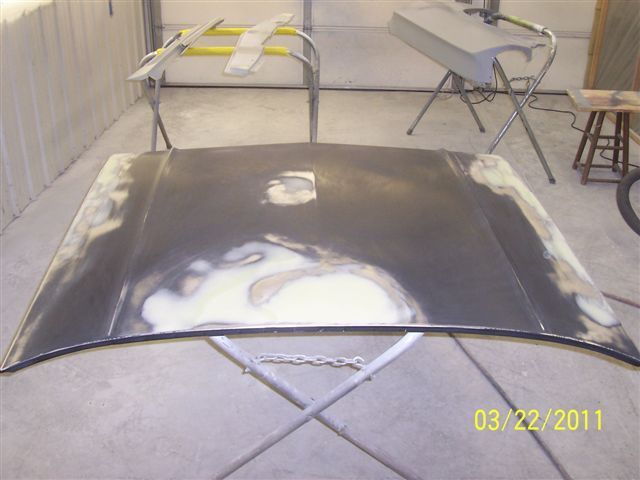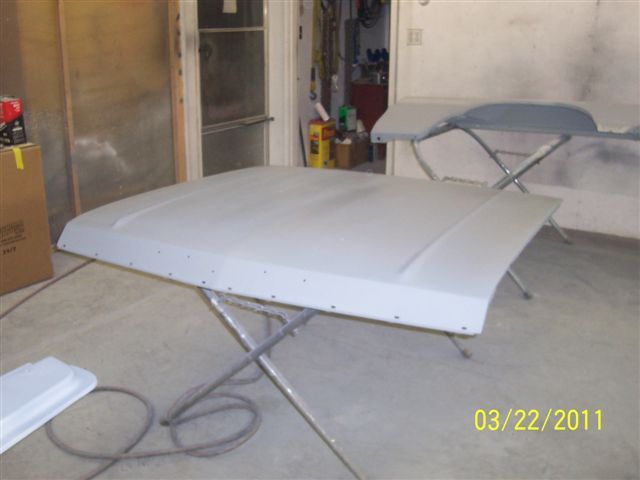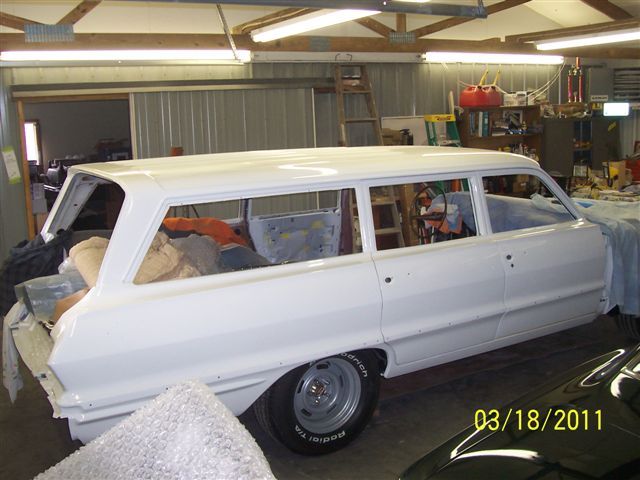 ——————————————————-
March 27th, 2011:

Welcome back to another fun filled round of "What's next in the world of SS Going for Broke".
Rick has had his hands full on this installment. What with the…WAIT a minute here. I am getting a head of myself. Please read on.
Mark,
Some more progress reports.
Dry fitted front end to make sure everything fit well before painting. I'm glad I did, as I needed to do some reshaping of the right side of the hood. You can see what I'm talking about in the pictures. So much for just painting the hood.
Whenever new parts are installed fitment is critical or you may get an unsatisfactory result. That's expensive to fix. Plus wasted time and material.
OK. Off the podium, but for the good people following this thread and might be following in procedure, this is a very important tip.
After fitting, aligning, and fine tuning I bolted everything down in place. Now I'll mark alignment on all the major attach points, disassemble all primered pieces, sand and paint.
Now I can reassemble all the painted parts with confidence knowing they will all fit well. AND no scratched up parts trying to get things to fit. Hope that this maybe helps someone out.
Also got the ECM installed and all four rubber door seals installed. After that, I fine tuned all door fitment and adjustment, as you can see results, in back towards front pics of each side. Installing the door seals was also important for proper door panel alignment and final fit. Much easier to do now before other things could get in the way.
Also sent a couple of dash pics for you. The pics are a little deceiving as the pad in reality is a darker blue in color, which really complements the dash.
Well, Mark, that is about it.
Ole Man in MO.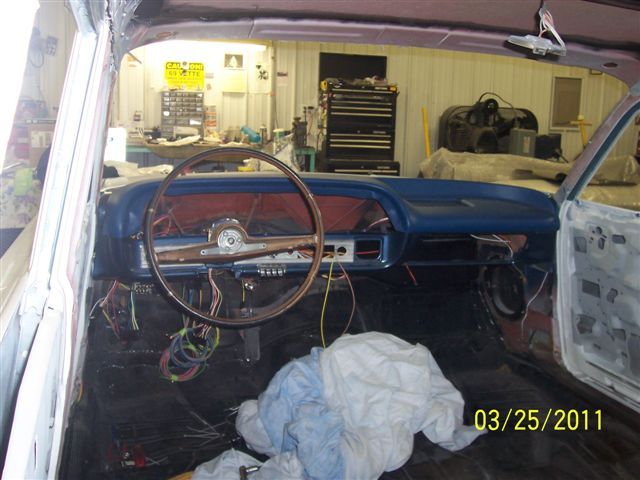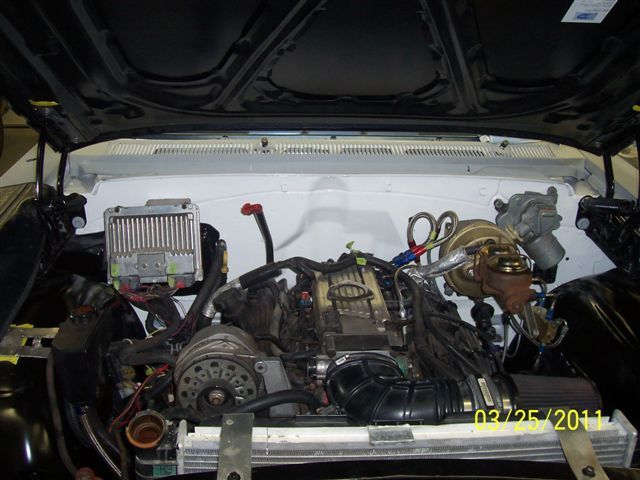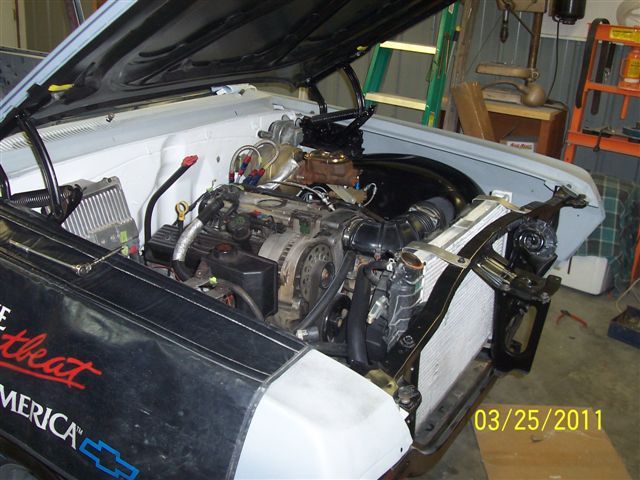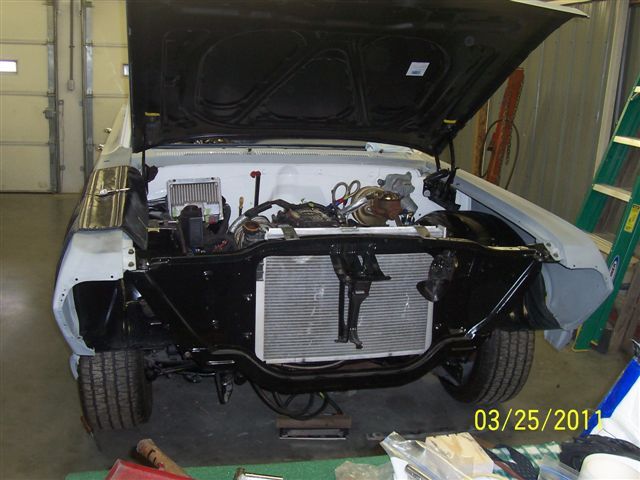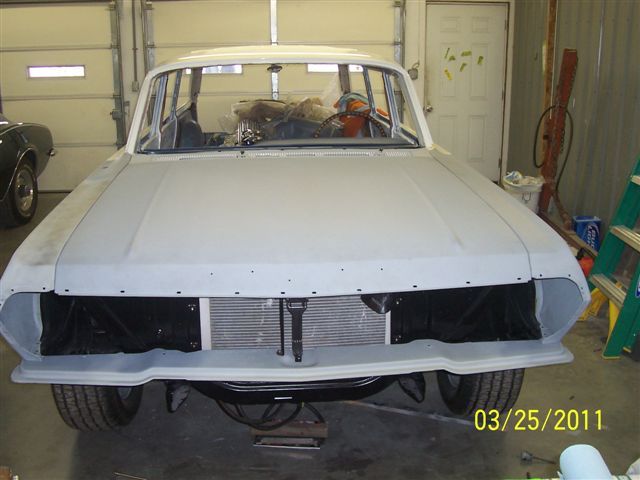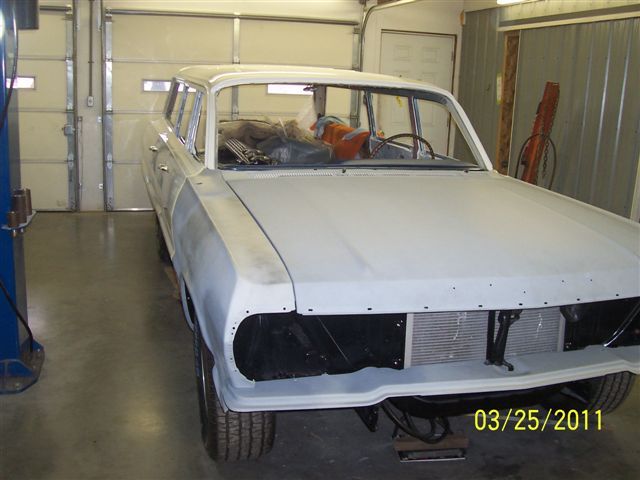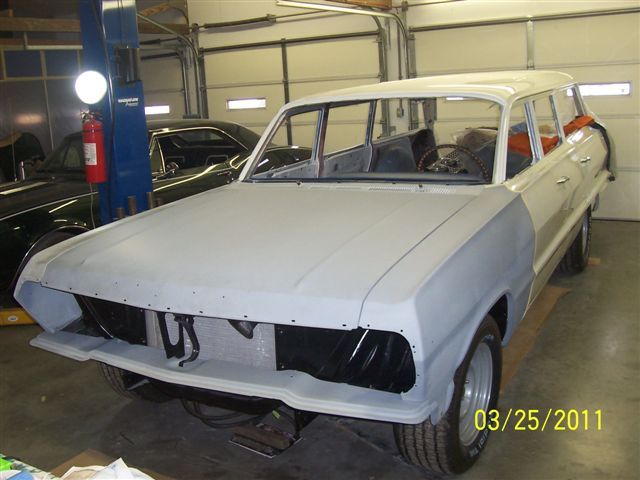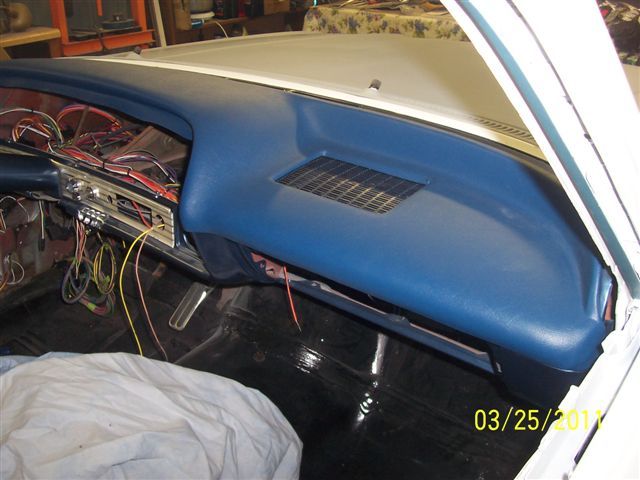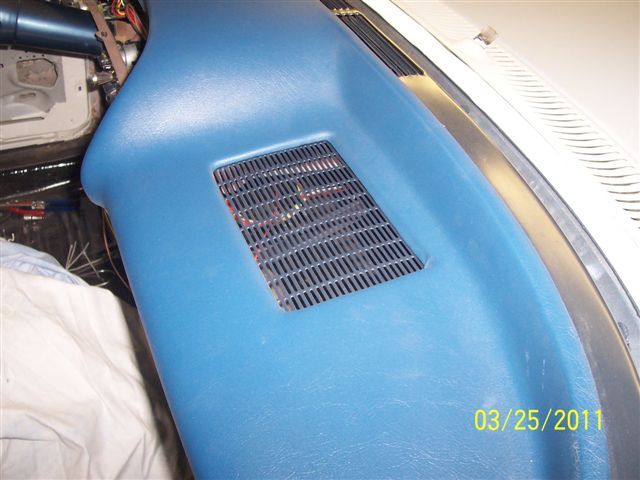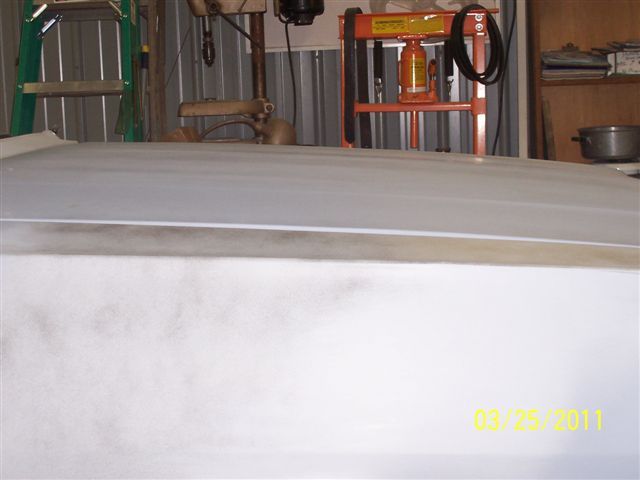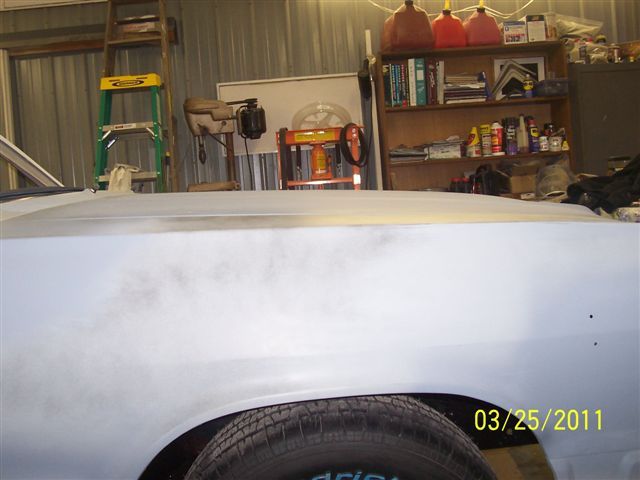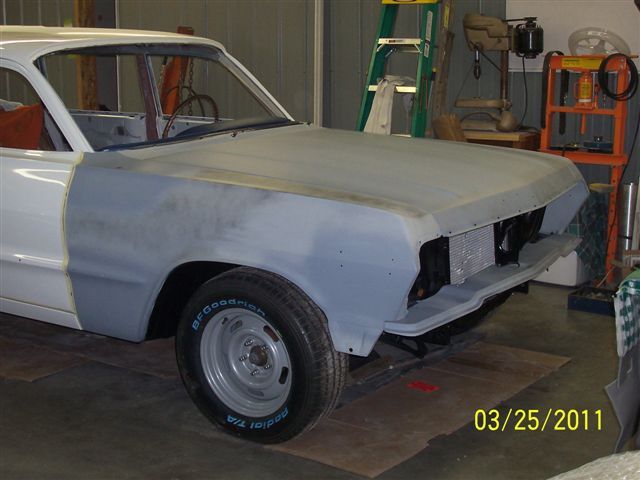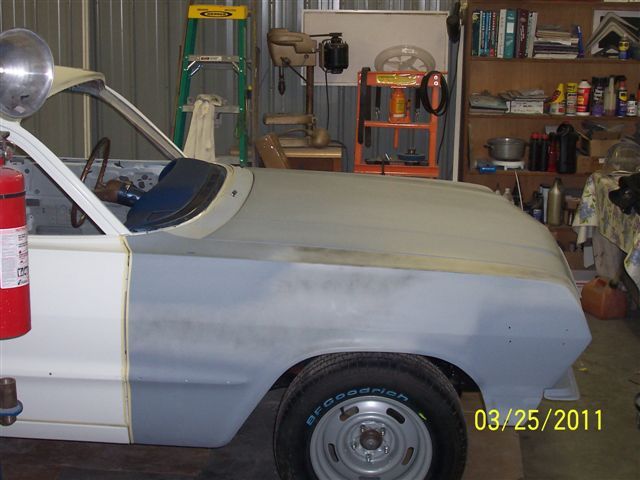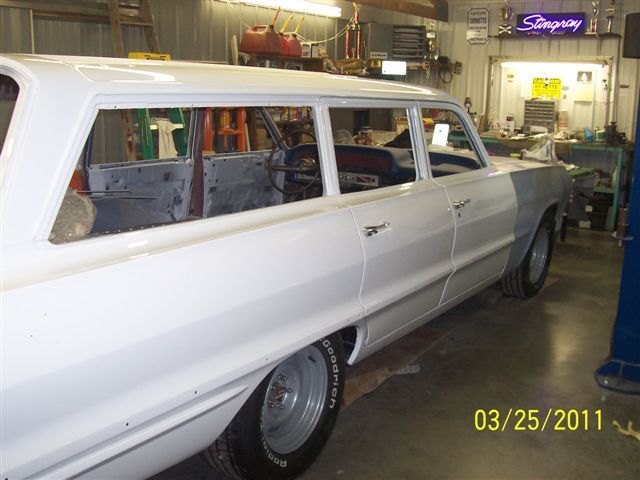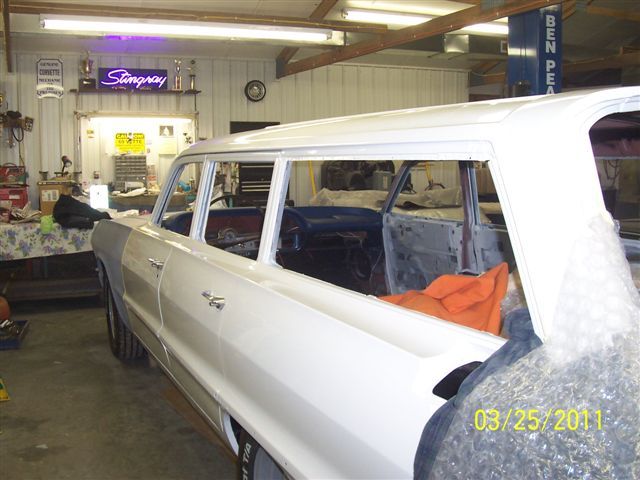 So as you can see, Rick (with the help of his friend Tom Peek) has been using TLC
on my old gal. And other than the hood giving him problems, I think she may just respect him for what he has done for her. I know I do!
I know that this is his job, but to do this kind and caliber of work, you must put a part of yourself into what you do. So again Thank you Rick and Tom and to the ones in the background that help and do not get mentioned (Rick's wife and his friends down the road).
I am so grateful.
——————————————————-
April 9th, 2011:

Well, my NICO faithful, it's time for an update on the old girl.
Was nice having Neal and the boys home and looking forward to him being back in a couple more weeks. Maybe I can get him to clean the garage out for me…
Anyway, as usual, here is the e-mail from our ever hard-working Rockin Rick.
Mark,
Just some more pics to show you what I've been doing.
Much time spent cleaning old paint overspray off the moldings before assembling them. Moldings came out great. Now assembling doors, progressing from front to back.
New window channel felts and seals all going together nicely.
Haven't painted the front end yet but will in the near future.
Back brushed aluminum trim, as you can see. Came out very well and can be used over no problem. I think I removed a pound of caulk from the backside of it.
Will send more as I progress.
Rockin Rick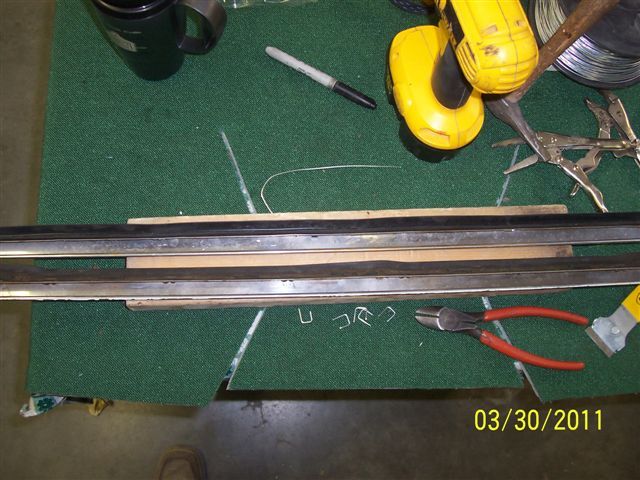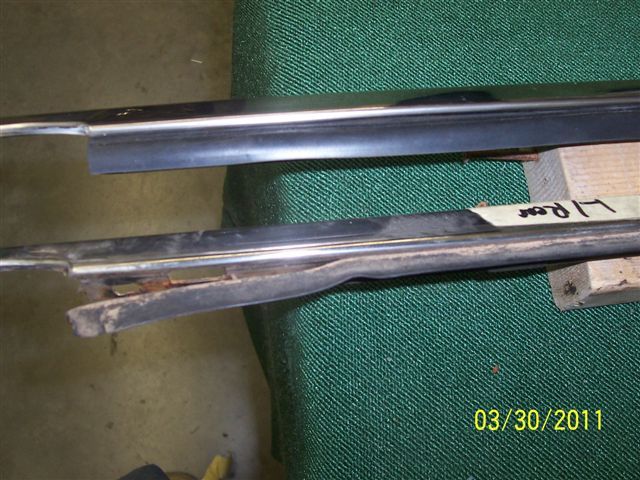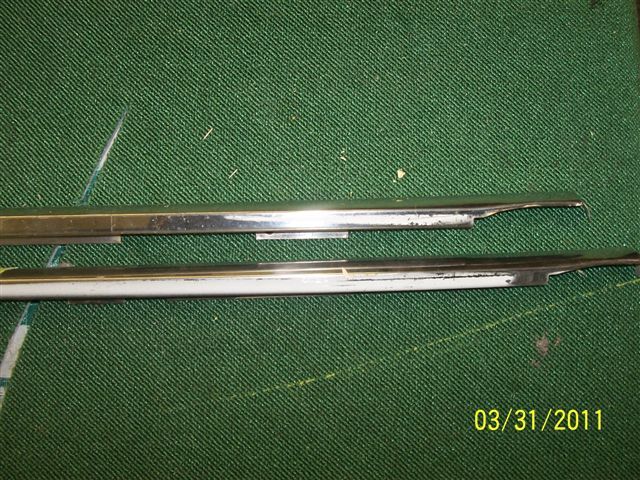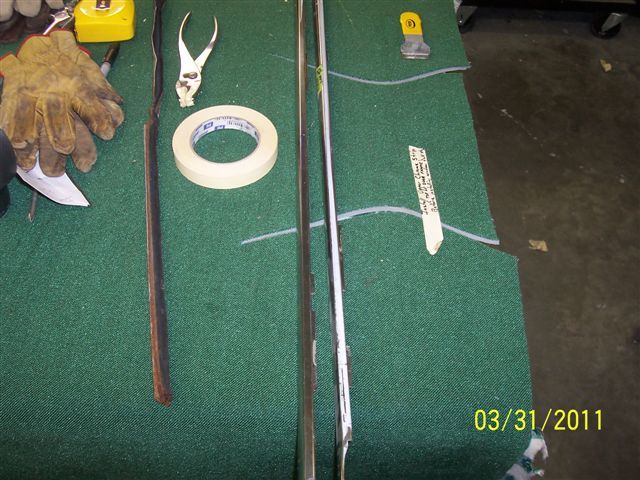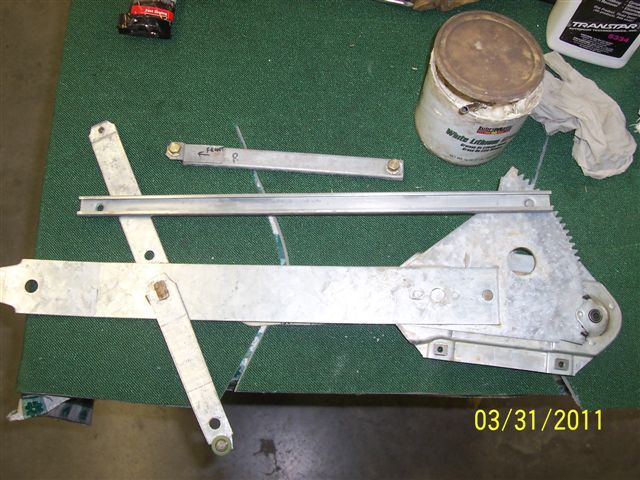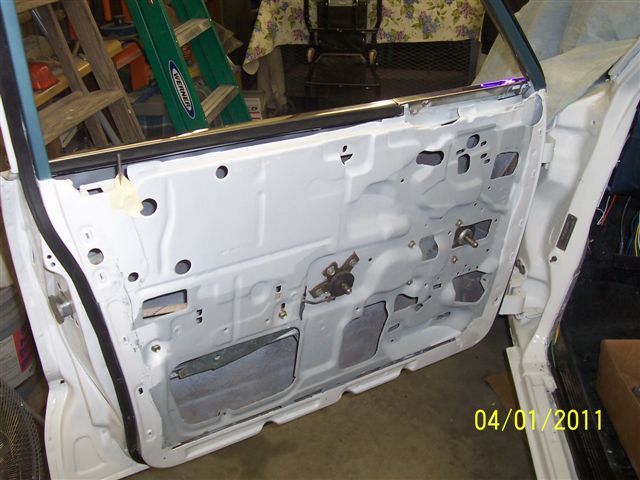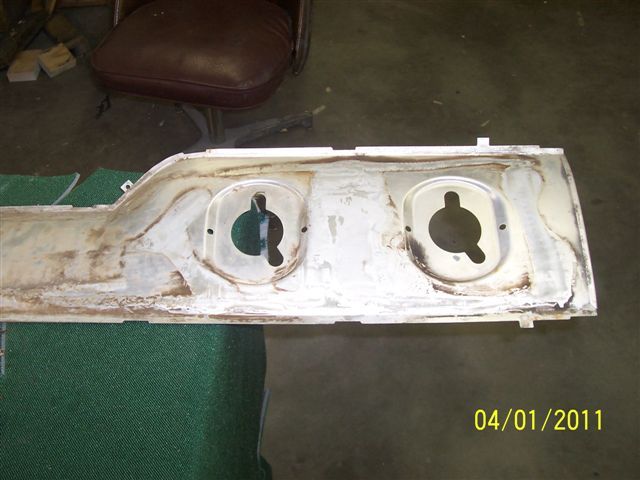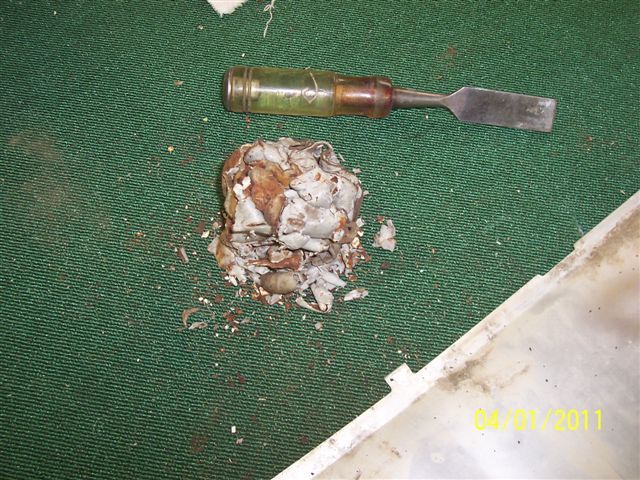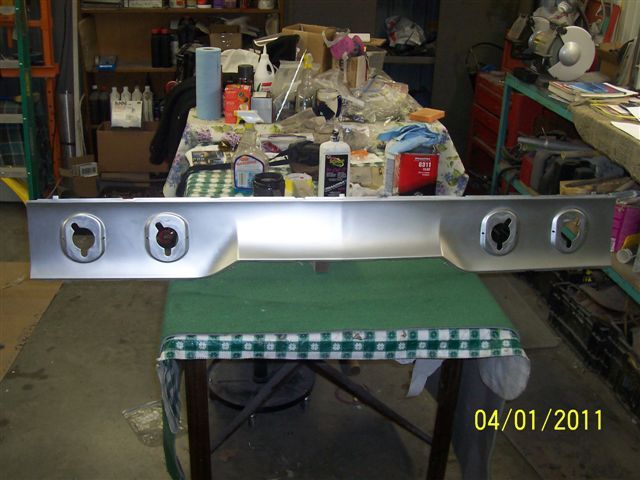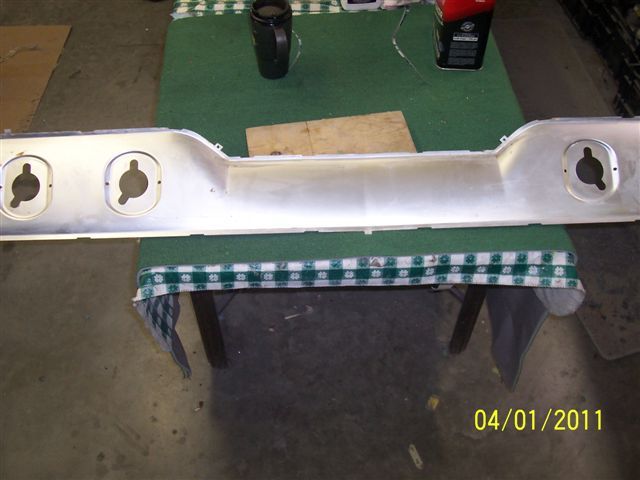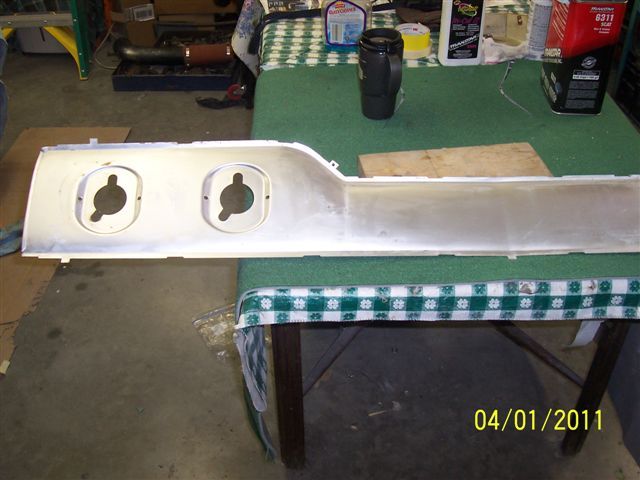 I have front windows!!!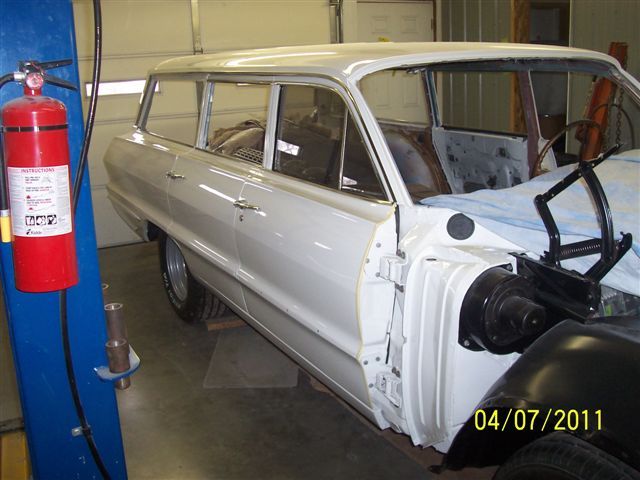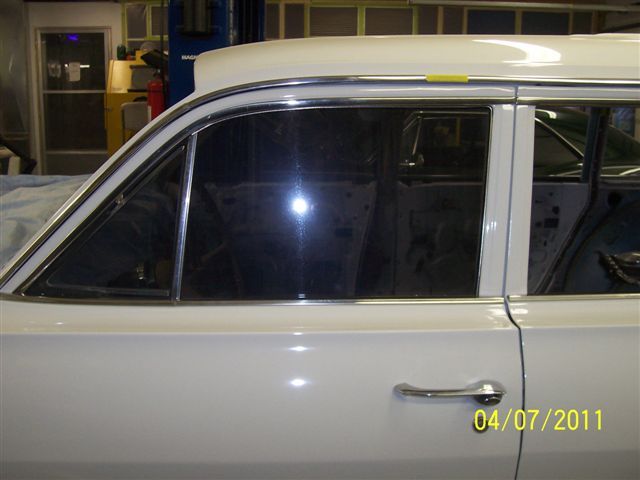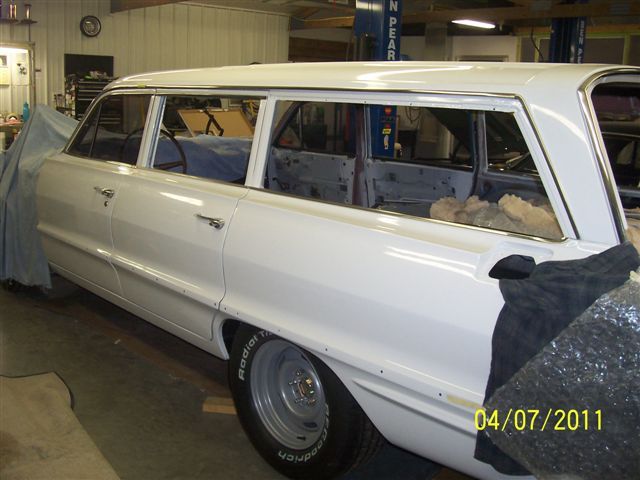 ——————————————————-
April 19th, 2011:

Well, gang, here we are again with some more updates on the Old Girl. The more the pics come in, the more excited I get about getting her finished. Shouldn't be too much longer now!
Mark,
Some more eye candy for you. It's very late, so this is short.
Making very good progress and everything is going back together nicely.
Talk to you soon,
Ole Man in Mo

Well, since there isn't very much to read, it's time to get you on to the pictures.
Enjoy!!!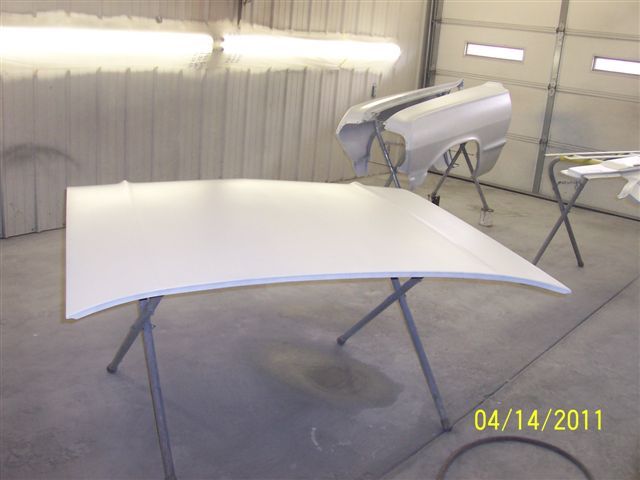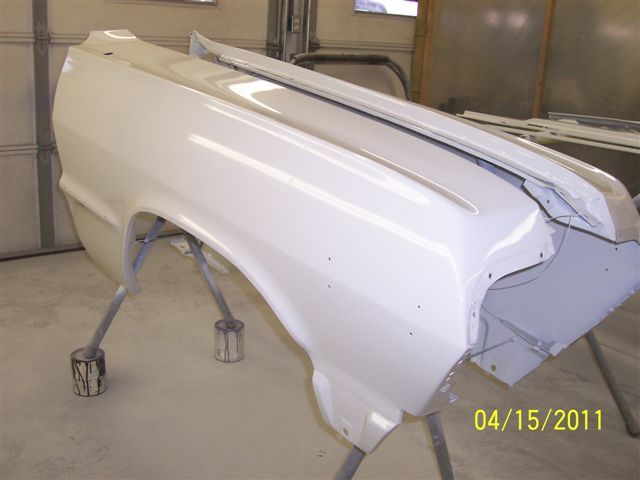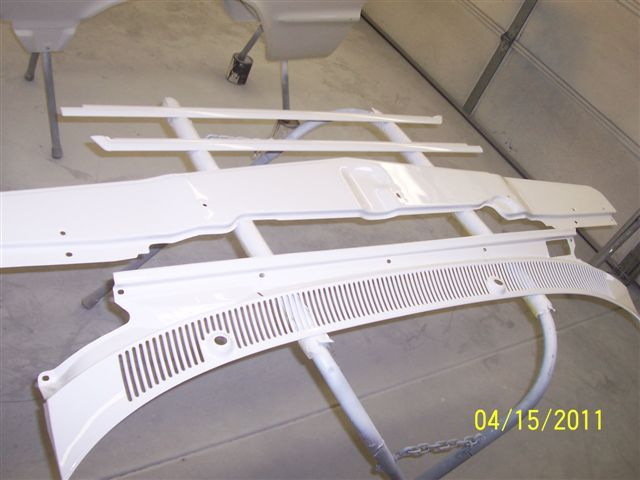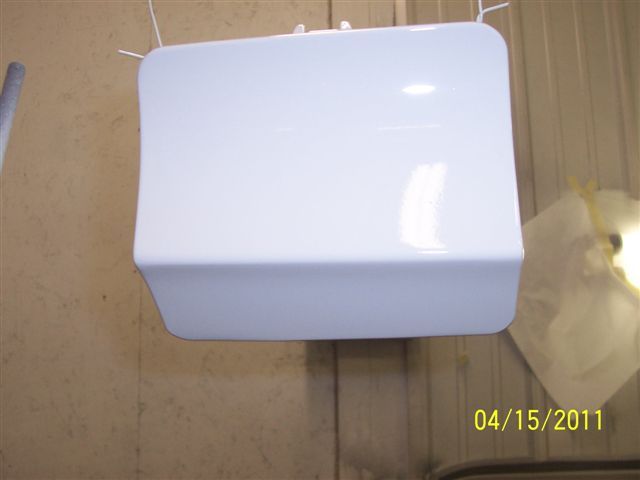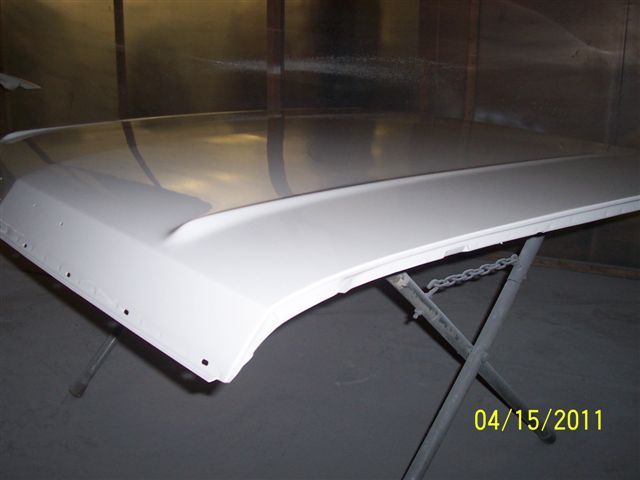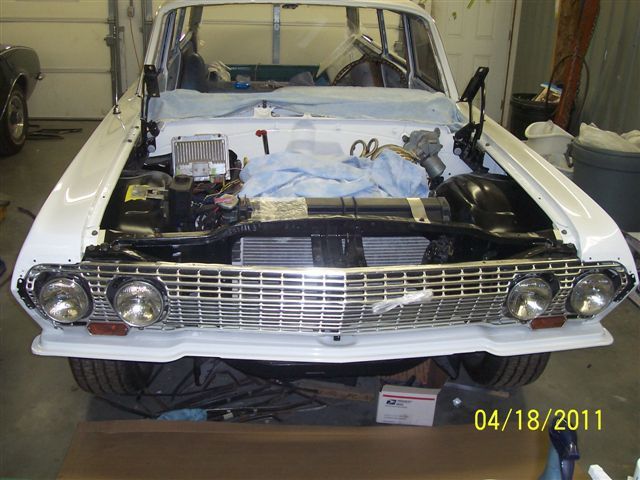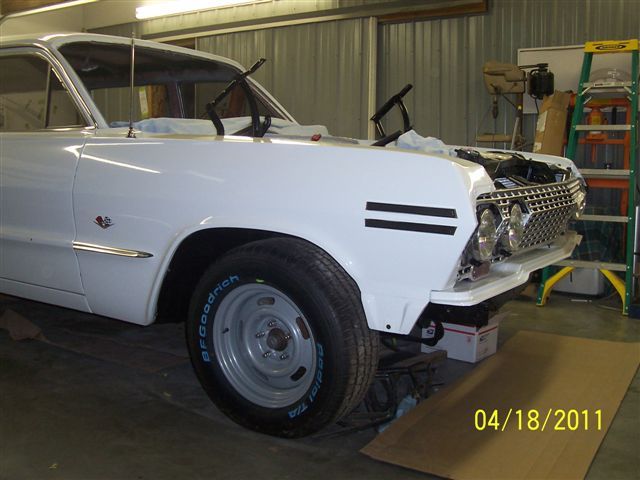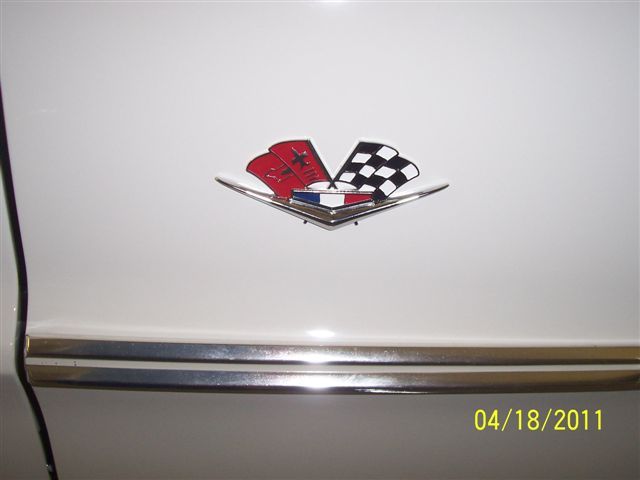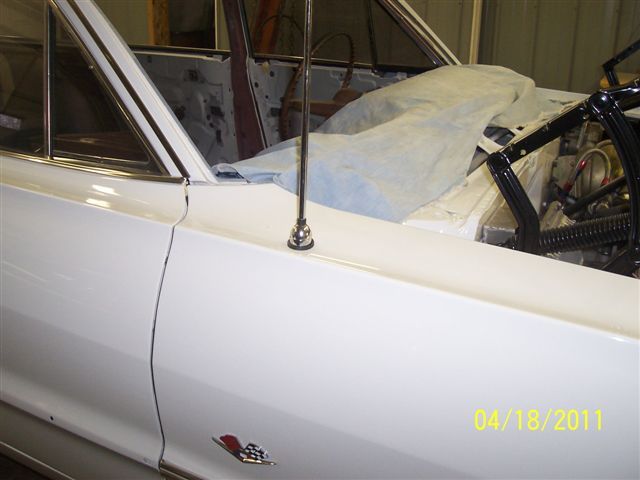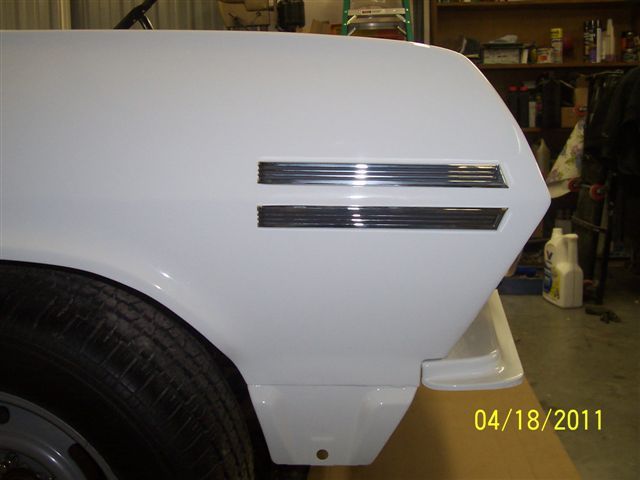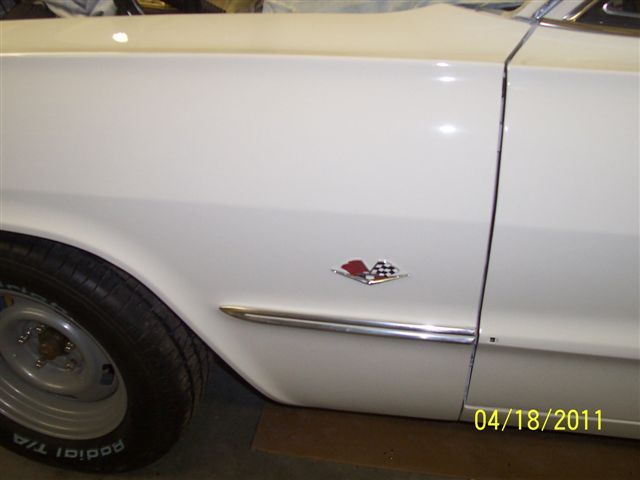 ——————————————————-
April 28th, 2011:

Hello all,
The word for today is WIRING. As the man from the state of MO has told me, he is working hard to clean up the bird nest that was under my hood. His thoughts are to make it a more pleasing site when the hood is up, and I agree. So most of you know that to wire anything is a time consuming ordeal and will drive you mad, we must wish Rick well in his conquest, as the length of the car is not short and the amount of wire is beyond immense. And that is just under the hood. There is still under the dash with the digital dash, the new cruise control and all. Then he may have to change the wiring from the right side that the wagon was made with to the left side that all other Chevy cars were made with.
And to think I did this to a friend of mine because I had a different dream and he is trying to fulfill that dream to the very best that he can. I know it is his job, but some people just do more than their jobs. Some put feelings into it so that when you look at the finished product you see the pride of the craftsman, doing what they do best, what they enjoy going to work for. To Rick and all the rest of them, I say THANK YOU.