Dagmar Midcap's Sunny Outlook
Dagmar loves dogs, sports cars, and motorcycles. Therefore, I love Dagmar. A Canadian friend, Ralph, introduced me to her (as a fan, not personally) five or six years ago.
She's a familiar face to Atlanta, as WGCL's beloved weather anchor from 2008 to 2010, but most of Dagmar Midcap's fans are Canadian, familiar with her work on regional news and BCTV's Driving Television (DTV).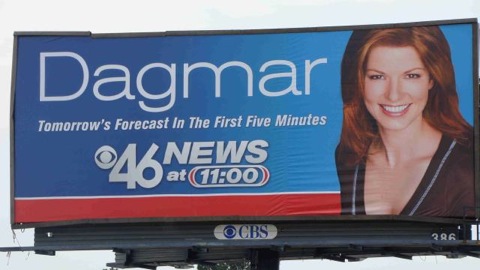 Fast Tube by Casper
DTV is distinctly unremarkable and occasionally terrible, serving automotive infotainment slop to Canadian audiences. At the time, most of the North American continent hadn't been introduced to high-production, heavily opinionated motoring programs like BBC's Top Gear. All we had was MotorWeek on PBS with Pat Goss and John Davis. Since the late 90s, Davis's reviews have been more like video brochures than usable critiques.

Fast Tube by Casper
Imagine DTV as MotorWeek with younger hosts and more motorcycles. Dagmar's polished presentation and cheerful good looks (the only reason I or anyone watched that show) made up for the program's lack of depth and compelling content, and when she left DTV in 2007, ratings plummeted. I wasn't sure what happened to her until I saw her on a billboard on I-75 in Atlanta.

Fast Tube by Casper
You may have also seen her on Stargate SG1, Dark Angel, and Smallville.
So, to summarize, she's a weather girl who loves cars and motorcycles.
And she's ridiculously adorable.
Did I mention she loves dogs? Nissan's Mr K. told us that "Dogs love trucks." Apparently, so do redheads, though she has mixed feelings about the 2010 Nissan Titan.
Here's her review of the Nissan Titan. The tailgate fell off during her review.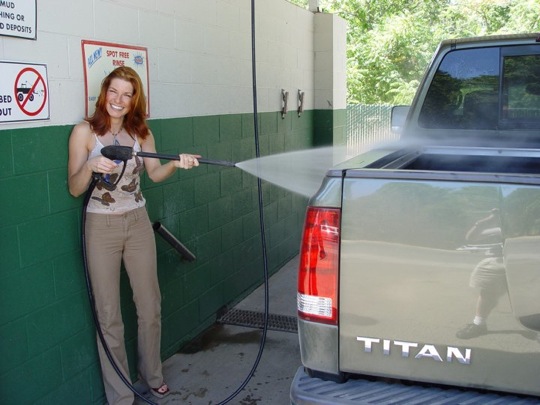 ——————————————
——————————————
Sadly, Dagmar left CBS Atlanta after her boyfriend took his own life.
"The last time she saw him, she said, he had arrived at her home, flowers and an apple pie from Whole Foods in hand. He apologized to her for his negativity and promised they'd always be together. "I thought he was making a breakthrough," she said. "I didn't understand what he was really saying."

Midcap found out about his death July 2009, during the 4 p.m. newscast in her news director's office. She collapsed in shock. She stayed off air for 11 days.

Coming back, she said, was incredibly difficult. But she put on a happy face and viewers hardly noticed until six months later. "I had one bad night. I wasn't as perky. I was on the verge of tears on the air," she said.

Colleagues, though, noticed her withdrawn behavior off air. She'd sometimes cry at her desk, she said."