Review: 2004 Lincoln Town Car
I put off writing this review because there's little I can say that hasn't already been said. The Town Car's Panther platform dates back to 1979, a product of the malaise era when cars were gaudy, slow, and shaped like Lego blocks.
Expectedly, the last and latest Town Car isn't particularly fast, isn't sharply styled, and feels a bit like driving a waterbed.
But I like it.
I spend a lot of time praising the magic and delight of communicative steering, light weight, and sharp handling. I hold up the Mazda Miata as a benchmark for accessible performance, yet I've never actually owned one, and just weeks earlier I gave a 9/10 overall rating to a Lexus LS430, a monstrosity of an automobile with numb feedback, zero driver involvement, and more gee-whiz gadgets than a Sharper Image store. [I realize they've gone out of business.]
The Lincoln Town Car is the antithesis of the "joyful motoring" I pride myself on advocating, so maybe I'm a hypocrite, or maybe I'm aging, balding, and getting fatter.
Back in September of 2011, I joined a friend in Chicago. He went shopping around for two cars, one for cash and one in trade for his Escalade. We couldn't find anything in Chicago but on the way home we came across an ad for a 2004 Town Car in Lincoln, Illinois.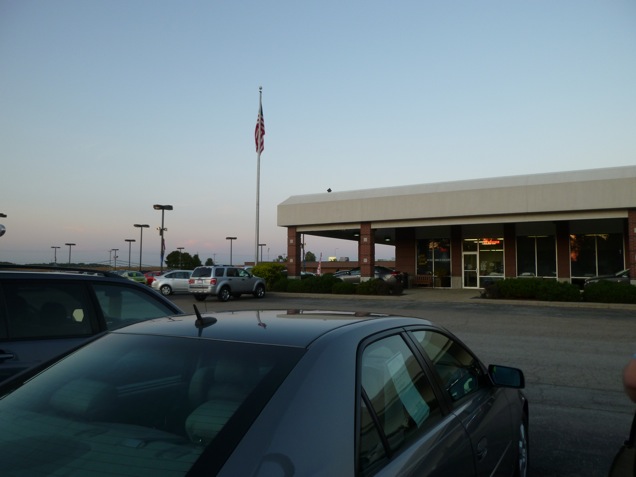 Jim Xamis Ford-Lincoln looks quite dated inside and out with architecture that could have come from the 1970s or earlier. The town of Lincoln, Illinois isn't much to speak of either with a population of 14,500 people, wedged halfway between Bloomington and Springfield.
The cream and brown interior color scheme felt relaxing and synthetically upscale, like walking into a Brookstone store. The burlwood was obviously fake, but it was printed in a pleasing and subtle pattern that added richness to the interior. A silver strip of plastic, painted to look like brushed aluminum, ran across the dashboard. That Lincoln badge on the steering wheel is made of real metal, as are the fastener ends on the door pull handles.
For every piece where cost-cutting was apparent, Lincoln countered with something unexpectedly nice.
Unfortunately, it smells like a Ford Windstar inside. Cadillacs have a cologne-like scent that permeates from the leather. Mercedes-Benzes and BMWs have their own intoxicating vinyl/adhesive/leather odor, and Saabs, Jaguars, Land Rovers, and Volvos have their own as well. The smells are as distinct as the brands.
This Town Car, as nice as it looked and as nice as the materials felt to the touch, still smelled like cheap plastic. I noticed the same of a 2000 Lincoln LS I test drove a year earlier. It's not an off-putting odor in any way, but it doesn't contribute to the experience.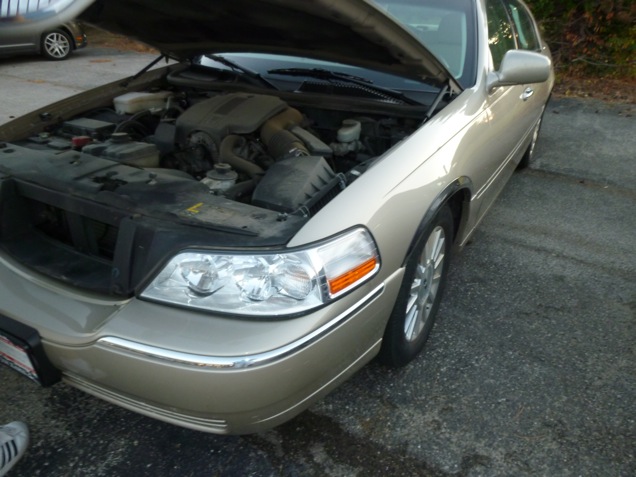 This shade of paint, what Lincoln calls light french silk, is a mix between silver and beige. It looks appropriately upscale in the sun but in dim lighting it comes across as dull and lifeless.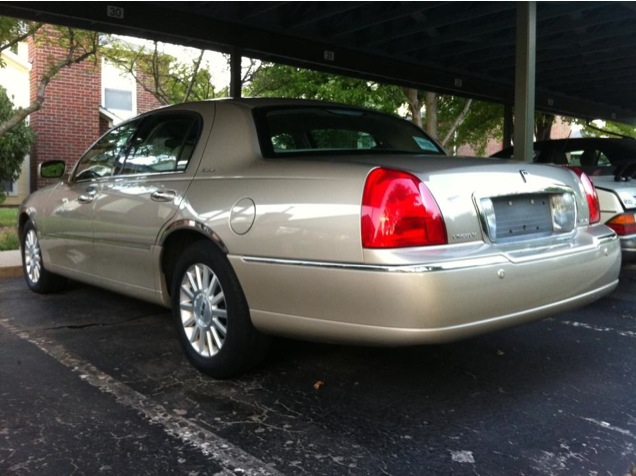 The tail lights are gently raised as an homage to tail fins of the past.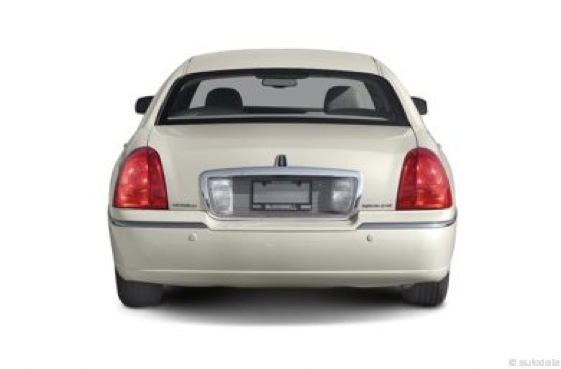 Lincoln's 2003 revision to the Town Car introduced fresher and less puckered sheet metal, a stronger frame, all-new rack and pinion power steering, a modernized interior, and revised trim levels.
This was a one-owner car with 127,000 miles, locally owned and locally served at this dealership. This Lincoln spent 100% of its life in the town of Lincoln, in a state that calls itself the Land of Lincoln, and was sold by a Lincoln dealer. There were so many levels of "Lincoln" going on that I thought Abe would rise from the grave.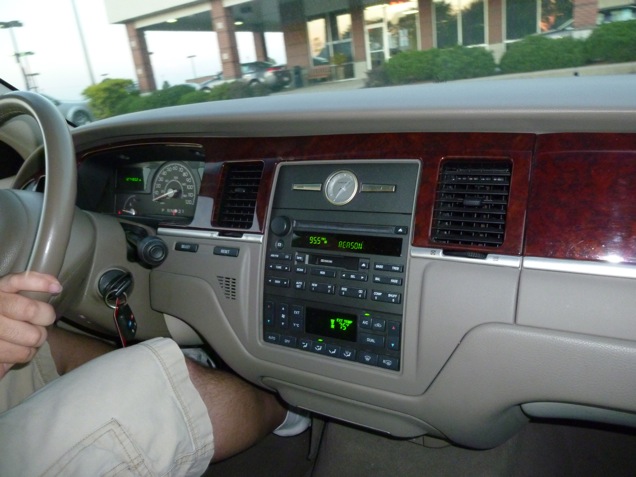 The Town Car Signature is an entry- to mid-level configuration (depending on model year), with all of the Town Car's basic features: bench seats, power doors and locks, remote entry, power adjustable pedals, leather, fake wood, dual zone climate control, ABS, traction, steering wheel radio, cruise, and climate controls, rear parking sensors, and manual tilt steering.
The Signature level misses out on memory seats, Alpine or THX audio, power tilt/telescope, navigation, Xenon headlamps, and a security system that detects interior motion.
I could be wrong on some of those trim level details, but none of them are really important. A Town Car is a Town Car.
We headed down a rural road for a 60mph test drive, checking for shakes and wobbles. The Town Car felt steady, if somewhat mushy. The new rack and pinion steering was a massive improvement, much more precise and communicative than the old recirculating ball setup. Unfortunately, it still retained a little bit of on-center mush typical of some Fords.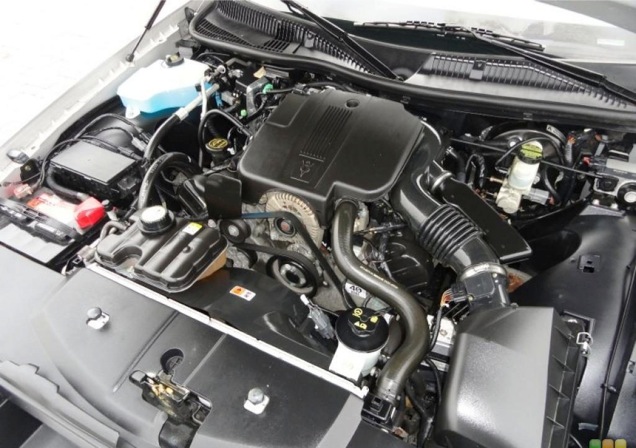 Ford's 4.6L SOHC "Modular" V8 dates back to the early 90s, putting out a fairly unimpressive 239hp. Thankfully, the 4-speed automatic's gearing (and seamless shifts) help the 4200 lb beast move easily off the line. A 0-60 run takes just over 9 seconds, but the cushy feel of the car discourages you from attempting any type of high-speed mischief. Compare that to the Cadillac DTS, capable of reaching 60 in 7 seconds when equipped with the 300hp version of the Northstar V8.
Fortunately, power delivery is smooth and engine noises are distant thanks to a well-insulated firewall. Shifts, however, are strangely and disconcertingly imperceptible. You can expect somewhere between 16 and 25 mpg.
The Town Car lacks the Lexus LS430's on-road steadiness, wobbling a bit over undulations and imperfections. Push it into a turn, however, and the Lincoln responds surprisingly well. I wouldn't take a body-on-frame full-size car autocrossing, but it does feel sufficiently secure in spirited city driving, significantly improved over the previous generation. The tail will swing out with enough effort, and if you aren't wearing your seatbelt, expect to be tossed across the slippery leather bench seat into the passenger door.
The base four-speaker stereo was perfectly adequate, brighter and cleaner than expected, though bass could use added depth. The volume knob was crammed against the left edge, and wear spots on the dashboard next to the knob was apparent. Everything was largely labeled and easy enough to use, and the analog clock with gold needles and a silver face was a nice touch. The elegantly styled wings on each side of the clock are buttons for adjusting the time.
Every Town Car comes with a pedestrian target… errr… I mean hood ornament: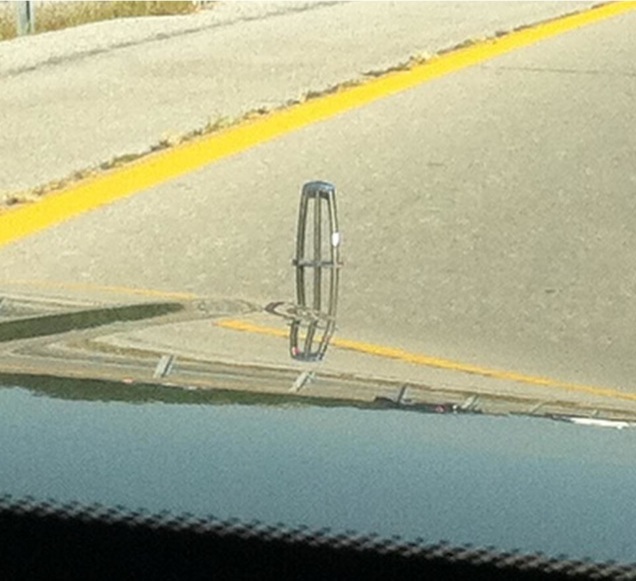 Ed, our salesman, said we could "make a U-turn at the grain elevator." That's not something you hear in the city.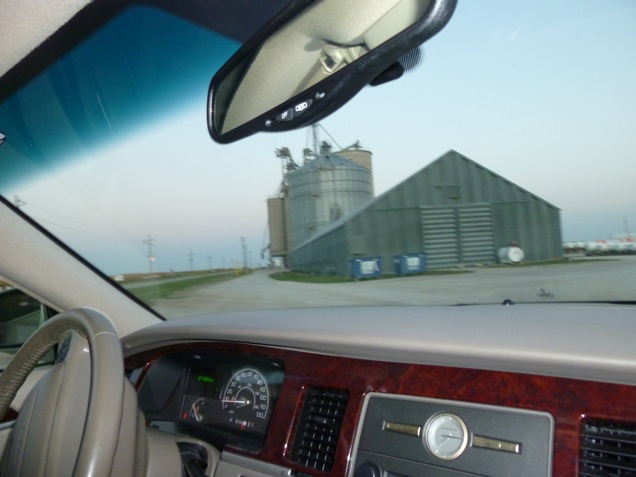 We headed back to the dealership to talk numbers. They wanted $5995 (MSRP in 2004 was about $42,000), and we asked for $5300, so they countered with $5600. We politely parted ways and headed back to St Louis.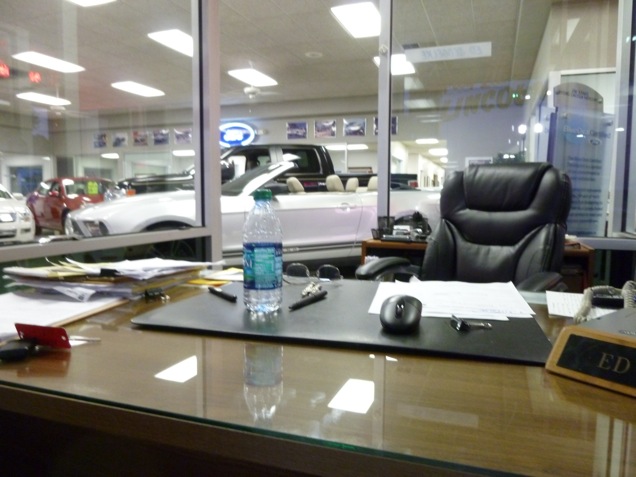 Halfway between Lincoln, IL and St Louis, IL, my friend called the dealer and accepted their price. It was getting late so Ed, our salesman, offered to deliver the car 150 miles for free. Nice gesture, nice deal, nice guy.
There were a couple problems over the following month. The 4.6L V8 misfired occasionally when going uphill (coil packs), the rear axle seal was leaking, and the AC compressor made some funny noises.
The coil pack and axle service at a local Ford dealer (ended up needing quite a bit more than just a seal) was about $1800. The AC compressor likely needed replacement, so the car was traded.
Even though this Lincoln wasn't my car, I still miss it. While Lexus provides comfort with massaging, heated, cooled, and reclining seats, Lincoln does it with width and space. The soft flat bench makes it possible to sprawl out, just like a living room couch, so you never feel confined or restricted, and the low beltline offers excellent outward visibility.
There is, however, a bit more wind noise at 70mph than I expected, revealing the Lincoln's aging design.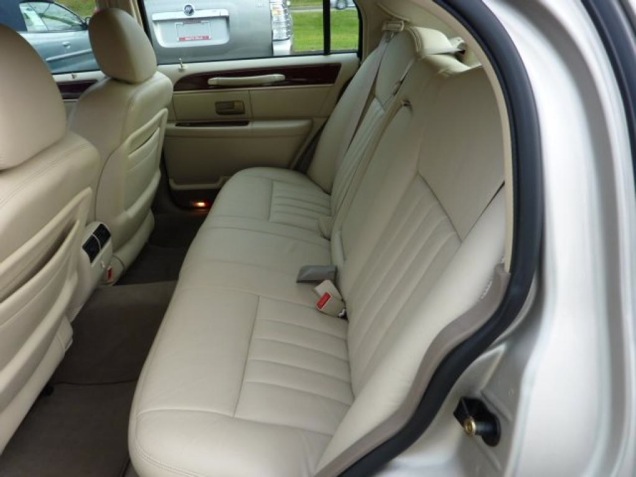 Until it ended production earlier this year, the Town Car was the longest car built in the western hemisphere. At 215.4 inches, it's eight inches longer than the Cadillac DTS.
The Town Car remains the world's most comfortable and robust mover of humans and cargo, thus its popularity in the livery business, typically seeing 300,000-400,000 miles of service before being retired. I can see owning one as a dedicated long-distance travel vehicle.
And while it sounds, so far, like nothing more than a taxi for transporting airline customers, the elderly, and the dead, it does play a prominent, action-driven role on "Justified," an FX series starring Timothy Oliphant:

Fast Tube by Casper
That concludes a dull story about a brief time with an extinct automobile.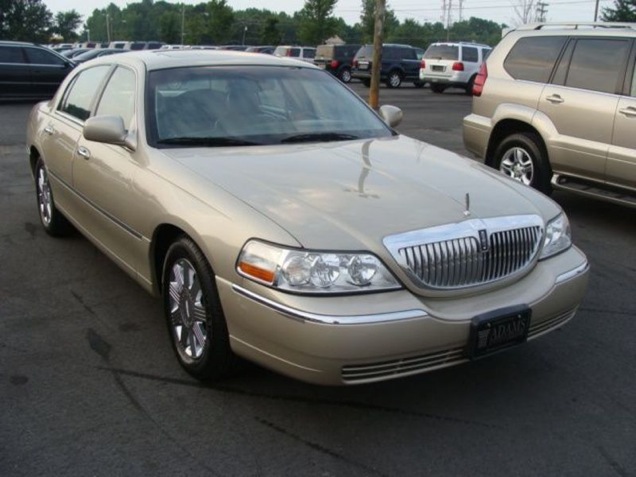 Here's the ratings:

Ride: 9/10 — A bit floaty but superbly comfortable.
Style: 8/10 — Quite aged but still clean looking.
Powertrain: 7/10 — The SOHC Modular V8 was old ten years ago and it's ancient now. There's sufficient low-end grunt and maintenance costs are low. I wish the transmission wasn't so mushy.
Braking: 5.5/10 — It eventually stops.
Steering/Handling: 6.5/10 – It's actually much better than you would expect, though your expectations were probably low to begin with. Thanks to RWD and a revised suspension, it doesn't feel horribly sloppy around corners and doesn't mind being pushed a little bit. Overall, it feels sleepy.
Audio/Accessories: 7/10 — There's no bluetooth or whiz bang gadgets on the Signature level, just items that were considered a luxury 15 years ago. You get power seats and windows, a nice stereo, a whole lot of leather, beautiful interior lighting, fake wood, and fake aluminum. There was an optional emergency telematics system but it merely used the cellular network. You can't locate the car with satellites as you can with GM's OnStar.
Interior: 8.5/10 — Materials are nice to touch and nice to look at and assembly quality is vastly superior to Cadillacs of the early 2000s, but not quite up there with Lexus. Nothing creaked or rattled and interior panel gaps were very tight. Real wood trim would be nice, as well as a more distinct smell that didn't remind you of the rest of the Ford family.
Comfort: 10/10 – Rear thigh support is a bit short but the cabin's expansive width makes up for it. Turn up the radio, set the cruise to 60, and tune out the world.
Quality/Reliability: 9/10 — They'll run forever if you take care of them. You might have some wear and tear here and a few unexpected expenses, but with moderate maintenance a Town Car could see several hundred thousand miles of service. Over the lifetime of the vehicle you'll spend far less on repairs than you would with a Lexus LS430 or Cadillac Deville.
Overall Value: 8.5/10 — Production has ended. Resale values are so low that even a two year old example is a bargain. Buying a Town Car is like buying cheese at Costco — you're getting a lot more than you probably need, and because you're buying so much of it you get a discount for buying in bulk.
VERDICT: It's not very emotional, but it goes down easy like iced tea on a muggy day in New Orleans. Think of it as a Lexus LS400 with a cheaper interior, more space, and a lower price.
If you're into this style of motoring, the Town Car is a serious contender.
Specifications at ConsumerGuide