GM Heritage Center, 2016
Imagine if your favorite athletes, musicians, actors, and political figures agreed to meet in one place and you received an invite to spend an evening with each of them.
That happened last week when my friend Seth, a GM employee, generously offered an invite to GM's Heritage Center in Sterling Heights.
Like the Walter P. Chrysler Museum in Auburn Hills, GMHC is closed to the general public, open only for special events, scheduled group visits, and to GM employees. Additionally, visits have to be scheduled in advance, making it possible to explore the facility without crowds, heavy handed security, or the noises and irritations of children. With a day's notice I was able to swap shifts with a coworker (I work evenings) and meet up with Seth.
Dominating the lobby was Harley Earl's Buick Y-job, the auto industry's first concept car and the creative spark that inspired longer, lower, wider, and more expressive designs.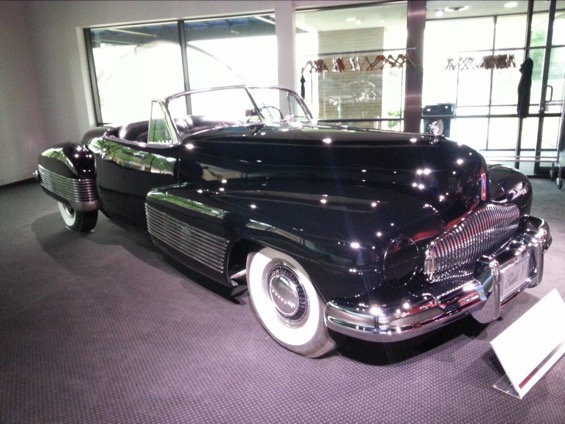 It was a stunning preview of the historical gems behind the door.
Inside, an elegantly lit space features GM vehicles of every vintage, walls adorned with neon signs, scale models, and diagrams. In the center is a platform with seating that faces a projector playing a loop of advertisements and classic footage of GM brands.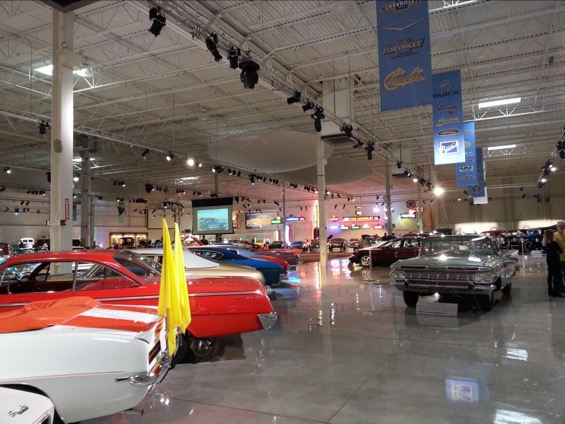 As an open space, there isn't a specific pathway to take or a guided route as there is in most museums. Nor is it arranged strictly by brand or decade, though the Camaros, Corvettes, and Cadillacs tend to congregate in similar areas. After taking in a moment of overwhelming excitement you gravitate toward the cars, trucks, and displays that capture your interest.
Remarkably, there's minimal security or gating. Rare antiques and show cars worth millions are as approachable as a Dodge Stratus in a K-Mart parking lot. You can't touch but you can walk in between the vehicles, pop your head in and take a whiff of the interiors, and intimately photograph each example without interference from crowds. Placards on the floor provide descriptions. Unlike a crowded commercial event like the Chicago Auto Show or a busy gathering like Cars and Coffee, these are yours to personally approach and enjoy at your pace, at your leisure.
Along the back wall is where I saw my heroes — the Cadillac Sixteen, Elmiraj, Evoq, Provoq, Cien, Voyage, and Ciel. Arguably, the most dramatic modern American cars ever conceived.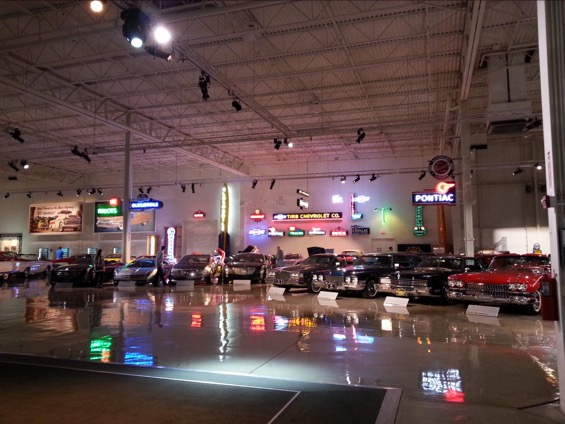 I wandered around the rest of the facility enjoying newspaper clippings, Chevrolet and Oldsmobile concept cars, and engineering cutouts and diagrams, but it was the Cadillac display alone that took GMHC to a stratospheric level.
If I could, I'd have laid a sleeping bag down in front of the 2003 Cadillac Sixteen concept car and camped out overnight. Some people experience emotional reactions to certain exhibits at The Louvre. This was my Mona Lisa, Nike of Samothrace, Seated Scribe, and Venus de Milo, gathered in a warehouse in suburban Detroit.
Car culture is more nuanced and complex than the Woodward Dream Cruise or the Fast and Furious franchise suggest. It's more than just drag racing, drifting, and loud noises that captivate auto enthusiasts. The automobile is a spark of human need and creativity, both the source and facilitator of global prosperity as well as a product of human emotion and brilliance.
It isn't strictly an appliance — seldom do refrigerators, toasters, and coffee makers inspire dreams and stir emotions. You won't see a Maytag on the poster of a child's bedroom wall. Few in the industrialized world have lifelong aspirations to own and experience the world's finest dishwashers.
Nor is it simply a large, complex machine — while tractor, bus, and bulldozer enthusiasts do exist, the high drama of design is reserved for the automobile. Cars have the combined burden of moving us around the crust of the earth while conveying a sense of who we are, a way of expressing our values, beliefs, and cultural identity while fulfilling our hopes and desires.
Styling and proportionality are as much an experience as the sensation of control that comes from accelerating, braking, and steering. Most artists would disagree, contending that an object can only be considered art if it has no utility, but in a setting where cars are on display, experienced purely for their aesthetics, it becomes apparent that the automobile is indeed a form of art.
Back to the Heritage Center…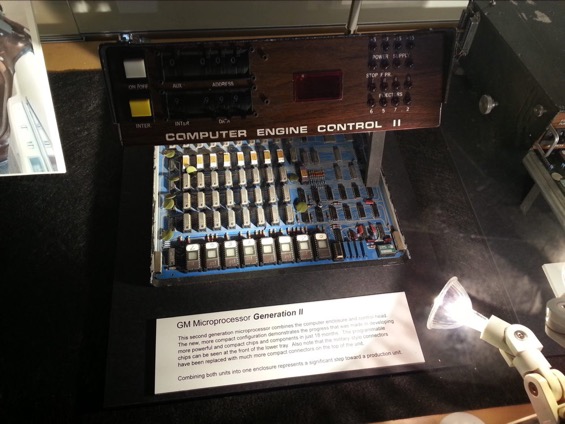 On display are examples of technological achivements including fuel/air delivery and computerized engine management.
Display cases show GM's flirtation with non-automotive transportation including rail and flight.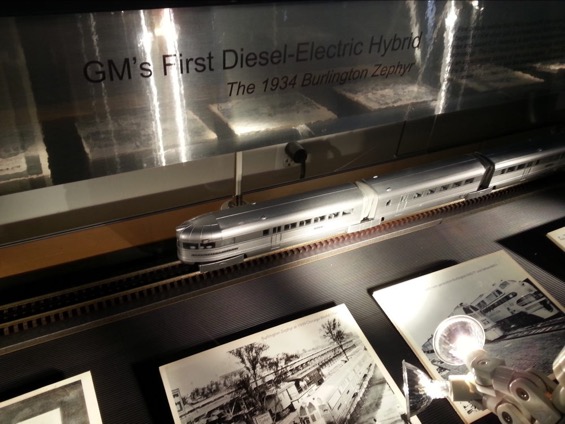 Along the south wall are where the experimental propulsion concepts are.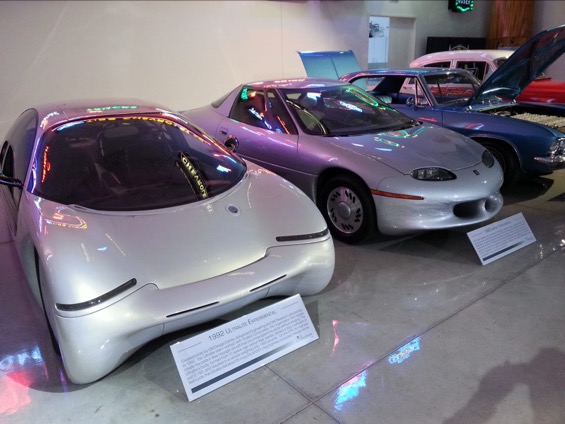 The infamous and groundbreaking EV1 is in the center. To the left is the 1992 Ultralite, a car that promised 100mpg in a fully functional, reasonably habitable package. It was capable of 0-60 in 8 seconds, a number within the realm of most V8 sport sedans of the time, air ride, and air conditioning.

Fast Tube by Casper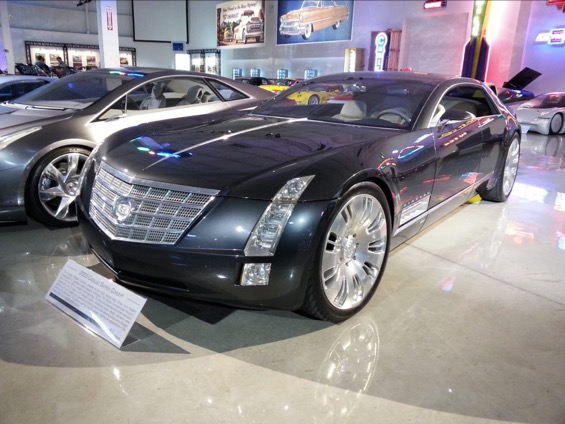 The Cadillac Sixteen from 2003 is much longer in person and its smooth, modern styling inspired the 2008 Cadillac CTS.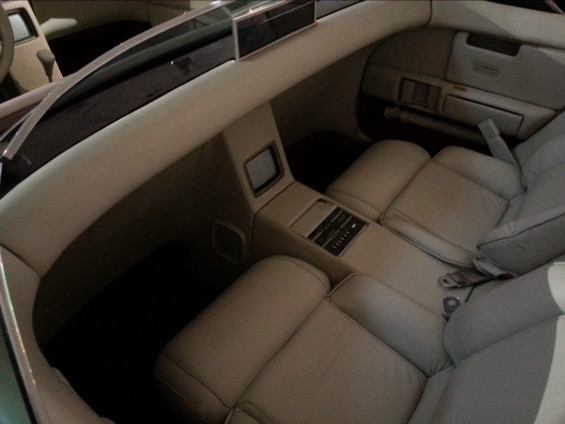 The fascinating Cimmaron from the early 1980s featured two CRT displays and a Panasonic sound system with controls in the rear.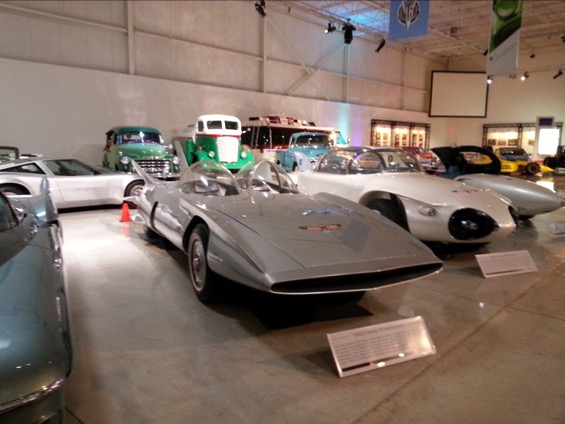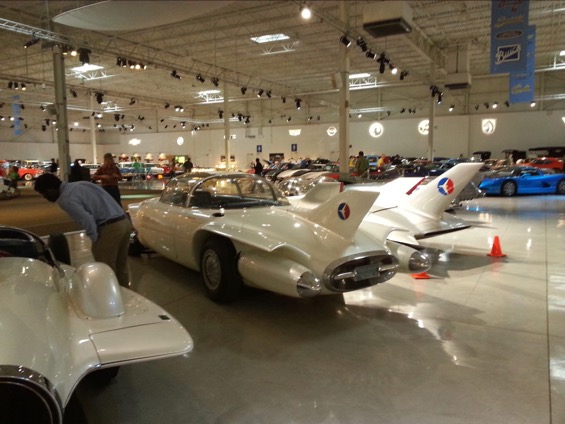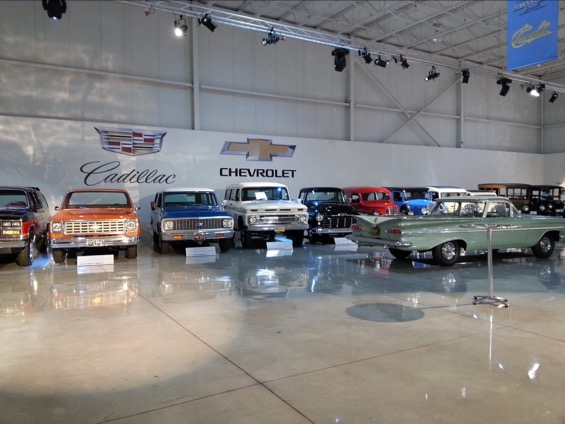 Trucks, muscle cars, experimental vehicles, and displays of badges and miscellaneous hardware flesh out the rest, all of which are technologically, emotionally, and artistically significant.
When finally I left the Heritage Center (I stayed until the very last possible minute) I remembered why I moved to Michigan. I need to be a part of the industry that designs, builds, and creates these spectacular, inspiring machines.
————————————————————————
The photos below are a bit blurry. I didn't have a chance to grab my camera so my Samsung phone had to suffice. Make a cup of tea, set aside a few minutes, and enjoy.
My friend Ray Saez has additional photos from 2014 over at AutoWaffle: Part 1 and Part 2.
We cannot display this gallery