Buick Verano Turbo: 0-60 in 6.5 seconds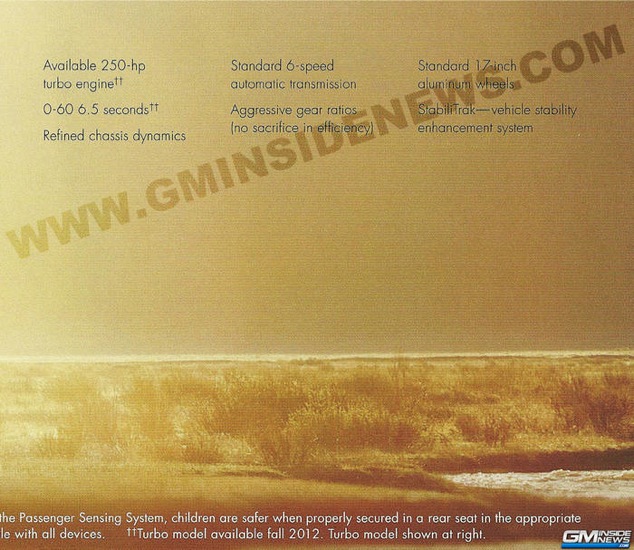 From http://www.gminsidenews.com/forums/f74/buick-verano-turbo-launching-fall-2012-a-103958/
"Specifically, as product plans stand today the Verano Turbo will start production in October of 2012 as a 2013 model.
As previously reported, the Verano Turbo will be powered by GM's 2.0-liter turbo, however GMI has learned that it will be a detuned version of the Regal GS 2.0-liter Turbo. According to GM product plans, Verano Turbo will sport the "LHU" 2.0 turbo, which is the same RPO code given to the Regal GS engine. GMI expects the engine to be detuned from it's 270 horspower and 295 pound-feet of torque in the GS model.
In fact, GMI obtained a consumer brochure for the Verano back in March (seen above) that states the Verano Turbo will have 250 horspower and generate 0-60 times of about 6.5 seconds, better than the Regal GS. The 2013 Regal Turbo is also expected to get the same revised 2.0-liter turbo as the Verano."
The only question left is price. Buick is a near-luxury brand with a lineup of front wheel drive cars, so compared to the Kia Optima, which is significantly larger and achieves 0-60 in 5.9 seconds for only $25,100, it may be a tough sell.
But compared to the 211hp front wheel drive 2.0L Audi A4, which starts at $32,500, the Verano could be a bargain.
Will anyone actually cross-shop Buick and Audi? It's difficult to say, and it's a test of Buick's new upscale brand positioning not only within GM, but globally as well.